How to cook Minatamis na Langka (Sweetened Jackfruit) Recipe.
Minatamis na Langka Recipe (Sweetened Jackfruit). Jackfruits are often used as condiments or fillers and jam as well. Jackfruit add a distinct flavour in dishes, especially in desserts. Jackfruits can be bought by kilo, already peeled and sliced, from wet markets.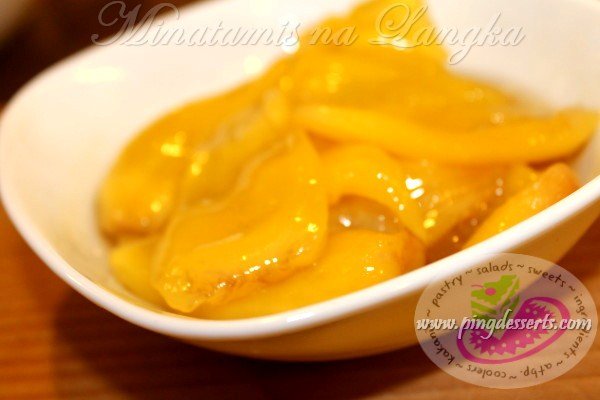 Minatamis na Langka Ingredients:
3 cups fresh jackfruits, washed
1½ cups water
1 cup refine sugar
Cooking Procedure:
In a saucepan pour 1 cup of water and bring to boil over a medium heat. Wash the jackfruits well and add in the boiling water for a minute or two. Remove jackfruits with a slotted spoon and place on a bowl and set aside. Add in the remaining half cup of water, refine sugar, and continue to simmer without stirring it. When the sugar dissolves completely and turns into a light syrup, fire off. Pour the syrup over the reserve jackfruit and let it cool. Put in a clean jar or container and refrigerate.
Now they are also available in canned and can be bought in your leading supermarkets.