How to cook Ginataang Bilo-Bilo Recipe.
Ginataang Bilo-Bilo. Ginataang bilo-bilo or halo-halo is a Filipino snack or dessert using glutinous rice flour that makes into sticky rice balls also known as the bilo-bilo cook with coconut milk, fresh milk, sugar, jackfruit syrup, mix fruits and tapioca pearls.
Ginataang Bilo-Bilo Ingredients:
Tapioca Pearls:
1/2 cup tapioca pearls
4 cups water
Jackfruit in light syrup:
2 cups fresh jackfruit
3/4 cup water
1/4 cup sugar
Sticky Rice Balls:
1/2 cup glutinous rice flour
1/4 cup water
food coloring, optional
Ginataang Bilo-Bilo:
1 cup fresh milk
1 cup water
1 cup coconut milk
1 sm. sweet potato, cubed
2 plantain banana (saba), cubed
1/2 cup jackfruit syrup
1/2 cup jackfruit, cut into strips
1/3 cup sugar
Ginataang Bilo-Bilo Procedure:
In a pot boil 4 cups of water and a ½ cup of tapioca pearls (sago). Keep on stirring to avoid pearls from sticking at the bottom of the pot. When tapioca pearls turns translucent, fire off, and rinse in running water thoroughly then strain and set aside to cool.
In a saucepan, pour ¾ cup of water and 2 cups fresh jackfruit and bring to boil over a medium heat for 1-2 minutes. With a slotted spoon, remove jackfruits from the pan and place in a bowl and set aside. Add sugar in the pan and simmer for another 5 minutes or until sugar is dissolve and turns syrupy, do not stir. Remove from heat and pour syrup over jackfruits.
Prepare the sticky rice balls by combining glutinous rice and water until dough is form. Take about 1/2 tablespoon of the dough, shape it into a ball, and set aside. If you want a colourful sticky rice balls you can add food coloring or extracts such as banana, ube or buko pandan, if desired.
In a large pot, combine fresh milk and water. Stir occasionally until it boils then drop in the sticky rice balls. When the balls starts to float, add the sweet potatoes and cook until half-cooked. Add saba (plantain bananas) and continue cooking for 4 minutes.
Pour in the light jackfruit syrup and let it simmer for a couple minutes. Add jackfruit strips, cooked tapioca pearls, and sugar dissolved in coconut milk. Cook for another 5 minutes until the sauce is slightly thick. But if you want a bit thicker just dissolve 1 tbsp. of corn starch in 1 tbsp. of water, add in and stir for another minute. Serve either warm or cold, enjoy!
…..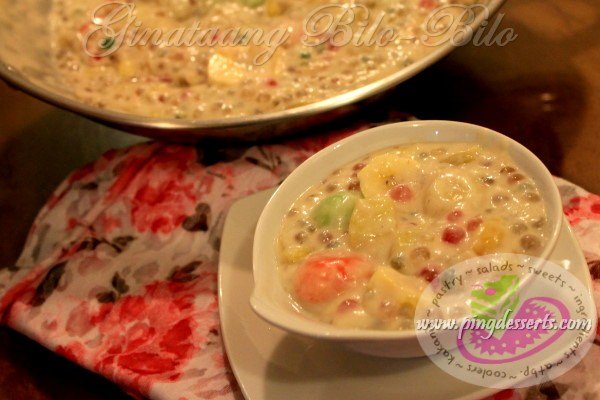 So creamy and delicious such a comfort food, especially on a rainy season . . .