How to make a delicious and moist Graham Balls with Marshmallow.
Graham Balls filled with Marshmallow and Coconut Flakes Recipe. A no-bake and easy to prepare graham mini treat that looks attractive on a dessert table. This is one of the most popular party favorites, especially for kiddos, they enjoyed eating this sweet and chewy tiny balls. A delightful and moist mini graham balls filled with fluffy marshmallows and coated with coconut flakes, nuts or sprinkles. To make it a little bit fancy coat your graham balls with colorful sprinkles, place it individually in paper cups and arrange them in a box per dozen.
Makes : 2 dozen
Ingredients:
Graham Dough:
2 cups crushed graham, divided (1¾ cups + ¼ cup)
1 can (168ml) Alaska sweetened condensed milk
For Filling:
For Coating:
½ cup desiccated coconut or
½ cup sprinkles of your choice
You also Need:
24 pcs (1 oz.) paper cups
2 mini boxes or 2 plastic containers
Cooking Procedure:
In a large bowl, combine 1¾ cups crushed graham and (1) small can sweetened condensed milk. Using a fork or a spatula, mix together until well blended and form a dough. If it's too sticky, add the remaining ¼ cup of crushed graham and mix again, until it resemble a cookie dough.
Use a food safety gloves or clean hands as possible when making a ball. Using a tablespoon, scoop out graham mixture and flatten, about 1½ inches and place a mini marshmallow in the center. Pinch the graham to seal the marshmallows inside and roll between your palm to form a ball.
Continue making graham balls, one at a time until you're done. Coat each graham ball in desiccated coconut or sprinkles, roll to coat evenly and place each balls in paper cups. Refrigerate graham balls for about 10-15 minutes, until the balls are firm and harden. Serve graham balls, chilled or at room temperature, any leftovers can be stored in plastic container and keep refrigerated. This will last for 1 week if stored properly.
Here's our simple ingredients crushed graham, sweetened condensed milk, marshmallows, desiccated coconut and assorted sprinkles.
This is a super easy and fun dessert to prepare so give your kids a chance to learn, teach them how to make this sweet and addicting graham balls dessert.
You can place Graham Balls in a fancy boxes and make it as party giveaways. And if you are planning to have an extra income hopefully this recipe is a good idea and opportunity for you to start a home based business and sell them online.
.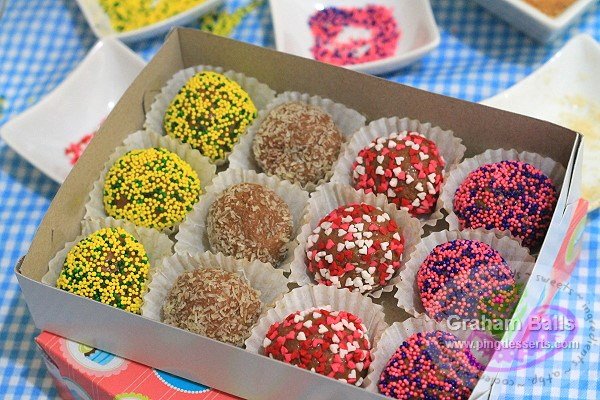 .
Having a trusted and good quality recipe, creating personalized packaging and pretty labels with a great promo strategy, I think it helps a lot to start a food business. Have a nice day guys and see you again on my next post 🙂
.