How to make Golden Maja Kalabasa Recipe.
Golden Maja Kalabasa Recipe. A popular Filipino dessert Maja Blanca, a delicious and easy recipe. A nutritious maja blanca dessert with a twist, enriched with kalabasa "squash". This maja blanca is made with all-purpose cream and condensed milk instead of a regular coconut cream and sugar. The combination of cream and condensed milk gives an extra creamy and smooth in texture. A mashed Kalabasa were used instead of corn kernels, peanuts and toasted coconut.
Today I received a huge kalabasa "squash" from Tatay, and I wanted to make something sweet. Went on the web, searchin' and finally got a recipe that I wanted to try, thanks to nestle.com. So I'm going to make a Maja Blanca, not a regular white coconut Maja Blanca, this time it's golden and it's perfect.
For the mashed Kalabasa:
2 cups Kalabasa, peeled and diced
½ cup water
a pinch of salt
Maja Ingredients:
1¼ cups Kalabasa, cooked, drained and mashed
1¼ cups water
¾ cup cornstarch
2 cans (300g) Nestle All-purpose Cream
1 can (300ml) Sweetened Condensed Milk
3 tsp. Calamansi Juice or Lime Juice
2 tbsp. Butter or Margarine
1/8 cup toasted cashews, roughly chopped to garnish (optional)
Cooking Procedure:
To prepare the squash: Peel, dice and wash the kalabasa, then place it in the saucepan and cover with half cup of water, a pinch of salt and bring to a boil over medium heat for about 5 minutes or until tender. Fire off, drain the stock of kalabasa and reserve for later use. Mash the cooked kalabasa with a fork until smooth. This recipe makes 1¼-1½ cups, to store, let it cool completely and put in a clean jar or plastic container and refrigerate, this will last for 4 days.
To make the maja kalabasa: Combine water or reserved kalabasa stock and cornstarch in a large casserole and whisk until cornstarch dissolve completely. Add in the cream, sweetened condensed milk, mashed kalabasa and calamansi juice.
Bring to a simmer over low heat, and stir continuously until it thickens for about 18-20 minutes. When the mixture becomes too thick that when you lift your wooden spoon the mixture doesn't fall off easily, turn off the heat. Add in the butter and mix well to combine.
Pour the mixture into a greased 11×7 baking tin or any similar container and spread evenly. If using cashews or any nuts, sprinkle it on top of maja kalabasa and allow it to set and cool completely before cutting. Slice, serve and enjoy your creamy and delicious maja kalabasa dessert.
…..
Ingredients are well prepared and we're going to start cooking . . .
.
.
This recipe is so rich and nutritious, a great way of making vegetable into a delightful dessert fit for the kids.Â
.
This recipe can make 12 regular slices of delightful Maja Kalabasa dessert. You can also slice them into mini bite size and place it on paper liners and serve at kids party. This tiny Maja Kalabasa doesn't only taste good, it also looks appealing especially for the kids.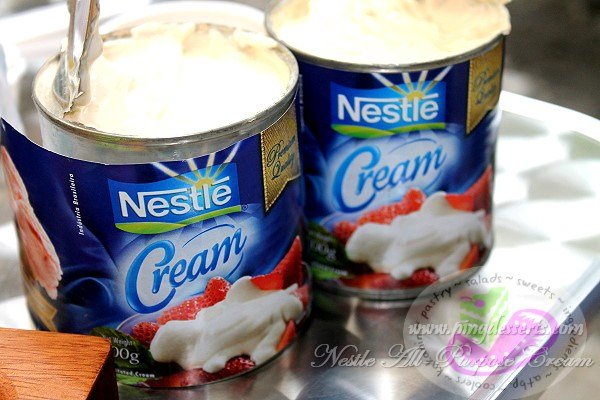 .
My favorite and trusted cream, Nestle All-Purpose Cream. I used it a lot especially for my refrigerator cake recipes. For me you're my number one!