How to make a Quick and Easy Personalized bite-sized Chocolates.
Heart Shaped Chocolates Recipe. To make these bite-size chocolates, all we need is a good quality of Dark, Milk or White Chocolates and a topping of your choice. There's so many toppings to choose from, such as chocolate droplets, nuts, sprinkles, cookies, mini-marshmallows, dried fruits, cereals or candies. All we got to do, is melt the chocolates. Arrange thin layer of toppings you like and cover it with melted chocolate and chill until set. And when it's firm, take off from the mold and there you have it, a cutie heart-shaped chocolates 🙂 Serve and Enjoy!
Now that Valentines Day is fast approaching and one of the favorite gifts we often give and receive are the Chocolates and of course who doesn't want a beautiful bouquet of roses?? 😛 🙂 I got inspired lately from Pinterest and now I'm excited to make a delicious White, Milk & Dark bite-sized Chocolates! It's a budget friendly recipe. So let's start making these lovelies, it's fun and super easy guys!
Makes : 24 pieces or 3 Plastic Container (8's)
Ingredients:
Chocolate Base:
2 (35g) Dark Chocolate Bar
2 (35g) Milk Chocolate Bar
2 (35g) White Chocolate Bar
Toppings:
1 tbsp. Heart Sprinkles
1 tbsp. Tiny Dots Sprinkles
1 tbsp. Crushed Peanuts
2 tbsp. Mini-Marshmallows
You also need:
1 piece chocolate molder with 24 cavity or any similar molder
24 pcs. Paper Liners – small
3 pcs. Clear View Plastic Container or Board Box
3 pcs. Paper Belt or Logo Sticker for Negosyo (optional)
Check out Video Recipe:

Procedure:
First, we need to prepare our toppings, we're going to crushed some nuts and measure all toppings we want to use. (If you want to use dried fruits like mangoes, blueberries, cranberries, pomegranate or even golden raisin just cut them into tiny bits.)
In a chocolate molder, place desired topping in each cavity as thin as possible to create a single layer, coz' too much toppings won't stick in your chocolate later on. Fill each cavity with topping and when you're done, set aside. (If you're using a silicon mold, make sure to place it on a flat tray for an easy transport later on.)
There's 2 Ways to melt your Chocolate: you can use the Bain Marie method "Double Boiler" or the quick and easy 30 seconds Microwave method, all you have to do is to heat it for 15 sec and stir and another 15 sec and stir until smooth and it's ready. But, if you're using the double boiler, make sure that your water is low and it's not boiling. All you need is a slow and steady simmer, to melt your chocolate. Keep on stirring until becomes smooth and runny.
Carefully, spoon melted chocolate slowly in each cavity until you're done with all your melted chocolate. Please place your molder in a flat surface or a tray, for even result and leave it to cool. Repeat process with the other chocolate bars.
Chill chocolates until hardens. In a tray, flip slowly and unmold each chocolate. Place individually in a small paper liners and arrange chocolates in mini- chocolate boxes or clear plastic containers.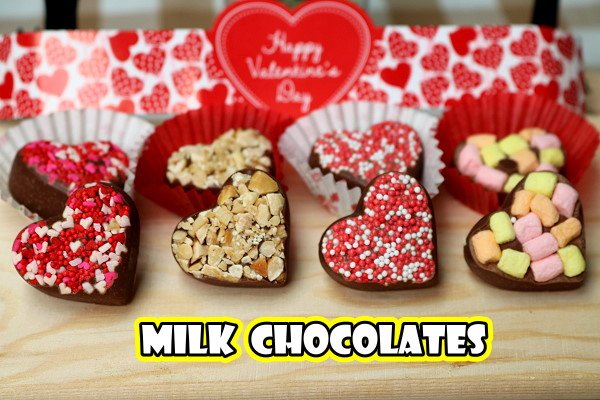 Here's Our Simple Ingredients:
Goya Chocolate Bars, Sprinkles, Peanuts and Mini-Marshmallows. Feel free to use any brand of chocolate bars. Of course the best quality chocolates are the imported ones, a bit pricey but it's worth it. There's also the cheaper ones with less chocolate content, comes in different colors, but high in sugar content, which I don't like. And My favorite chocolate bars, which I often use in my recipes are Hershey's and Goya Chocolates Bars, they are both affordable and good in quality.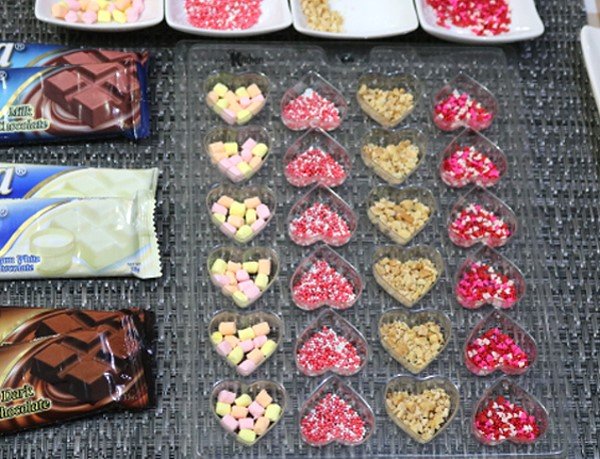 For those who are interested in turning this recipe as your home/online business. Hmm.. why are you smiling back at me?? hehe… did the magic light bulb turned on?? 🙂 that's great, I'm glad you like this idea. You can buy this Chocolate Molder at Portia Store – Bacolod Branch. I hope you can find one in your place. This Heart Shape Chocolate Molder is from "My Kitchen", it has 24 heart cavity, with a (1.5×1.5x.5) size and 1 tablespoon capacity each. I wish, I can help you and buy one for you, just let me know if you can't find this in your place.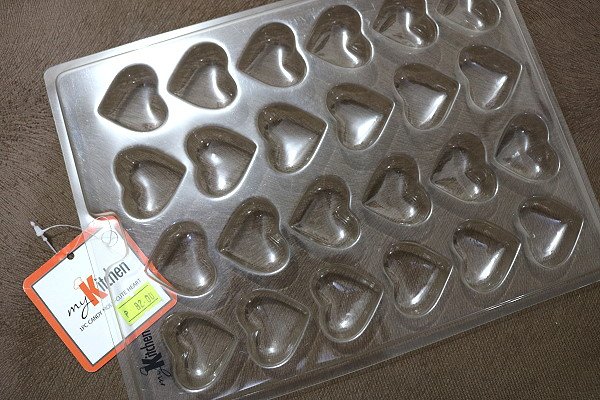 And btw, I got this for only Php 82.00 it's very cheap and the quality is good. (When I was searching for chocolate molds, most of the items are too dusty but the moment I saw this thing and the price, wow! Swak na Swak sa Budget ko, super mura lang talaga guys and there's so many designs, shapes and sizes pa dun. But don't worry guys, you can also find chocolate molders at Lazada, kaya lang may shipping fee na.
For the Packaging: You can use a medium size clear view plastic container, it comes in (10's/pack) for only Php 50.00. You can also use a box with an acetate cover (6×4.5×1.5) also (10's/pack) for only Php 65.00. I also have a paper belt that I got from Chefs and Bakers, but that was a year ago :D, its (20's/pack) for only Php 48.00. But if you want a personalized one, make a DIY paper belt using a shiny gift wrapper and sealed it with your sticker logo.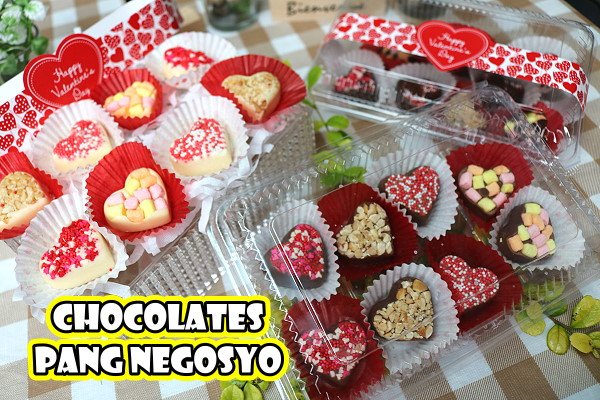 Look at those cuties Heart Shaped Chocolates, looks yummy 🙂 A great Valentines Day Gift for your family and friends. And a perfect Business Idea this coming Valentines Day. A quick and simple homemade chocolate gifts to share with our loved ones. I will be making more of these heart-shaped chocolates this month. Thanks for visiting and please visit our Youtube Channel and Subscribe xoxo. I hope to see you on my next post, have a nice day Everyone!
– oOo –
OMG! I have finally discovered what's wrong with my BRAIN. On the left side, there is nothing right, and on the right side, there is nothing left. – LOL Now I know, I need a miracle 😀