How to make Easy and Delicious Kakanin perfect for Business.
Choco Butternut Palitaw Balls – A sweet chocolate flavored sticky rice ball with chocolate filling and rolled in desiccated coconut. This kakanin recipe is so easy to make, all we need is a glutinous rice flour dough, filled with milk chocolate and boiled in water until it floats and becomes soft, shiny, and sticky. These kakanin balls are rolled in butternut coating, and it's ready to serve and enjoy.
It looks like munchkins, but it's not :D, it's a kakanin called Palitaw Balls. You have to try these guys, it is unique and delicious. These Choco Butternut Palitaw Balls are soft, chewy, sticky and a has perfect contrast of texture from desiccated coconut and yummy melted chocolate that oozes out when you bite. If you find this recipe interesting and delicious, please follow the recipe below and enjoy cooking. So let's start…
Makes: 24 pieces
Ingredients:
Choco Rice Dough:
2 cups Glutinous Rice Flour
¼ cup Unsweetened Cocoa Powder
1 cup Hot Water
Butternut Coating:
1 cup Desiccated Coconut
¼ cup Powdered Sugar
2 tbsp. Powdered Milk
¼ tsp. Nutmeg
¼ tsp. Cinnamon
4 tbsp. Butter, melted
5 drops Food Color Gel
Filling:
1/3 cup Milk Chocolate, chunks
You also Need:
24 (1oz.) Paper Liners
8 medium Clear View Pastry Container
Check out Video Recipe:

Procedure:
In a bowl, combine all butternut coating ingredients except for the food coloring and mix until well combined. Add drops of orange food coloring gradually and mix until well blended. Set aside until needed.
In a separate bowl, combine sifted glutinous rice flour and unsweetened cocoa powder and mix. Add how water, mix until it forms a dough and knead until soft.
Scoop one tablespoon of palitaw dough and make a ball and flatten, put small chopped milk chocolate in the center and pinch the dough to seal. Roll to form a ball and repeat the process until your palitaw dough is used.
In a deep casserole, bring 1.5 liters of water into a boil over medium heat. When the water starts to boil, drop palitaw balls in boiling water and cook for about 5-7 minutes. Don't overcrowd your casserole, palitaw floats and expands when it's cooked. Drain excess water and roll palitaw in prepared butternut coating and arrange on a plate or paper liners.
Here's Our Simple Ingredients: Glutinous Rice Flour also known as "Sweet Rice Flour", Unsweetened Cocoa Powder, Hot Water, Milk Chocolate and Buttered Desiccated Coconut with Milk Powder, Icing Sugar, Nutmeg, Cinnamon, Melted Butter and Orange Food Coloring.

For the Palitaw filling, you can use Dark Chocolate or White Chocolate, and if you don't want a chocolate filling, you can use yema balls or leave it plain, that will be fine. And here's our Butternut Coating, my desiccated coconuts are not super fine as I wanted to, but it doesn't matter, as long as it tastes good 🙂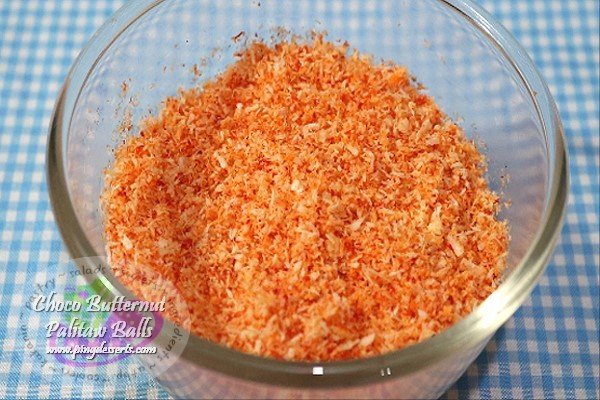 These bad boys, looks good and it's ready to serve and enjoy, I like to eat palitaw balls while it's still warm 🙂 You can store this in the fridge, this will last up to 4-5 days. Reheat in a microwave for 30 seconds and still taste like freshly made.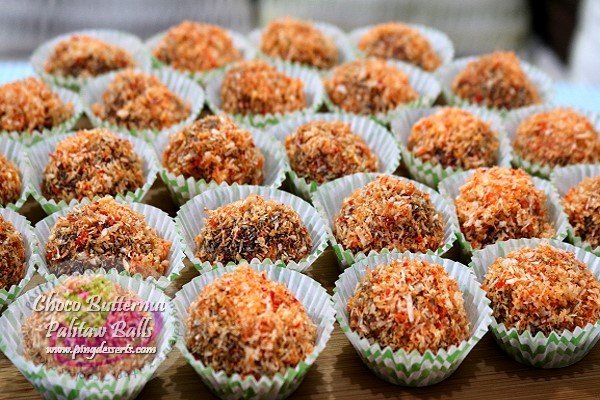 For your Negosyo Tips: Pack about six pieces of Choco Butternut Palitaw Balls in a medium-size pastry container, label it, and it's ready to sell. It's better to take orders first before making them so you won't have any leftovers. Keep in mind that Freshly made Kakanin is always the best. "The Health and Safety of our Customers is our Highest Priority". I hope you like our new recipe this week, and please stay connected. Thanks for visiting guys, have a productive week, stay healthy, and be safe always. 🙂
Computation: (this is just a sample reference on how to compute)
Price List:
2 cups Glutinous Rice Flour P 20.00
¼ cup Unsweetened Cocoa Powder 15.00
1 cup Hot Water 5.00
1 cup Desiccated Coconut 24.00
¼ cup Powdered Sugar 5.00
2 tbsp. Powdered Milk 5.00
¼ tsp. Nutmeg 5.00
¼ tsp. Cinnamon 5.00
4 tbsp. Butter, melted 15.00
5 drops Food Color Gel 10.00
1/3 cup Milk Chocolate, chunks 20.00
24 (1oz.) Paper Liners 5.00
8 medium Clear View Pastry Container 20.00
Misc. Elect. / Gasul 5.00
=========
Total Expenses : P 159.00
Total Exp.: P159.00 / Cost per Cont. P39.75 / SRP P60.00 / Projected Profit (50%) P81.00
Note: Profit depends on your SRP (SRP 60.00-75.00)
– oOo –
Success is the Ability to go from one Failure to Another with no Loss of Enthusiasm. – Winston Churchill