How to make Fudgee Barr Ice Cream Cake
Craving for an affordable version of the Black Forest Cake? Don't worry because today's recipe will satisfy anyone's craving. All the ingredients you need are available at your local grocery and even at the sari-sari store. This recipe is also great for those who are looking for negosyo ideas. With a lot of business opportunities on Facebook, you can start selling this easy and affordable Fudgee Barr Ice Cream Cake.
The main ingredient for this negosyo ice cream cake is Fudgee Barr. Fudgee Barr has been in the market for quite some time and this is a popular baon or snack for children. It is also sold in almost all groceries all over the Philippines. Fudgee Barr has various flavors such as choco, milk, vanilla, macapuno, mocha, durian, and dark chocolate.
The sponge cake is soft and chewy that's why Fudgee Barr is perfect for this recipe. You can try any of the flavors with this recipe. People have different likes and you can be creative with this negosyo recipe.

This negosyo recipe costs only 210 pesos and you can make 5 to 6 cups. Through this recipe, you can also start selling your Fudgee Barr Ice Cream Cake in a cup!
Ingredients and Procedure of Fudgee Barr Ice Cream Cake :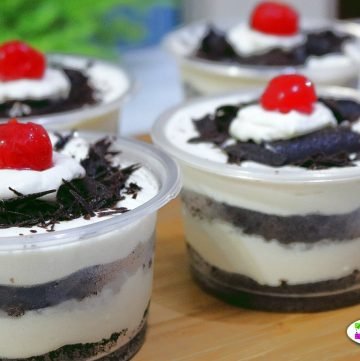 Fudgee Barr Ice Cream Cake Negosyo Recipe with Costing
Fudgee Barr Ice Cream Cake has a decadent layer of moist chocolate fudgee barr with a sweetened cream topped with chocolate shavings and cherries.
Ingredients
10

pcs.

Fudgee Barr Chocolate

250

g

All-Purpose Cream

chilled overnight

¼

cup

Condensed Milk

adjust according to your taste
You also Need:
1/8

cup

Chocolate Shavings

for toppings

5

pcs.

Maraschino Cherries

(optional)
Instructions
~ Fudgee Barr Ice Cream Cake ~
Unwrapped and peel off paper liners of Fudgee Barrs

Pour in a bowl chilled overnight All-purpose cream

Beat over high speed until double in volume

Chill for 20 mins. and beat again until fully aerated

Add condensed milk and beat until well combined

Note: you can adjust sweetness according to your taste.
~ Assemble ~
We will use five disposable plastic salad cups in this recipe.

Flatten Fudgee Barr at the bottom of each cup.

Top it with cream and spread evenly.

Top with diced mango and cover another layer of Fudgee Barr.

You can use a round cookie cutter to shape your Fudgee Barr, but this is optional.

Cut and flatten the cake. Arrange on top of your cream.

Top with another layer of cream and spread evenly.
~ Decorate ~
Top it chocolate shavings & cherries.

You can also use sprinkles or any toppings you like.

Let it chill for at least 2 hours, up to 24 hours before serving.
Video
To make Fudgee Barr Ice Cream Cake, you will need 10 pieces of Fudgee Barr in chocolate flavor, all-purpose cream, and condensed milk. Making the ice cream cake is easy.
This is yummy as it is, but feel free to decorate your ice cream cake with chocolate shavings and maraschino cherries. You can also use bananas, strawberries, and other fruits for healthier options.
Costing of Ingredients:
10 pcs. Fudgee Barr Custard P 67.50
250g All-Purpose Cream 58.00
¼ cup Condensed Milk 12.00
1/8 cup Chocolate Shavings 10.00
5 pcs Maraschino Cherries 20.00
3 tbsp. Chocolate Sprinkles 12.00
5 pcs. Salad Cups (300ml) 37.50
w/lid & spoon @ 7.50
Misc. (Electricity & etc.) 5.00
=========
Total Expenses : P 210.00
Total Exp.: P 210.00 / Cost per Cup (300ml) P 42.00 / SRP P 70.00 / Projected Profit P 140.00
Note: Profit depends on your Suggested Retail Price (P60.00-P80.00)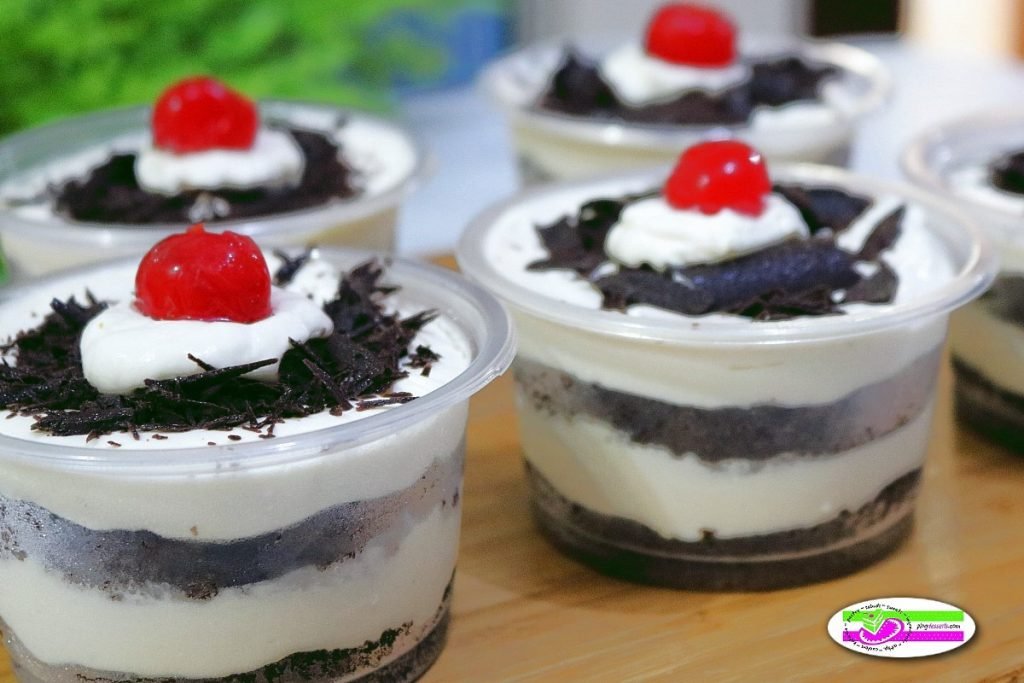 Negosyo Recipes: