How to make a delicious and easy no-bake truffle treats.
Peanut Butter Balls Recipe – A creamy, melts-in your mouth peanut balls with crunchy bits from rice krispies. A delicious no-bake treat, peanut butter balls covered in dark chocolate and decorated with sprinkles. These delightful and irresistible homemade peanut butter balls are more likely the same to our all-time favorite Reese's Peanut Butter cups.
I've seen a lot of graham crackers, biscuits, and chocolate sandwich cookies lately, turn into yummy truffles using a few ingredients. But the peanut cracker truffle video, I find it more interesting. So I'm going to make some, even though I'm allergic to peanuts, LOL. But honestly, based on the ingredients used in that video, I find it overly sweet, and I have a feeling that the cookie dough isn't creamy enough and moist. So I decided to use peanut butter sandwich cookies with real creamy peanut butter. I'm glad I knew where to buy the best and locally made peanut butter, and it's very cheap. And I add a small portion of rice krispies, to give some crunch and add texture. For those who love Reese's, this recipe is for you. So let's start…
Makes: 45 pieces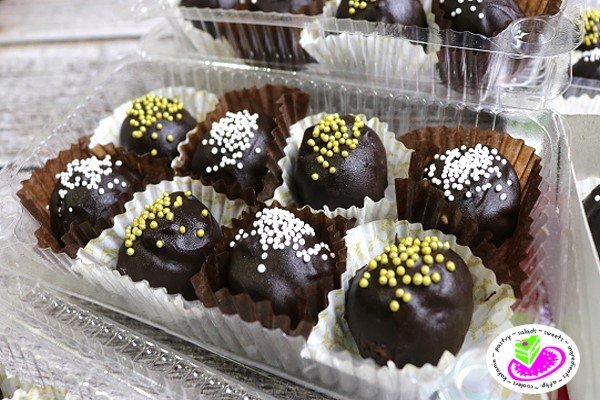 Ingredients:
Cookie Dough:
1 (300g) Peanut Butter Sandwich Cookies (10's)
½ cup Rice Krispies
1 (250g) Peanut Butter, any brand
½ can Sweetened Condensed Milk
Coating & Topping:
175g Dark Compound Chocolate, melted
3 tbsp. Sprinkles
You also Need:
50 pcs. Paper Liners (1oz.)
5 pcs. Pastry Container medium or 3 boxes (6x5x1)
Check out Video Recipe:

Procedure:
Cookie Dough: Crush the Peanut Butter Sandwich Cookie, with a rolling pin. You can crush it right away with the wrapper, or you can transfer in a ziplock bag and crushed it. You can also use a food processor for quick and easy crushing.
In a bowl, combine crushed peanut cookies, rice krispies and mix well. Add one bottle of creamy peanut butter and mix well. Gradually add condensed milk and knead the cookie dough until well combined.
Lightly grease your clean hands or food gloves & spoon with a little butter or oil for easy rolling. Scoop one tablespoon of cookie dough and roll between palms to make a ball. Repeat the process with the remaining cookie dough, and this recipe can make 45 pieces of peanut balls. Chill.
Melted Dark Chocolate: Roughly chopped Dark Compound Chocolate and transfer in a heatproof bowl. Melt in a microwave for 20-30 seconds, let it sit for 3 minutes and stir until smooth. You can also melt, "over a double boiler" on top of a pan with simmering water for about 5-8 minutes, stir until smooth. Make sure that your bowl is not touching the water. Let it cool down a little bit, before coating.
Coating & Decorating: Deep each peanut ball in your melted chocolate and shake excess chocolate. Arrange coated peanut balls on a tray lined with parchment paper. Repeat the process until all peanut balls are covered. Decorate with sprinkles on top or crushed peanuts if you want. Chill for 10 minutes until the chocolate is completely set. Transfer chocolate-covered peanut balls in 1oz. Paper liners. Store in pastry containers or pastry box. Keep refrigerated; these mini-bites will last for a month in the fridge.
Here's Our Simple Ingredients: Presto Peanut Butter Sandwich Cookies, Rice Krispies, Locally made Creamy Peanut Butter, Sweetened Condensed Milk, Dark Chocolate and Sprinkles.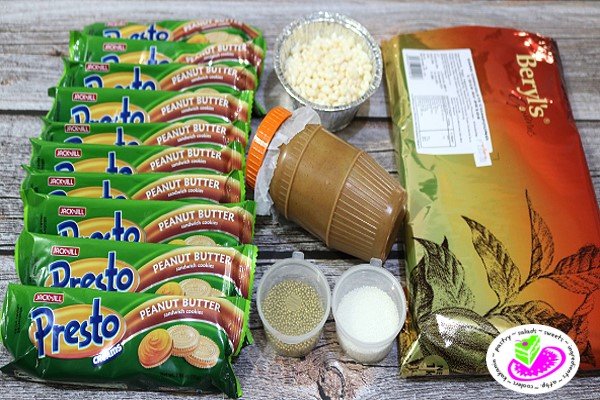 Tips: You can melt the chocolate in the microwave in 30 seconds, with 15 seconds increment and stir, or over a double boiler. Make sure your peanut butter balls are well chilled when you dip into your melted chocolate. This will coat the peanut butter ball easily. Tap the excess warm chocolate using a fork or a toothpick. You can chill and double dip if you want a thick chocolate coating before putting your toppings.
Packaging: What I like about this no-bake truffles is that you can make them in advance and in bulk, this will last for a months in your fridge, as long as you store it properly. For the Packaging, you can use a clear view Pastry Container (perfect for 8's) or a Pre-Formed 6 x 9 x 1½ Pastry Box (for 24's). Add some personalized sticker logo with a Label, Price, Contact Info, and Expiration date.
These peanut butter truffles can be served and enjoy at room temperature. Keep them stored in the fridge for a longer shelf life. Another easy and irresistible treats great for home/online business. Especially this coming Holiday Seasons! I promise you'll gonna love this one too, it's 100% creamy peanut butter goodness that melts-in-your mouth. Thanks for visiting guys, see you again on my next post 🙂
Computation: (this is just a sample reference on how to compute)
Price List:
1 (300g) Peanut Butter Sandwich Cookies (10's) P 46.00
½ cup Rice Krispies 5.00
1 (250g) Peanut Butter, any brand 30.00
½ can Condensed Milk 20.00
175g Dark Compound Chocolate, melted 40.00
3 tbsp. Sprinkles @7.00/tbsp. 21.00
50 pcs. (1oz..) Paper Liners 12.00
5 pcs. Medium Pastry Container or 3 boxes (6x5x1) 24.00
========
Total Expenses : P 198.00
Total Exp.: P 198.00 / Cost per Cont. (8's) P 39.60 / SRP for (8's) P 60.00 & P 100.00 (12's)
Projected Profit (60%) P102.00 Note: Profit depends on your Suggested Retail Price (P60.00-P100.00
– oOo –
Give them Quality, that's the Best Kind of Advertising.