How to make a mouth watering frozen dessert Recipe.
Pinoy Style Tiramisu Recipe. Tiramisu is a classic Italian dessert which means "pick me up", a three layer refrigerator cake which Filipino adapted and eventually becomes an all time favorites. This perfect Tiramisu cake dessert is made of lady fingers, coffee, cream and garnish with cocoa powder and extra chocolate shavings to make it even more special. This dessert surely deserves its name because you can't resist its creaminess, velvety texture and with a great balance of sweetness from the condensed milk and bitterness from a strong good quality coffee an absolutely delicious dessert.
Serves 12
Ingredients:
3 packs store bought Lady Fingers "Broas"
2 cups strong warm coffee + 2 tbsp. sugar
1 (8oz) cream cheese, at room temp.
3 (250ml) nestle cream
1/3 cup sweetened condensed milk
pinch of salt, (optional)
2 tbsp. cocoa powder, for dusting
Chocolate twirls or chopped, for toppings (optional)
Procedure:
In a mixing bowl combine cream cheese, chilled nestle cream, sweetened condensed milk and a pinch of salt. Whisk until smooth and well combined, refrigerate until needed. Meanwhile, mix a strong coffee powder in warm water and add less sugar than you usually put on your regular coffee and stir until sugar dissolve, set aside.
Prepare a 7×11 baking dish or any available glass dish you have. To assemble Dip the lady fingers into the coffee just enough to wet, do not soak them. Arrange coffee dipped lady fingers in the bottom of your baking dish until fully covered. Spoon 1/3 part of your cream mixture over the lady fingers and spread evenly. Repeat process with other remaining 2 layers until done and ended with cream mixture on top. Dust evenly with cocoa powder on top and top with shaved or chopped chocolate for decoration if using.
Refrigerate for about 4 hours or overnight to make the cake layer becomes firm and easy to slice.
Serve and enjoy!
Now we are going to make the best tasting Filipino Tiramisu, one of the easiest and cheapest dessert to make.
***
.
It's a real time saver dessert that can be made with homemade lady fingers or store bought and the ingredients are so affordable. A great dessert to prepare in any occasions if you want to make ahead for a day or two.
***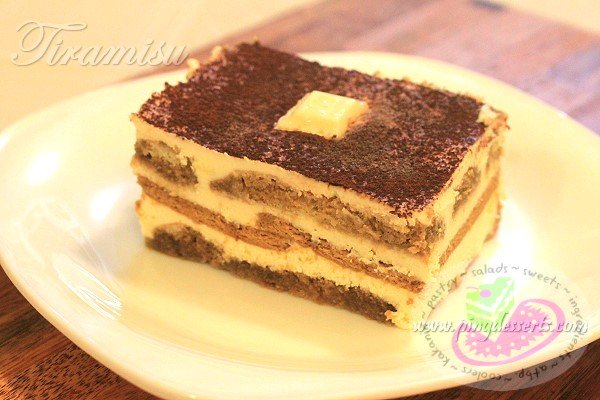 .
Tiramisu is such a simple yet popular dessert and nowadays it has many different versions of this impressive looking heavenly treat. Coffee lovers will definitely love this homemade refrigerator cake recipe and even for those who are not a big fan of coffee; this is perfect for a simple get together.