Pumpkin "Kalabasa" Pumpkin or Butternut Squash are very versatile in their uses for cooking. Most parts of the pumpkin are edible, including the fleshy shell, the seeds, the leaves, and even the flowers. When ripe, the pumpkin can be boiled, baked, steamed, or roasted. Pumpkins that are still small and green may be eaten in the same way as squash. Pumpkins have a different usage depending on what country, other uses for savory dishes like soups, ravioli stuffing, stews with pork and shrimp, and for some it is used for sweet dishes and delicacy, especially here in Asian countries.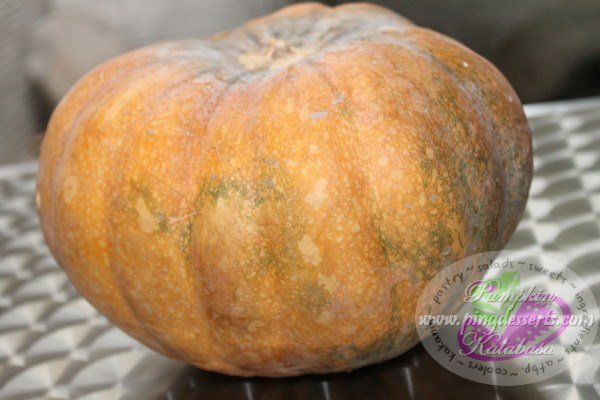 Let me present my Fathers crop, 'ttaran… "Kalabasa" – pumpkin which he cultivated on the farm.
A healthy and pretty pumpkin ready for cooking. Thank you for this blessing. I'm planning to cook Leche Flan, Maja Kalabasa and of course soup like Linutik with Shrimp, Ginataang Gulay and Laswa.
We often prepare kalabasa by roasting, steaming or boiling, then puree or mashed it and use as a bread or pie filling, custard base, candy and other sweet delicacy.
My diced kalabasa are ready for boiling, when it's cooked, I'm going to mashed it and start making my Leche Flan. You can also buy canned pumpkin puree and sweetened pumpkin at the grocery store.
Hope you stay tuned for my sweet treat recipe, have a blessed day everyone!!!