How to make Kutsinta Recipe.
Kutsinta or Cuchinta Recipe. Kutsinta or Cuchinta is another popular steamed kakanin also known as "sticky rice cake", with a jelly like consistency. Kutsinta is a favourite kakanin snack here in the Philippines, served with freshly grated coconut. Kutsinta flavours can also affect the color of the rice cake. The orange kutsinta are cooked with rice flour, all-purpose flour, refined sugar, lye solution, water and Annatto powder dilute in water which is also known as "atsuete" here in Philippines. Annatto makes the kutsinta looks bright orange and at the same time it gives a distinct aroma and earthy flavour. And the brown kutsinta are cooked without the annatto powder and they used palm or dark sugar instead of refine sugar.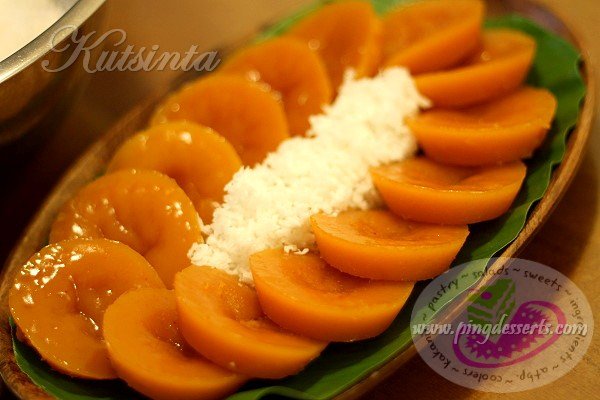 Kutsinta Ingredients:
1/2 cup rice flour
1/2 cup all purpose flour
3/4 cup white sugar
1/2 tbsp anatto powder diluted in 1½ cups of water
1 tsp lye water "lye solution"
orange food color, (optional)
1 cup grated coconut, for toppings
Cooking Procedure:
Preheat your steamer with 2

liters

of water over medium heat and cover with a lid.

Meanwhile, If you don't have anatto powder you can use anatto seeds. In a sauce pan put a cup of water and 1½ tablespoons of anatto seeds and let it simmer for about 2-3 minutes until the water turns red-orange.
Fire off, strain the simmered anatto and discard the seeds. Add in the remaining half cup of water to cool down and set aside.
In a mixing bowl mix all the dry ingredients and whisk to mix well. Add the anatto water and lye solution (be exact with the lye measurement or mixture will become bitter and hard) then mix thoroughly, strain to remove the lumpy bits. Pour at least 3 tablespoons of the mixture into each molds, this recipe can yield a dozen of kutsinta.
Steam for about 25-30 minutes with a clean cloth under the lid. Once cooked, take off from the steamer and let is cool slightly before transferring to a plate for an easy removal. Served warm or cooled with freshly grated coconut and enjoy your perfect homemade kutsinta.
.
.
While waiting for the kutsinta to cook, I grate the coconut while enjoying watching my nieces having their crazy dance… lol
.
.
Kutsinta or Cuchinta are often prepared and serve at the Fiesta's and other Filipino gatherings. But nowadays, Kutsinta and other kakanin are not hard to find here in the Philippines. You can buy them anytime at the local wet markets ,often located at the entrance where different kinds of kakanin are displayed. Best time to buy kakanins are in the morning because they are still warm, fresh, and more fragrant.
.
.
What a rewarding day for me too see my nieces enjoying my homemade Kutsinta. I would like you to meet my lovely nieces, Julia, Angel and Marianne. They are my honest and brutal food critics, and the verdict is "Perfect" . And so I'm happy to share this perfect Kutsinta recipe with you guys.
.