How to make a delicious and creamy Ginataang Mais.
Ginataang Mais Recipe. Looking for a quick and easy to prepare afternoon snack or merienda for the whole family? Well, here is another Filipino dessert to serve for your love ones – a popular Kakanin the Ginataang Mais Recipe. This hearty and creamy kakanin is made with glutinous rice, coconut milk, whole kernel sweet corn and sugar, which can be done in just a few minutes. Ginataang Mais Recipe looks a lot like the famous Maja Blanca, though it is so different in texture since it is more like porridge which can be compared to Champorado, except that it is not made with chocolate but with coconut milk. Now here is how to make this very satisfying snack.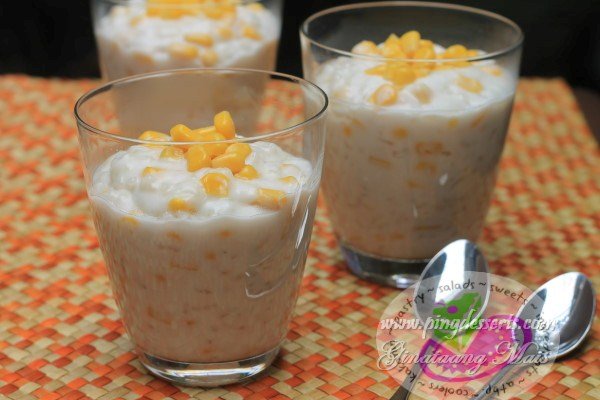 Ginataang Mais Ingredients:
3 cups coconut milk "gata"
1/3 cup glutinous rice "malagkit", uncooked
1 cup whole kernel sweet corn, drained + extra for topping
½ cup granulated sugar
2 tsp vanilla extract (optional)
Evaporated milk to drizzle on top (optional)
Cooking Procedure:
Wash and drain the glutinous rice a couple times. In a large saucepan, combine fresh or canned coconut milk and glutinous rice, let it boil over medium heat. Once the coconut milk starts to boil, stir constantly to avoid the mixture from sticking at the bottom or burning.

Turn the heat to low and cover the saucepan with a lid and let the rice cook. Don't forget to stir from time to time until the rice cooked through and the coconut milk slightly thickens, it takes about 15 minutes. Add the sweet corn and cook for another 5 minutes. Add the sugar and stir until completely dissolves and turn off the heat.
Lastly, add the vanilla extract and stir thoroughly. Transfer into a serving bowl or individual dessert glass, top with extra corn, drizzle some milk and serve immediately. This recipe serves only 4 persons, just double the recipe if you want to serve more.
This Ginataang Mais Recipe is usually served hot, especially during cold, rainy days since it gives a comforting effect, though it can also be enjoyed when it's cold. You may add evaporated milk on top and extra sweet corn before serving to make it more delicious.
.
If you have any leftover store in a refrigerator it will last a couple days and if you want to reheat the Ginataang Mais just add coconut milk or evaporated milk and microwave or re-heat over stove top.