How to make Black Forest Graham Float, a mouth watering frozen dessert Recipe.
Black Forest Graham Float Recipe is a three layer chocolate flavored graham crackers lightly infused with rum, filled with whipped cream, condensed milk and vanilla. Top with chopped maraschino cherries, milk chocolate shavings, dusted with unsweetened cocoa powder and finished with whipped cream swirl and cherry on top.
This easy-to-make dessert is refrigerated overnight until the graham crackers absorb the rum and cream moisture and set completely. A mouth watering refrigerator cake to share with your family and friends.
Makes: 8-12 slices
Ingredients:
Cream:
1 box (200g) Frosty Whip Cream Powder, whipped according to package
¾ cup cold water
1 (250ml) nestle all-purpose cream, chilled
¼ – ½ cup sweetened condensed milk
1/2 tsp. vanilla extract
1/4 tsp. salt
Layer:
1 pack (200g) chocolate graham or honey graham crackers
2 tbsp. rum, for brushing (optional)
1 bottle maraschino cherry, drained (reserved 8-12 cherries for garnish & roughly chopped the remaining cherries)
1 bar milk chocolate Cadbury or any plain chocolate bars you have, shaved for toppings
1½ tbsp. unsweetened cocoa powder, for dusting
Watch How to make Black Forest Icebox Cake:
httpv://www.youtube.com/watch?v=C_gkciZKsYs

Procedure:
Prepare a 7×11 inches baking dish or any similar container and set aside. I love to use a 7×11 glass dish because it doesn't only give your dessert a presentable look, but it is also perfectly fit for a single pack of graham crackers. Drain bottled cherries, set aside 8-12 whole cherries and roughly chopped the remaining cherries and set aside. Using a vegetable peeler, shave your chocolate bar thinly and set aside until needed (or eat some, if salivating persist… LOL). You can use your favorite plain chocolate bar or any available you have at the moment, but I would like to recommend Cadbury dairy milk chocolate (220g) or Hershey's creamy milk chocolate.
In a mixing bowl, combine frosty whip cream powder and cold water, then whipped until light and double in size. Add in chilled all-purpose cream, condensed milk, vanilla extract and a pinch of salt and mix until well combine. At this point you can taste test your cream and adjust the sweetness according to your taste. Divide the whipped cream mixture into 3 parts, so you can have a 3-layer Black Forest Graham Float.
To assemble the Black Forest Graham Float, first you have to arrange graham crackers in your baking dish. Lay the crackers flat and even until you cover the whole bottom of the pan. Use knife or your clean fingers to cut and trim off excess crackers, if needed. (If using a rum, lightly moisten the graham crackers using a brush). Pour 1 part of the cream mixture on top of graham crackers and spread evenly. Scatter half of your chopped cherries on top of your cream, then sprinkle 1/3 part of your shaved chocolate and dust lightly with ½ tablespoon of unsweetened cocoa powder.
Place another layer of graham crackers and repeat process until you have 3 layers, ending with cream on top. Eyeball and divide the cake into 8 or 12 equal parts and make a tiny swirl of whipped cream in the center of each slice. Decorate with cherry and a chunk of chocolate. Chill for 8 hours or overnight to set completely before serving.
Here's the ingredients we used in our Black Forest Graham Float. This recipe can be modified so feel free to add or replace, such as cherry, chocolate, condensed milk or whip cream, with your trusted brand. And of course, I would be happy to know and see, how did your black forest icebox cake turned out.. (Don't be shy to share a photo of your graham float with us, hehe…)
A beautiful, fruity, creamy frozen dessert to prepare during birthdays and holidays, especially on Christmas Day. I hope that this recipe can be your instant refrigerator cake business this coming Christmas. (Hmm… are you smiling? Well, I'm smiling back at you.. Did the light bulb just light upon your head? Haha… If you're planning to have an extra income this is it! Well.. well.. well.. Emmanuel! I have no doubt about it, this will be a big hit for those who like frozen dessert, so go for it… xoxo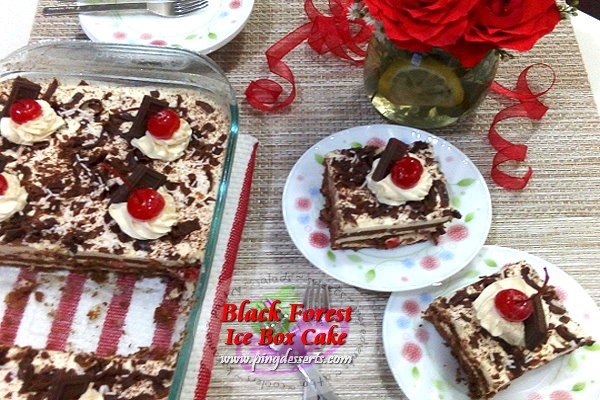 Note: I use 1 box (200g) of frosty whip cream powder and cold water and whipped according to package direction. I add (250ml) all-purpose cream and I reduced my condensed milk into ¼ cup since frosty cream is already sweet.
Look at those layering isn't it perfect??, using a regular Nestle all-purpose cream alone won't give you the same consistency that we want to achieve here. Our secret ingredient for a stable graham float is a box of FROSTY!
Store your graham float in a container with a fitted lid or cover with plastic wrap to avoid contamination. To keep your refrigerator, stay longer, freeze immediately after use, this will last for up to 2 weeks.
Thank you for visiting and have a blessed day everyone 🙂