How to make a mouth watering frozen dessert Recipe.
Mango Graham Float Recipe is a popular Filipino refrigerator cake dessert. This cake can be made with either 2 or 3 layers of graham crackers, sweetened condensed milk, whipped cream and ripe mango slices. This delicious no-bake and easy-to-make dessert is refrigerated overnight until the graham crackers absorb the cream moisture and set completely. A creamy mango refrigerator cake that everybody loves, you'll be floating in goodness with every bite. If mangoes are not in season you can substitute canned peaches or fresh strawberries. Mangoes are sweet and delicious on its own and it's cheaper when they are in season, so don't forget to try this recipe.
Serves 12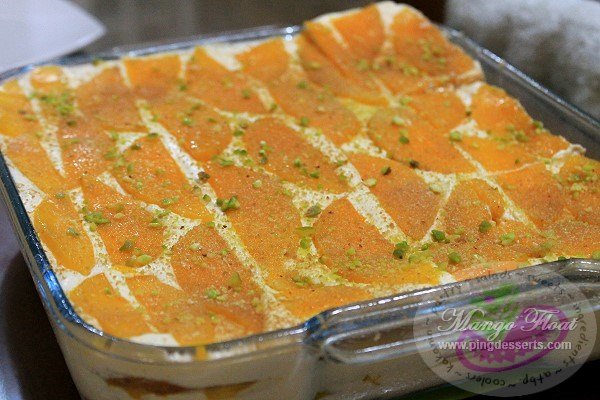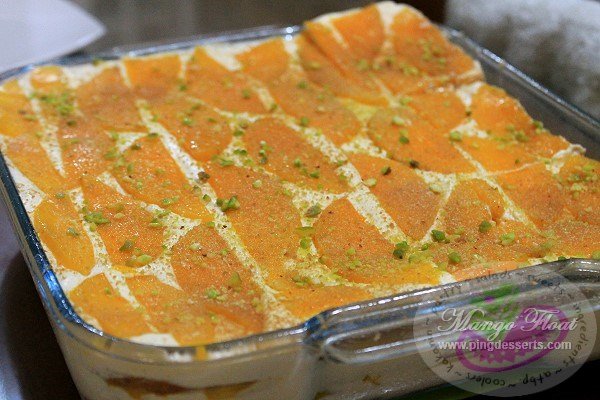 Ingredients:
3 large ripe mangoes, sliced
1 cup whipping cream, (chilled & whipped until doubled in size) or 1 box (200g) Frosty Whip Cream Powder, whipped according to package
1 (250ml) nestle all-purpose cream, chilled
1/4 – 1/2 cup sweetened condensed milk
1/2 tsp. vanilla extract
1/4 tsp. salt (optional)
1 pack graham crackers
Watch How to make Mango Float:
httpv://www.youtube.com/watch?v=TrTEtFkOT8A

Preparation:
Prepare an 8×8 or 7×11 inches baking dish or any similar container and set aside.

Wash mangoes, cut both sides off the pit, peel and slice the flesh thinly. Don't throw the pit scrape the flesh and reserve.
In a mixing bowl, whip the cream until light and double in size. Add in chilled all-purpose cream, condensed milk, vanilla extract and a pinch of salt and mix until well combine. At this point you can taste test your cream and adjust the sweetness according to your taste. Divide the whipped cream mixture into 3 parts, so you can have a 3-layer mango float.
To assemble the mango float, first you have to arrange graham crackers in your baking dish. Lay the crackers flat and even until you cover the whole bottom of the pan. Use scissors or sharp knife to trim the crackers, if needed. Pour 1 part of the cream mixture at the top of crackers and spread evenly. Top with mango slices and add reserve scraped mangoes.

Place another layer of graham crackers and repeat process until you have 3 layers, ending with cream and sliced mangoes on top. Don't throw extra graham crumbs, crushed it finely & dust it on top of your mango float. Chill for 8 hours or overnight to set completely before serving.

Here are the Mango Float ingredients, you can replace condensed milk or whip cream, with your trusted brand, so let's begin…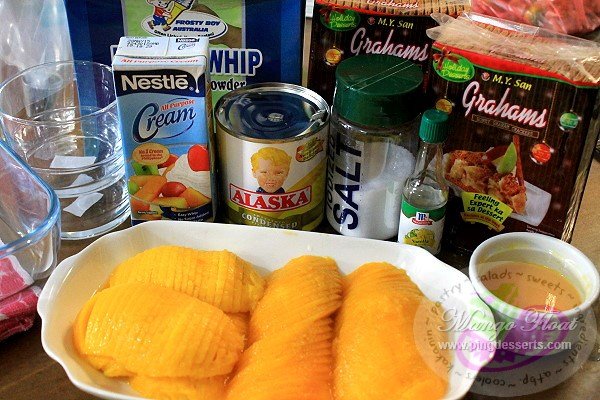 I use 1 box (200g) of frosty whip cream powder and dilute in mango juice and cold water and whipped according to package direction. I add (250ml) all-purpose cream and reduced condensed milk into ¼ cup since frosty cream is already sweet. And I sprinkle some crushed pistachio nuts on top for crunchy texture, you can also use cashews. (Pistachio or Cashews are optional, but I recommend you to try adding nuts for a change).

A stunning creamy mango dessert to prepare during birthdays and holidays. A sweet and mouth watering refrigerator cake to share with your family and friends.
Store your mango float in refrigerator with a fitted lid or cover with plastic wrap to avoid contamination. To keep your mango graham float, stay longer, freeze immediately after use, this will last for up to 2 weeks.
Published on: April 18, 2012 Revised on: February 18, 2015