How to make a tasty, buttery and flaky Empanada.
Corned Beef Empanada Recipe. Baked Corned Beef Empanada Recipe. A buttery, flaky and well puffed pastry dough filled with corned beef, potatoes, onions, cabbage, carrots, scallions, shredded cheese and pepper flakes to make it spicy. Another tasty version of Empanada and it is often served as a merienda or an appetizer. Empanadas are tasty and very versatile, you can experiment with different stuffings and the flavor possibilities are endless. You can make savory and sweet empanada, depends on what you like to prepare in different occasions.
So, here's my Corned Beef Empanada, I hope you will give this a try and we will be making more of savory and sweet empanada recipe soon.
Makes: 2 dozen
Empanada Filling:
3 medium potatoes, steamed and roughly mashed or diced
1 tbsp. canola oil
1 small onion, chopped
2 cans (7oz.) corned beef (use your favorite corned beef)
1 cup cabbage, shredded
3 tbsp. butter, softened
1-2 tbsp. scallions, thinly sliced
salt and pepper, to taste
pepper flakes, to add spice (optional)
¼ cup carrots, grated
¼ cup cheese, grated
Empanada Dough :
3 cups all-purpose flour
1 tsp baking powder
tsp. salt
4 tbsp. sugar
½ cup butter or margarine, chilled & cubes
½ cup vegetable shortening or lard
6-7 tbsp. icy cold water,
1 egg, beaten for egg wash
Cooking Procedure:
Wash and peel your potatoes and cut into quarters and steam until tender, fire off and set aside. In a large saucepan, heat the oil and sautee onions until translucent. Add the corned beef, stir for 3 minutes, then add your cabbage, salt and pepper to taste.

In a large bowl, combine steamed potatoes and butter, then mix well. Add sautéed corned beef with cabbage. Add thinly sliced scallions, grated carrots and grated cheese and mix until blended. Check the seasoning of your corned beef filling before using, you can add more salt or cheese if needed or more pepper flakes if you like spicy empanada. Set aside the filling to cool down completely.
To prepare the crust sift flour, baking powder, salt and sugar together in a bowl. Add in chilled butter & lard or margarine & vegetable shortening. Using a fork or hand pinch together until it forms a crumb. Add ice cold water 1 tablespoon at a time and mix well. Knead the dough for 3 minutes and form a ball. Cover with plastic wrap and let it rest for 15 minutes before using. Roll out dough on a floured surface and cut dough into your desired size, using empanada cutter, or a cookie cutter or any available round cutter you have.

Place corned beef filling into the center and fold dough over to the opposite side. Use your empanada cutter/molder if you have one or you can simply crimp the dough with fork or with your fingers to seal the edges. Repeat procedure until you're done with your dough, any filling leftovers can be stored in a plastic container for later use.
Arrange empanadas on a baking tray and brush with egg wash. Bake in a preheated oven 375F, for about 30-35 minutes or until lightly brown. Time varies depend on the size of your empanada. Empanada are best serve when it still warm.
As you can see in this photo these tiny empanadas look pretty with flower design right? So don't throw your excess dough, have fun with it and grab your fondant cutters or a small cookie cutter and create your own design. Now, let's start baking… because I have a small oven here, I need to bake them in two batches, 1st tray goes into the oven and the 2nd one goes in the fridge to rest.
Empanadas can be deep-fried or baked depends on the dough you are using in my recipe I usually make a dough for baking. Actually, I got this recipe from my older brother, they've been using this dough for a long time and We like it very much. But if you have a family recipe or a trusted recipe for baking or fried empanada dough go ahead and use it :).
.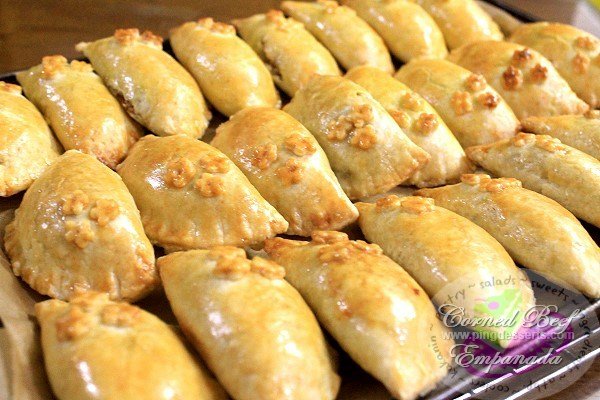 .
You can make this recipe in advance, store it in zip bags, throw in the freezer and don't forget to thaw them before baking. If you store your empanada in the freezer it will last for a month. This recipe makes 2 dozen of medium size Empanadas. If you are planning to start a small business, I hope this simple recipe may help you. Negosyo! Negosyo din pag may time 🙂
.
.