How to cook Caramel Tart with Pistachio Nuts Recipe.
Caramel Tart with Pistachio Nuts Recipe. A delicious Caramel Tart with Pistachio Nuts recipe. This miniature Caramel base tart has a lot of different nut fillings to choose from such as, peanuts, pilinuts, walnuts, pistachios or whatever nuts available on your pantry. It's quick and simple to prepare, your kids will enjoy it!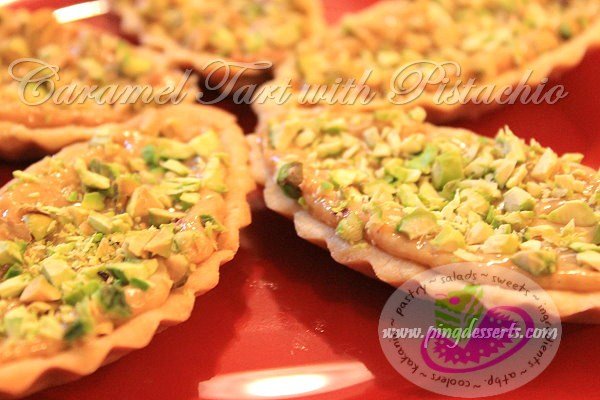 Caramel Tart with Pistachio Nuts Ingredients:
Crust:
140g butter
½ of an egg
½ cup icing sugar
1 ½ cups plain flour

a

pinch of salt
Caramel Filling:
1 cup sweetened condensed milk
1 cup

nestle

cream
4 tbsp.

brown

sugar

a

pinch of salt
½ cup pistachio nuts, roughly chopped for toppings

colored

cellophane, (optional)
Cooking Procedure:
In a bowl mix sifted flour, icing sugar, salt, butter and egg until

becomes

dough and knead. Sprinkle some flour to your working area and knead it to form a ball and wrap in a cling film. Refrigerate the dough for about 25 to 30 minutes or until it is workable state.
To make the Caramel filling: Combine all the filling ingredients except pistachio nuts, in a saucepan and bring to simmer until thickens or spreadable consistency. Fire off and set aside to cool completely.
Preheat oven to 180C (350F). When the dough is ready, cut 24 equal portions and flatten each pastry ball on a

flour

and place each dough on a prepared tart

moulds

. Press dough in the

mould

by circular motion, using your thumbs then tidy up the edges with your index fingers. Prick the dough with fork to get rid air pockets and to avoid the dough from shrinking when baking.
Prepare the filling and spread about 2/3's full on each

moulds

. Sprinkle each Caramel Tart with chopped pistachio nuts or pipe a meringue icing on top. Arrange caramel tarts on a baking tray and bake in a preheated oven for about 20-25 minutes or until pastry turns light brown and filling gets firm. Remove tarts from the oven and let it cool completely, before removing from the

moulds

to prevent from cracking. You can wrap in any colored cellophane if desired, or store in an airtight container.
…..
Freshly bake Caramel Boat Tarts and Caramel Tart with Pistachio Nuts. So tasty, nutty and delicious caramel that melts in your mouth, my favorite and super like tart ever!!!
In this recipe you can make a couple dozen of Boat Tarts. Tarts often serve as a treat for giveaways in occasions and a great Pasalubong treat too.