How to make Single Crust Pastry Recipe.
Single Crust Pastry Recipe. This single crust pastry recipe is very basic and easy to make. A light, flaky, and sweet tender crust with a buttery flavour and ideal for any pie or tart, ready to be filled with your favorite filling. You can make this pastry dough ahead of time if your schedule is hectic and keep the dough sealed in a plastic wrap and store in a freezer and thaw in a refrigerator for a couple hours or so. This pastry dough will last for at least a month.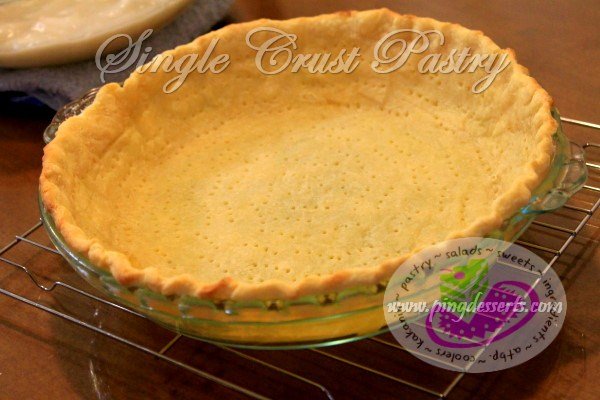 Single Crust Pastry Ingredients:
1 1/4 cup all-purpose flour
1/4 tsp.

salt

2 tbsp.

sugar

1 stick butter, frozen & cubes
1 egg yolk
1/8 cup ice water (+1 tbsp.

if

needed)
1 egg, lightly beaten for egg wash
Single Crust Pastry Procedure:
Place flour, salt and sugar in a food processor, pulse to combine then add the butter and pulse until mixture turns into crumbs. With processor running add the egg yolk and ice water and stir quickly to combine. Test dough with your finger if it's too crumbly add 1 tbsp.

of

ice water and stir and if it's too soft that's done. Transfer in a plastic wrap and form a ball then flatten like a disc and refrigerate for an hour before using.
Roll out dough on a lightly floured working surface, and make a round with an extra inch from the size of your pie pan. Roll pastry dough on rolling pin for easier handling then transfers on the pie pan and cut off excess dough with a knife then design edges with fork. Prick base of pastry shells with a fork and chill for 30 minutes.
Remove pastry from the freezer and line with baking paper with an extra inch to overhang then fill with weights such as rice or beans. Bake in a preheated oven, 190C (375F), for about 15 minutes. Remove from the oven and get rid of the weights then cool on a wire rack for a minute. Prepare egg wash and brush the pastry shell evenly, bake for another 5 minutes or until golden brown. Remove from the oven, and return to a wire rack and cool completely before adding any filling.
…..
Freshly bake pie crust pastry, ready for my Buko filling . . .