How to make Buko Pie, Coconut Pie or Buko Pandan Pie Recipe.
Buko Pie, Coconut Pie or Buko Pandan Pie Recipe. Buko Pie or Coconut Pie is a popular pie in Filipinos, a classic and authentic pinoy dessert. It is made from fresh and creamy young coconut meat enhances with fresh coconut juice, milk, vanilla essence and thickens with sugar, cornstarch and butter. An all-time favorite pie dessert and one of the best selling pasalabong treat here in the Philippines.
Buko

Pie or Coconut Pie Ingredients:

Filling:
3 cups fresh young coconut meat, sliced
½ cup coconut juice
1 cup sugar
1/3 cup cornstarch
½ cup evaporated milk
1 tbsp.

butter

1 tsp.

vanilla

extract
Pandan

Gelatin for Buko Pandan Pie:
1 pack green Alsa

gulaman

, (optional)
1 tsp.

pandan

essence, (optional)
1 cup whipped cream, (optional)
Buko

Pie or Coconut Pie Procedure:
Buy 3 young coconuts and let your Buko Vendor husked and crack the coconut in half. Reserve the coconut juice in a pitcher, clean coconut halves with running water, and let it drain for a minute. Using a spoon scrap all coconut meat out from the shell carefully to avoid the brown skin, it gives a bitter taste. Put scraped coconut meat in a clean bowl and set aside.
To prepare the filling, combine coconut juice, sugar, cornstarch and evaporated milk in a big saucepan and stir until the sugar and cornstarch dissolves. Turn on the fire on a medium heat until starts to boil then add the coconut meat and stir constantly until slightly thickens. Turn the heat to low then add the butter and vanilla extract. Stir until the mixture becomes smooth and glossy, fire off. Let it cool for about 5 minutes before pouring on a prepared baked crust. Serve warm or chilled.
For Buko Pandan Pie, the same ingredients in filling and procedure but you can either, puree the

buko

meat filling if you want or a regular meaty coconut filling which I prefer. Then pour into a baked pie crust and flatten it evenly with a spatula, and chill for 15 minutes. In a saucepan cook the Alsa

gulaman

or any gelatin according to package with less of water for a firmer result, add

pandan

essence and stir. Let it cool for a couple minutes and pour on top of your chilled buko pie and return to refrigerate for another minute until the gelatin sets. If you desired you can add whipped cream to decorate your pie before serving.
…..
Freshly bake Buko Pie, I called it "meaty revealed coconut pie"! Since I don't have a top crust.
And this is what i'm excited about, a Buko Pandan Pie, doesn't look gorgeous and yummy?? The smell of the pie is so good, the aroma of pandan essence is all over my little kitchen . . . sarap!!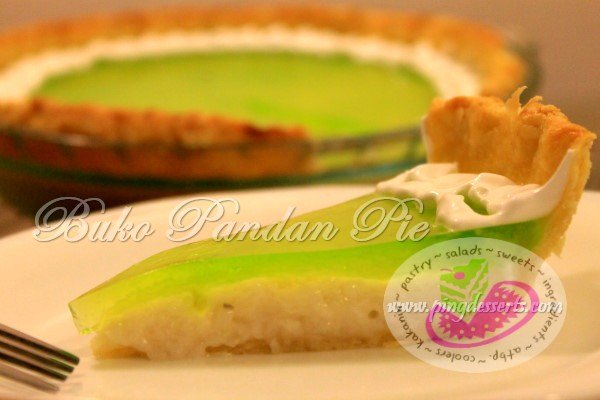 To see, to taste, to believe and to get addicted. My friend, what are you waiting for? Please try it, so affordable, easy to make and deliciously rewarding 🙂