How to make a delicious No-Bake Jello Pudding Pie.
Pudding Pie with Fruit Cocktail Recipe. A decadent and creamy Jello vanilla pudding pie with fruits and perfect buttery graham pie crust. This delicious and ready to mix instant pudding pie filling is a time saver in making dessert. You can prepare this dessert in just a short period of time.
I'm not a pudding pie lover, but I decided to make and try one since I have 1 box of Jello left that I got from my Aunt. I remember she gave me 4 boxes of those with different flavors like chocolate, pistachio, butterscotch and the classic vanilla. This Classic Vanilla Pudding Mix has been sitting on a my pantry for more than a year now. I'm not kidding…(LOL), it's not expired, I swear.
So today, it's time to use my homemade graham pie crust. Let's start and make some sweety pie, honey pie, pudding pie!
Serves : 8
Ingredients:
1 box (96g) Jello Classic Vanilla Pudding Mix
1½ cups Fresh Milk, cold
1 cup Fruit Cocktail, well-drained
1 cup cool whip, for topping (I'm using frosty whipped cream)
Cooking Procedure:
Pour the pudding mixture into your prepared and cooled 8-inch graham pie crust. Spread the pudding mixture slowly and even the surface using a spatula. Top each slice with cool whip or pipe a whipped cream swirls on top. Refrigerate for at least 3 hours or more until ready to serve.
.
Here's our pudding pie ingredients, you can replace fruit cocktail with fresh berries if you like.
Now, it's your turn to try and make your own pudding pie! You can adjust or double the filling of your pie if you want an extra height in your pie.
This Jello pudding mix comes with an easy to follow instructions for pie filling, you can never go wrong with it. Jello pudding mix offers different flavors, so choose the one that you really like.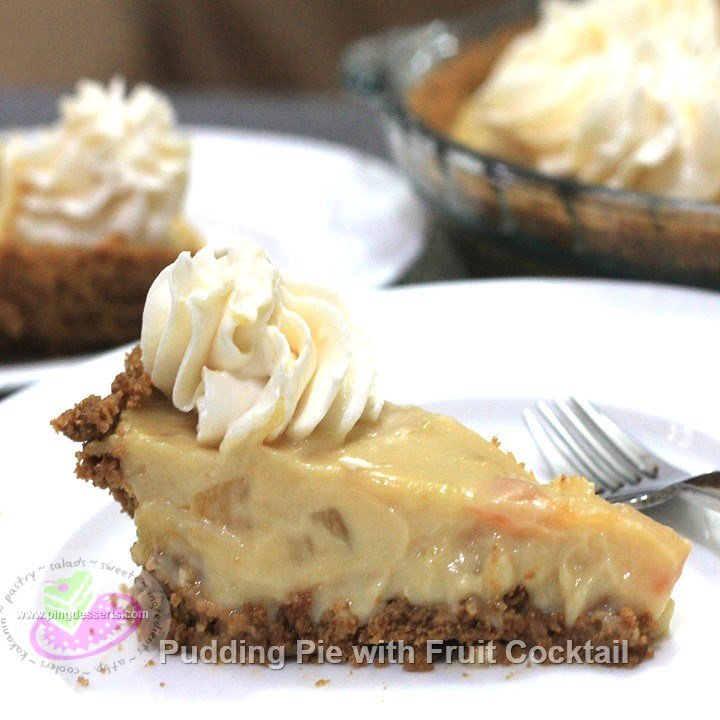 .
If you want to try pistachio flavor you can add or omit the fruits, top with cool whip and sprinkle some pistachios on top. And for the chocolate pudding pie replace fruits with marshmallows (a S'mores Pudding Pie??, I think you'll need a blow torch for this…hehe just kidding) or use a marshmallow fluff (a Milky Way Pudding Pie??) and you can add some more cashew nuts on top (now it's a Rocky Road Pudding Pie…LOL) Ok, no more chocolate fantasies for now, let's end this post with a smile.
"Oh! my pudding pie!"
.