How to make a moist Carrot Cake with Whipped Cream Frosting.
Super Moist Carrot Cake Recipe. Simple and Easy Carrot Cake Recipe. This is perfect and a must try Carrot Cake, it has a generous amount of fresh and finely shredded carrots with crushed pineapples that makes the cake super moist, a little bit dense and flavorful. This cake is beautifully covered with a delicious tangy cream cheese frosting, decorated with crushed cashews and carrot fondant topper.
The first time I made a carrot cake from scratch, I don't like it! Completely disaster, it's too oily, it didn't rise well and the cinnamon was too strong. (The recipe calls for a cinnamon and a nutmeg, and since I don't have a nutmeg, I decided to double the amount of cinnamon (Bad idea, toink!) it turned into a Cinnamon Cake (LOL).
Good thing I discover this Maya Carrot Cake Mix, from then on making carrot cake is easy and always comes out perfect! I've been using this Carrot Cake Mix for a long time now. I use this recipe to make birthday cakes and cupcakes. I frost the cake with tangy cream cheese frosting, but you can also use your own vanilla butter cream frosting. Actually, they are both tastes great with carrot cake. I also made a little adjustments and add some crushed cashews for crunchy texture. You can replace cashews with other nuts depends on what you have on hand.
Serves: 8 slices
Cake: (Two-Layer-7-inch Cake)
1 box (400g) Maya Whole Wheat Carrot Cake Mix
1/3 cup canola oil
1/2 cup water or fresh milk
2 eggs
1¼ cups carrots, shredded (loosely packed)
½ cup pineapple, drain and roughly chopped
Frosting:
1 (8oz.) cream cheese
1/2 cup icing sugar
1 tsp. vanilla extract
¼-½ cup toasted cashews, finely crushed, to sprinkle on top
8-10 pcs. carrot fondant, to decorate
Sprinkles, (optional)
You also Need:
Cooking Procedure:
Preheat the oven to 350F. Greased and lined with parchment paper 2 (7-inch) pans and set aside. Drain the pineapple, reserve the pineapple juice for later use and set aside. Wash, peel and shred 2 medium fresh carrots and measure as recipe needed about 1¼ cups (loosely packed). In a mixing bowl, put the carrot cake mix and make a well in the center. Add in the canola oil, water, eggs, pineapple and shredded carrots. Stir all ingredients in a bowl until well blended.

Divide the batter evenly as possible into 2 prepared baking pans. Bake for 18-25 minutes or until toothpick inserted in the center comes out clean. Transfer to a wire rack and let it cool completely before frosting.

Meanwhile, beat the softened cream cheese until soft. Mix in icing sugar and vanilla extract and continue beating until smooth and well blended.
We need a cake board at least 1-2 inches bigger than your cake. Apply a little frosting in the center of the board and top the first cake, placing at the center of the board. Frost half of the frosting and spread evenly with a spatula.

Top with the 2nd layer and frost the top with the remaining frosting. Spread the frosting evenly and sprinkle crushed nuts on the top edges as neat and even as you can. Arrange fondant carrots the way you like, add some more sprinkles if desired. (If you have a remaining frosting you can also add a drop food color gel, a color of your choice and put some writings in the center.
Here's our ingredients: Cake Mix, Freshly Shredded Carrots, Pineapple, Eggs, Canola Oil and Water (or Fresh Milk). And for our Frosting: we need a box of Cream Cheese, Powdered Icing and Vanilla Extract. You can use whatever brand you prefer as long as you have the same measurement as needed for this recipe.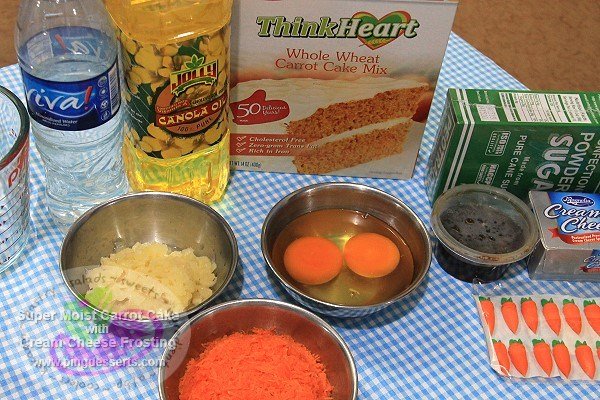 A Mother's Day gift to our beloved Mama D and Nanay M. The first Carrot Cake was delivered early in the morning by my Older Brother and the other one was delivered late in the afternoon by my Sister-in-Law. I'm happy and blessed to have this opportunity to repay them and to remind them how special and precious they are having them in our life.
My family enjoy this simple and easy carrot cake recipe, they told me it's moist, not too sweet, a little bit dense but it's flavorful. A super late post for Mother's Day special but it's worth sharing.
…..
Thanks for visiting and have a nice day, I hope you will give this a try.
……
.