How to make decadent Chocolate Cupcakes
Chocolate Cupcake filled with Caramel Syrup and Swiss Miss Cream Frosting Recipe A decadent and super moist chocolate cupcakes filled with sweet and salty caramel syrup, frosted with swiss miss cream frosting and top with cherry and sprinkles. To make these pretty cupcakes, all we need is a box of chocolate cake mix, a box of frosty whip cream powder, a swiss miss chocolate drink powder, a homemade or store bought caramel syrup, bottled cherries or jelly hearts and a sprinkle of your choice. Bake it… decorate it… share it… and enjoy!
Makes: 24 (2 oz.) cupcakes
Ingredients:
Cupcakes:
1 box Devils Food Cake Mix (bake according to package direction)
3 large eggs, at room temperature
1 cup water or milk
1/2 cup oil
Swiss Miss Cream Frosting:
1 box (200g) Frosty Whip Cream Powder
2 pack Swiss Miss Chocolate Drink Powder
¾ cup cold water
1 tsp vanilla (optional)
Filling/Toppings:
2 cups Caramel Syrup
24 pcs. Bottled Cherries or Jelly Hearts
1/8 cup Sprinkles of your choice
24 (2oz.) cupcake liners
Procedure:
To prepare the Cupcakes: First, we need to preheat our oven to 350F. Then prepare your utensils and ingredients and we are ready to start. Bake according to package direction and divide the batter into 24 (2oz.) cupcake liners. Bake the cupcakes for about 15-18 minutes and check with a toothpick if it's done. Fire off, transfer the cupcakes on a wire rack and let it cool completely.
To make the Swiss Miss Frosting: In a mixing bowl, combine frosty whip cream powder, swiss miss chocolate powder, vanilla extract and cold water, then whipped until light and double in size.

To assemble the Cupcakes: We need to make a hole in the center of each cupcake for easy filling, you can make a hole using fruit baller, a knife or a spoon. Fill each cupcake with caramel syrup using a piping bag with a medium round tip. Squeeze the bag and fill each cupcake, just enough until it reaches the top.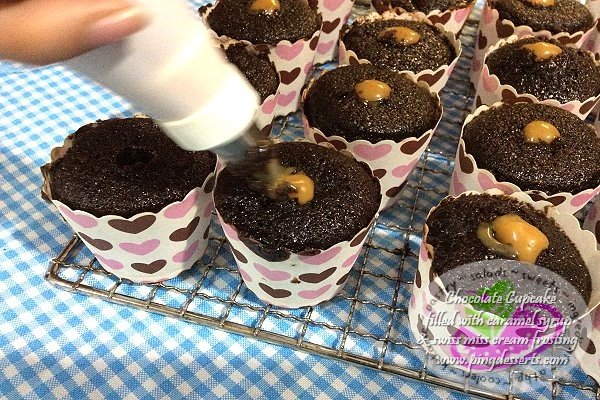 To Decorate the Cupcakes: Put big amounts of frosting on another piping bag with a large swirl tip on it. Pipe a large swirl on top of each cupcake. Decorate it with cherries or jelly hearts and finish with a generous sprinkle on top. (I wanted to use cherries, but I only have 1 bottle and it's not enough so I added jelly hearts the red ones and it looks good 🙂 I Luv it!)
– oOo –
It's fun and easy making cakes and cupcakes using a store bought cake mixes. It saves time and energy, no measuring or sifting of dry ingredients. One large mixing bowl, one liquid measuring cup and a whisk are all we need. (Awww… good news! LOL) I do not see myself as a lazy Baker, I'm just smart enough to buy a good quality ingredients I needed for my projects. (naks! hehe..)
So here's another tip for you, buy a trusted brand of caramel syrup and store it properly. It is always helpful to have a caramel and chocolate syrup standby, you can use it anytime for filling your cakes and cupcakes, great for shakes or smoothies and you can use it to drizzle on top of your desserts.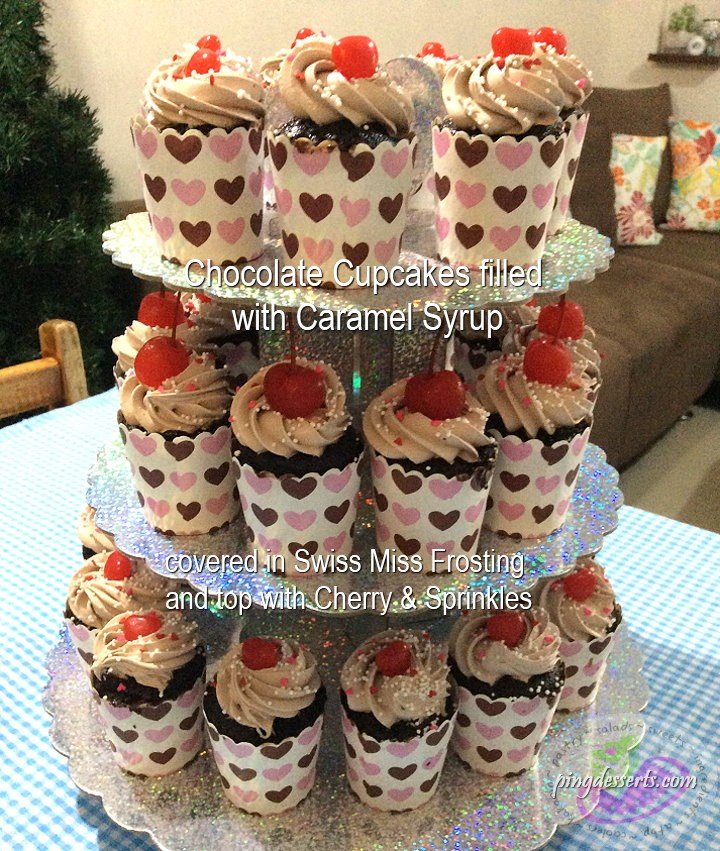 You can use different toppings for these cupcakes, if you prefer chocolate that's fine and use sprinkles that goes with it. But if you desire to add some crushed nuts, go ahead and it's great with mini-mallows as well (Ayan naging rocky road tuloy… haha). I hope you will try this easy to make recipe and have a nice day everyone 🙂 🙂 🙂
– oOo –
Be the Reason Someone Smiles today!