How to make decadent Chocolate Cake with Mocha Frosting.
Chocolate Cake with Mocha Frosting Recipe If you are a coffee fanatic, this rich and decadent cake is perfectly for you! A super moist and not too sweet Chocolate Cake covered with Mocha Frosting and top with decadent Ferrero, Stick-O, White Chocolate covered Almond and Biscoff Cookie Crumbs. This cake is very easy to make, all you need is a simple ingredient. A box of a good quality Chocolate Mix, Eggs, Milk, Oil, Frosty Whipped Cream Powder, Coffee Powder, Assorted Chocolates and a cookie crumbs.
With the same recipe you can make a single 8-inch cake or 2 dozen of 2oz cupcakes. But for now I' going to make a 2 (7-inch) round cake. I'm planning to make a 2-layer decadent Mochalicious Birthday Cake for Nanay.
Makes: 1 (Two-Layer-7-inch Cake)
Ingredients:
Chocolate Cake:
1 box Devils Food Cake Mix ( bake according to package direction & divide the batter into 2 pans.)
3 large eggs, at room temperature
1 cup water or milk
1/2 cup oil
Mocha Cream Frosting:
1 box (200g) Frosty Whipping Cream Powder
1 sachet (2g) Nescafe Classic
1 tbsp. unsweetened cocoa powder, sifted
¾ cup cold water
Toppings:
1 sachet (2g) Nescafe Classic dissolved in 1/2 cup hot water + 1 tbsp sugar (to moisten the cake)
6-8 pcs. Ferrero, unwrapped halves or whole
3 pcs. chocolate flavored Stick-O, cut into 2 inches
6-8 pcs. White Chocolate covered Almonds "Goya"
1 pc. Biscoff Cookie, finely crushed (you can crushed graham)
1/8 cups melted chocolate, for drizzle (optional)
Procedure:
To Prepare the Cake: Preheat oven to 350F and line the bottom of the pans with parchment paper. Bake the cake according to package direction and divide the cake into two 6-inch round pans equally. Bake the cake as directed and check with a toothpick if it's done. Fire off, transfer the cake in a wire rack and let it cool completely. And for an easy frosting, wrap each cake with plastic food wrap and chill for about 30 minutes or so, this will help lessen the cake crumbs when you are applying the icing later on.
To Make the Mocha Frosting: In a mixing bowl, combine frosty whip cream powder, coffee powder, unsweetened cocoa powder and cold water, then whipped until light and double in size.
To Assemble the Cake: We also need a cake board at least 2-inches larger than your cake. Frost the board at the center with a little frosting and place the first layer of your cake in the center. Drizzle coffee on the about 2 tablespoons just to moistened the cake. Put 1/3 part of mocha frosting on top and spread evenly. Cover it with another cake on top, again drizzled with coffee and spread another 1/3 part of frosting on top and evenly coat the sides of your cake and refrigerate for about 20 minutes. Add the remaining frosting on the sides and design your cake using a decorating comb.

To Decorate your Cake: Drizzle the melted chocolate carefully on top edges of your cake, if using one (optional). (You can use melted dark or milk chocolate or a chocolate syrup) Decorate your cake with assorted chocolates alternately and add crushed Biscoff Cookie crumbs or Graham crumbs in the center about 3 tablespoons. Refrigerate for an hour and it's ready to slice and serve.
– oOo –
My Jars of Assorted Chocolates and Cookies are already lined up. A couple moist chocolate cakes are perfectly cooled and just waiting to get frosted. So lets make our Mocha Cream Frosting and then we're good to assemble our cake.
Another fun filled moments in my tiny and messy kitchen… LOL gooo00d Job Ping! You've just level Up, now proceed to the sink and wash all your mess, to claim your 1 hour nap bonus haha…. "Make Your Mama Proud" (mymp)… I know She will for sure, because this is her 69th Birthday Cake. I will always be honored and thankful to have an opportunity to make your Birthday Cake every year. I loVe yOu So mUch Nanay! xoxo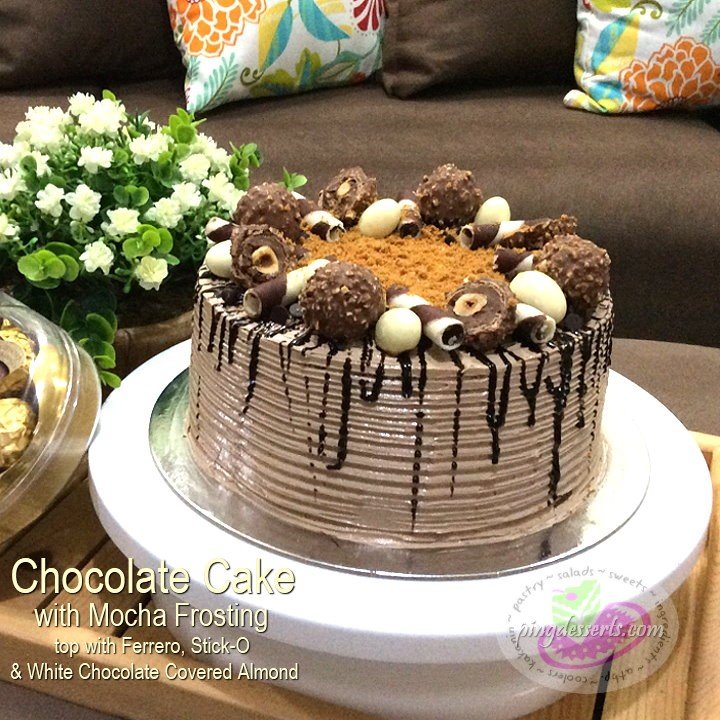 Hmm … I guess some of your loved ones, special day is fast approaching too, right?. So please try this recipe and "Make Yourself Proud" (myp) haha… I know you can do this cake, don't second guess yourself darling, yes of course You Can! Darling from my heart to yours, let me whisper gently this to you "a single box of Cake Mix & a box of Frosty Whipped Cream can produce a Box-of-Joy <wink><wink>
May your day be filled with positive energy, happiness, blessings and prosperity. Thanks for visiting and have a nice day everyone 🙂
– oOo –