How to make a mouth-watering Peach-Sago Salad Recipe.
Peach-Sago Salad Recipe. One of the most budget friendly Filipino Salad recipes and it is fast & easy to make. With only a few ingredients, you can create this yummy and mouth-watering sago salad. To make this recipe all we need is cooked tapioca pearls "SAGO", cream, condensed milk, evaporated or fresh milk and almond extract. To prepare all we need is to mix all ingredients, chill and serve. What I like about this recipe is that you can replace peaches with any fruit you like.
I remember my Aunt told me that my Nanay used to cook Tapioca when they were teens. My Aunt says that Nanay's tapioca recipe was superb and she asks me if I have the same recipe. And I said "NO", I haven't even remembered she made that dessert for us. So I ask Nanay about it and she can't even recall making them. Hmm Now what?!! they're both on their senior years, oh Boy! Alzeimers what have you done?? Hahaha… but good thing is, I found Mely's Sago Mango Salad and it looks yummy! So I'm trying it with Peaches, since mangoes are off season and it's very pricey. So lets get started…
Serves: 12
Ingredients:
1 cup uncooked Tapioca Pearls "Sago", cooked in 4 cups of boiling water
1 can (460g) Jolly Peach in Halves, drained and cubed
1 can (300g) Nestle Cream
1 can (168ml) Sweetened Condensed Milk, (adjust according to your taste)
2½ cups Evaporated or Fresh Milk, Chilled
3 tsp. Almond or Vanilla Extract
Maraschino Cherry, to decorate
Procedure:
First, we need to bring 4 cups of water into a boiling point. Add in a cup of small size tapioca pearls and stir from time to time to avoid from sticking and burning at the bottom of the pot. Cook for about 20 minutes until almost translucent. Fire off, cover with a lid and let the tapioca pearls rest until fully cooked. Rinse and drain and place in a large deep serving plate. (Please use plain white sago, don't mix with the colored ones.) As you can see on my photo, I added a few green and yellow ones, which I regret it, LOL. As I drop my sago in boiling water, it turns green and there's nothing I can do. Lessons learned, Laundry SOP can be applied in cooking sometimes "separate your whites from the colored ones", LOL.

Drain and slice peaches into small cubes and add to into your tapioca. Next, add in your all-purpose cream, ¾ of your condensed milk (you can add the rest later on) fresh milk and extract (almond is great in this recipe, but you can use vanilla extract if you want or both that will be fine). Mix well to combine and at this point, you can check the sweetness and adjust according to your taste.
Chill Peach-Sago Salad for at least an hour before serving. Don't worry if your salad becomes thick, that's totally fine because tapioca tends to absorb the almond-milk. But if it's too thick for your liking, just add half cup of evaporated or fresh milk and mix well. Serve Peach-Tapioca Salad with Cherry on top.
– oOo –
Thank you so much Jolly Products for sharing your yellow cling Peach Halves in Syrup. I love your canned peaches, it's not too ripe and mushy to handle. It has a perfect firmness to hold its shape when you cut them or shape them into a ball. From now on, I'll be switching to Jolly Peaches Halves.
To my friends out there who want to try this recipe, I recommend Peach Halves from Jolly Products. It's a little bit cheaper than the other brands, but high in quality but if you're not a Peach lover you can use fresh Sweet Mangoes.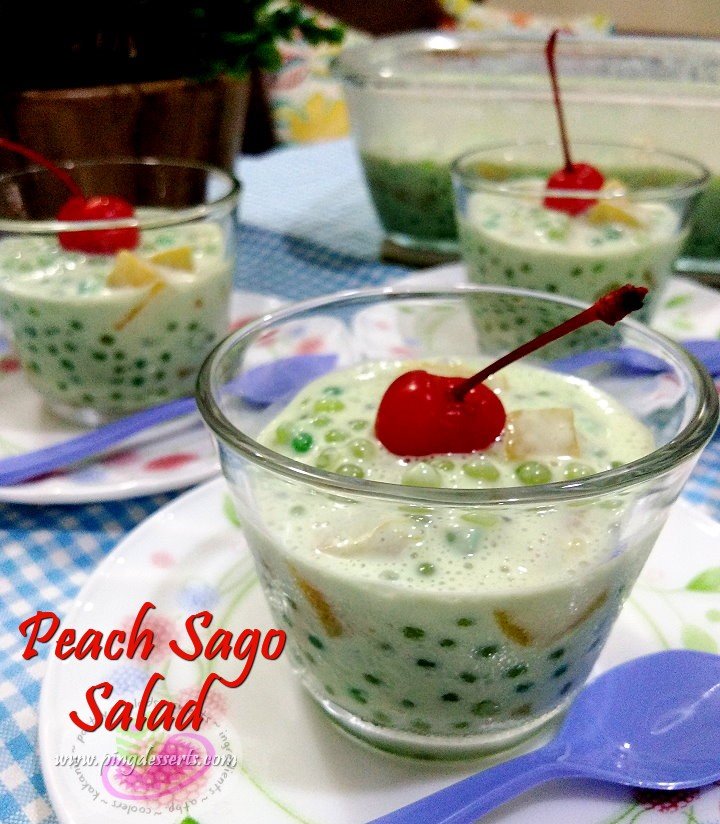 Keep Peach-Tapioca Salad refrigerated in a container with fitted lid to avoid spoilage. This salad can last up to a week, but you need to add more evaporated or fresh milk with a few drops of almond and sugar if your salad becomes too thick.
Thanks for visiting and have a nice day everyone, see you on my next post 🙂
– oOo –