How to make a delicious Luncheon Meat & Macaroni Salad.
Luncheon Meat & Macaroni Salad Recipe – This macaroni salad is mouthwatering, it has a perfect combination of sweet and tangy flavor that comes from the fresh fruits. This simple macaroni salad is made of elbow macaroni, luncheon meat, diced apple, mangoes, cucumber, orange segments, cheddar cheese and dressed in a delicious mustard-mayo dressing. Macaroni Salad nowadays, has a lot of versions it can be sweet or savory. A great substitute for a pricey Ham and Macaroni Salad. Actually, this salad has a wide selection of fruits, veggies, protein, nuts and dressing to choose from. You can create and experiment with your own version of macaroni salad. I hope you will try our new salad recipe this Holiday Season.
Serves 10-12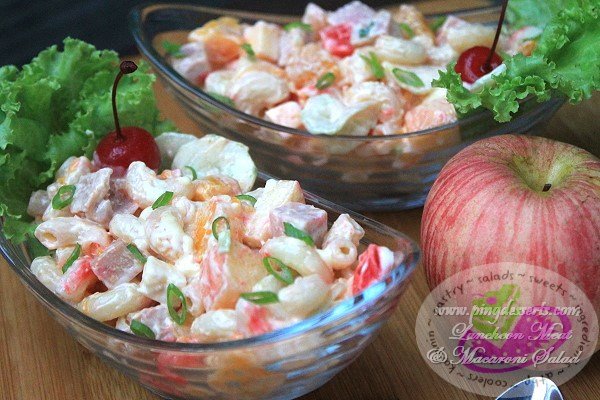 Macaroni Salad Ingredients:
400g Elbow Macaroni Noodles, (cooked according to package)
1 can (210g) Luncheon Meat or Ham, diced
1½ cups red apple, diced
1½ cups mango, diced
1 cup orange segment or pineapple chunks, drained
1 cup cucumber, thinly sliced
½ cup cheddar cheese, diced
1 cup red or green gulaman or nata de coco, drained (optional)
Mustard-Mayo Dressing:
2 cups mayonnaise
2-3 tsp. mustard
3-4 tbsp. honey
1-2 tbsp. parsley or scallions, finely sliced
1 tsp. paprika
salt & white pepper, to taste
Cooking Procedure:
Prepare your macaroni noodles and cook according to package. Drain the noodles well and set aside to cool completely. Open a can of luncheon meat or ham and cheddar cheese and diced into bite size pieces and set aside. Wash and peeled apples, mango, cucumber and diced the same size with your ham as possible. Drain orange segment and nata de coco or gulaman and set aside.

In a large bowl, combine macaroni noodles, luncheon meat, fruits, gulaman or nata de coco and cheese and mix to combine. In a separate mixing bowl lets make our simple and delicious mustard-mayo dressing. Combine mayonnaise, mustard, honey, paprika, parsley or scallions and season with salt and pepper. Taste test the dressing and add some more seasoning if necessary, according to your taste.
Add in your mustard-mayo dressing into your macaroni salad and toss it gently to coat the entire salad evenly. Cover with plastic wrap and refrigerate your macaroni salad for at least 2 hours before serving. Serve chilled and enjoy your easy and affordable luncheon meat macaroni salad.
.
Here's the ingredients for our macaroni salad:
Macaroni Noodles, Luncheon Meat, Apple, Mangoes, Cucumber, Orange Segments or Pineapple and Cheese.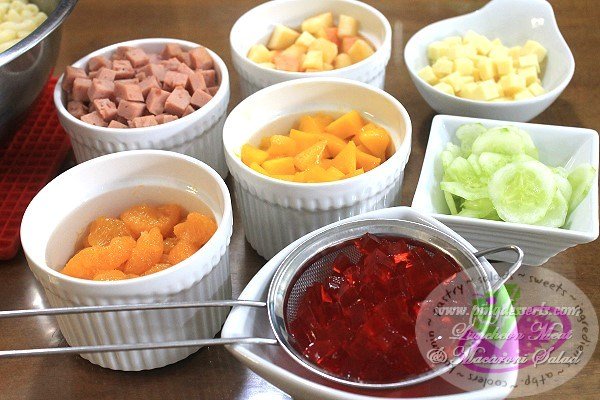 And Here's our simple ingredients for salad dressing:
Mayonnaise, Mustard, Honey, Paprika, Scallions, Salt and Pepper.
Luncheon Meat and Macaroni Salad recipe serve 10-12 persons. You can store your macaroni salad in a sealed plastic container and refrigerate. Macaroni Salad will last for at least 4-5 days in the fridge if properly stored.
.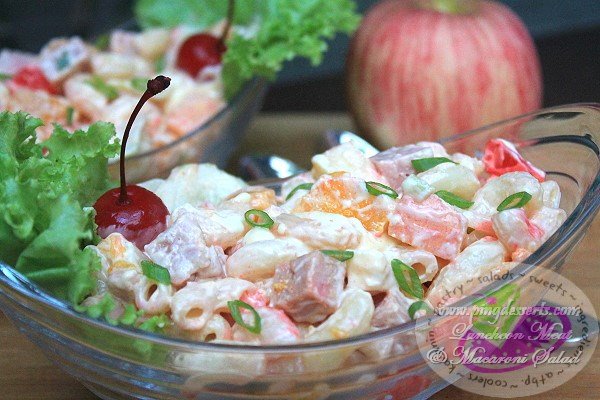 .
Serve and enjoy this mouthwatering salad with your family and friends this Christmas!!
.