How to make Mais con Yelo, a sweet and refreshing shaved ice drink.
Mais con Yelo Recipe – A delicious and mouth-watering salad drink to enjoy this summer. Mais con Yelo is made of layered shaved ice, sweet cream of corn, corn kernels, white kaong in heavy syrup, evap milk and finish it with a drizzle of condensed milk and corn flakes. This salad drink is purely rich and creamy, a perfect summer treat for the Sweet Corn Lovers out there!
This is one of the easiest, rich and satisfying frozen drink to prepare. Mais con Yelo is also known as "Maiz con Hielo" it's kinda similar to Halo-Halo but it doesn't take much time to prepare, no cooking involved and less sweet condiments. The ingredient was use are already pre-cooked and mostly in canned such as Kaong in Heavy Syrup, Sweet Corn Kernels, and Corn in Cream. Sounds not healthy and fresh, but there's milk a good source of calcium… LOL This drink is very refreshing and delicious, so what are we waiting for, the Sun is Up and the Heat is On! So lets start…
Makes: 4-6 Tall Glasses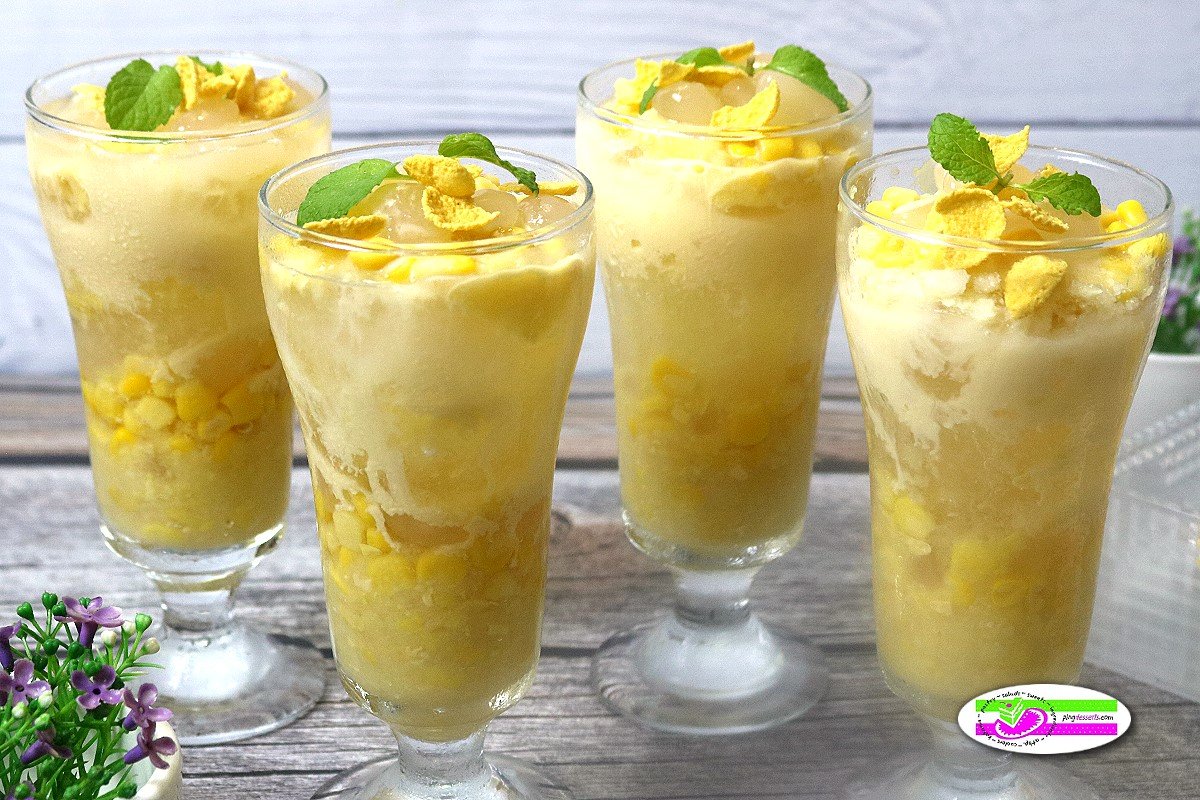 Ingredients and Procedure of Mais con Yelo:
Here's our Simple Ingredients:
Crushed Ice, Sweet Corn Kernels, Cream of Corn, Kaong in Heavy Syrup, Evaporated Milk + Condensed Milk and Corn Flakes. You can also you use freshly steamed sweet corn kernels if you like. I also add White Kaong or Nata de Coco in this recipe, but this is optional. I just like to have extra texture and to balance out the richness of the cream of corn.
Mostly, Mais con Yelo uses sugar, but I choose to use condensed milk instead, it's sweet and creamier. You can also try the Alaska Crema-Asada, it's a 2-in-1 "sweet and creamy".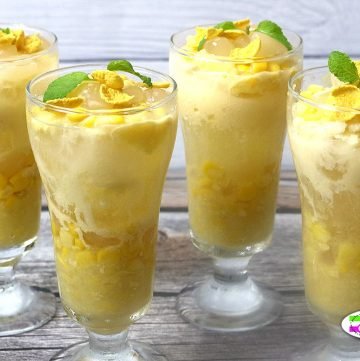 Mais con Yelo Recipe
Mais con Yelo drink is made from corn kernels, sugar and milk, then mixed with shaved ice. You can also add a scoop of vanilla-flavored ice cream on top to add more flavor.
Ingredients
4-6

cups

Shaved ice

1

425g Cream of Sweet Corn

1

250g Sweet Corn Kernels, drained

1

340g White Kaong in Heavy Syrup, (optional)

1

370ml Evaporated Milk

1

168ml Condensed Milk, (to adjust sweetness)
Toppings:
¼

cup

Corn Flakes

for toppings

4-6

pcs. Mint Leaves

to decorate
You also Need:  (for business/negosyo idea)
6

pcs. 8oz. plastic cups

6

pcs. plastic long spoons
Instructions
To prepare the Ice:
First, we need to prepare our shaved/crushed ice.

If you have an ice shaver, shave ice cubes and make sure to have an extra cup.

You can also use a blender, pulse to crush ice cubes and chill until needed.

Crushed ice melts quickly at room temperature, especially during summer.
For the Condiments:
All we need is to open sweet corn cream and kernels in cans and transfer in a serving bowl.

Unpacked Kaong and transfer in a serving bowl with syrup. We, also need corn flakes as toppings later on.

Lastly, Mix evaporated milk and a little condensed milk and stir and set aside.

In this recipe you can replace it with a can of Alaska-Crema Asada it's quick and easy to use.
Let's Assemble:
Prepare at least 4-6 parfait glasses and start layering your Mais con Yelo.

Put a couple of tablespoons of Cream of Corn at the bottom of each glass.

Top with shaved ice, followed by a couple of tablespoons of sweet corn kernels and kaong with syrup.

Top with the last layer of shaved ice and try to compact the ice as possible as you can.

Top with a tablespoon of each; cream of corn, sweet corn kernels and kaong with syrup.

Pour a generous amount of Evap-Condensed mixture, sprinkle some corn flakes on top and decorate with mint.

Serve immediately with a long dessert spoon.
Video
Our Mais con Yelo looks stunning and delicious, this recipe is not too sweet, so please add more evap with condensed milk if you prefer. Kid's will go crazy over this, ha ha … so why don't you try our new frozen drink and make your Kids and friends enjoy.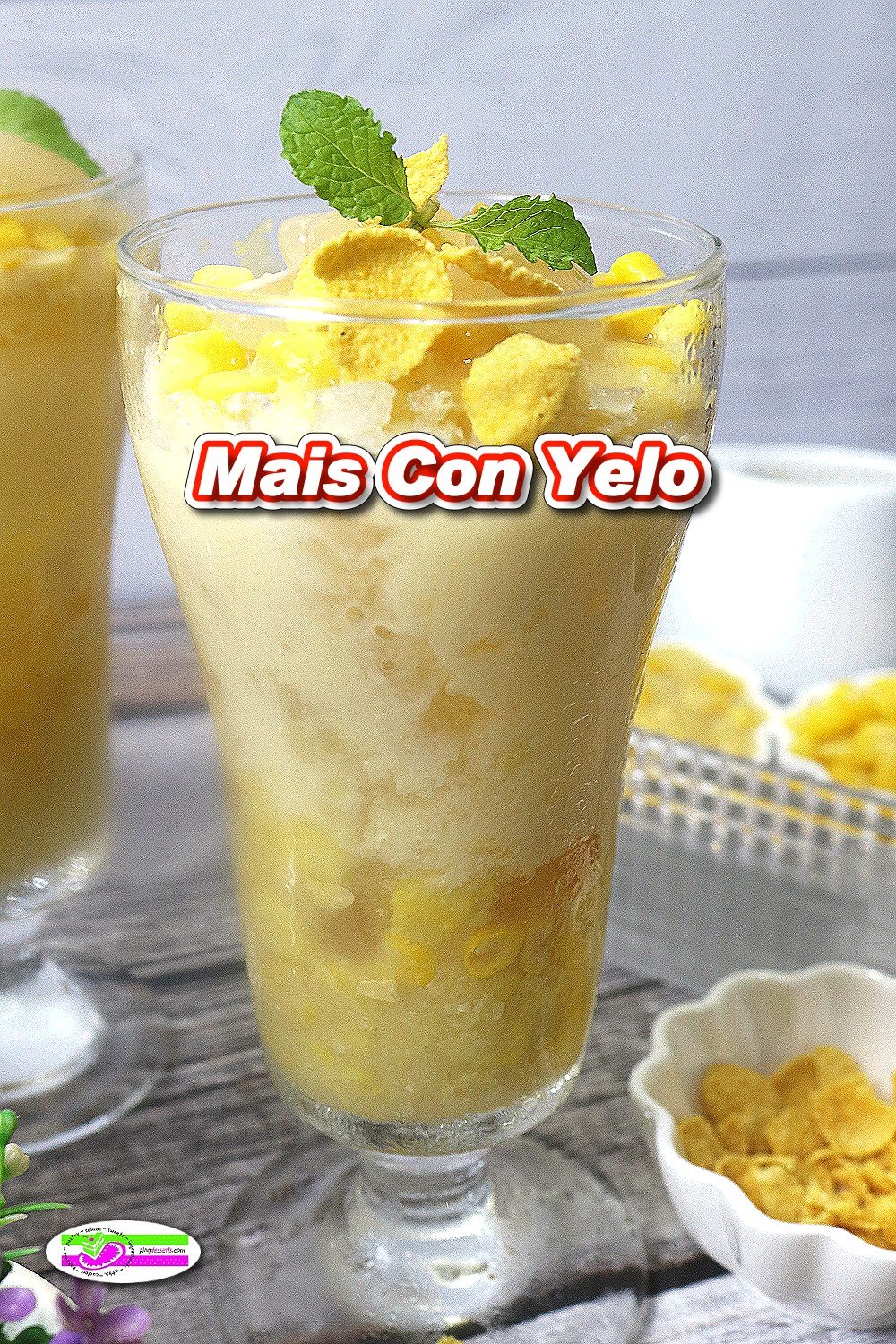 Another awesome drink is done, shall we continue making some more drinks?? I know, summer isn't over yet, I couldn't see any sign of rain. The sun is up and fierce, I've been sweating bullets everyday… LOL Electricity bills are getting up, but the raindrops refuse to fall down… ha ha So I guess one more drink recipe to go before we enjoy the first rain of May.
Thanks for visiting guys and have a nice day ahead of you. God Bless Us All, see you on my next post 🙂
– oOo –
If you want something you've never had, you'll have to do something you've never done.
Pinoy Summer Coolers: