How to make a delicious homemade Mango Float Ice Cream without an ice cream machine.
Alaska Crema-Asada Ice Cream Recipe. How to make a creamy and mouth-watering homemade ice cream, Crema- Asada is a perfect ice cream base to use and budget friendly. With this 2-in-1 Alaska Crema-Asada you can make any kinds of ice cream in just an instant even without an ice cream machine.
All we need is Alaska Crema-Asada & All Purpose Cream chilled overnight, fresh ripe Mangoes and Graham crackers. Whip your cream and crema-asada, add mango slices and crushed graham. Pour it into a tin can or plastic container, cover with a lid and freeze until frozen. And there you have it, a delicious and creamy Mango Float Ice Cream. Serve and Enjoy!
Makes : 2 (6×2) Tin Cans
Ingredients:
Ice Cream Base:
1 box (250ml) All-Purpose Cream, chilled overnight
1 can (370ml) Alaska Crema-Asada, chilled overnight
1-2 drops Yellow Food Color Gel, (optional)
Toppings:
1 large Sweet ripe Mango, slice or cube
3 pieces Graham Crackers, roughly crushed
You Also Need:
2 (6×2) new or used Tin Cans (you can also use individual plastic cups with a lid)
Check out Video Recipe:

Procedure:
Let's Prepare Our Toppings: Roughly crushed 3 graham crackers and set aside. Wash mangoes and cut in cubes, slice or you can scoop it thinly if you want. (I'm using 1 large mango in this recipe, you can also use 2 small mangoes if you like.) Mangoes are sweet and best when in season, it's cheaper and you can find and buy it anywhere.
To Make the Ice Cream Base: In a mixing bowl, whip chilled All-Purpose Cream and Alaska Crema-Asada with electric mixer until the mixture becomes thick syrup. (In this recipe we cannot achieve the thick and fluffy whipped cream consistency because the cream and condensed are already mixed. But don't worry guys coz' we're going to put this in the freezer later on.) Add ¾ part of your graham crackers and mango slices and mix until well combines. Add 1 to 2 drops of yellow food color gel, if needed, but this is optional and whip until fully combined. You can also add 1-2 teaspoons of vanilla extract if desired.
Let's Assemble our Mango Float: In a tin cans, pour and divide ice cream mixture into 2 cans, and top it with the remaining graham cracker and mango slices. Cover tin can with a lid, freeze overnight or until frozen. Serve and Enjoy!
Here's Our Simple Ingredients:
A pack of All-Purpose Cream, A can of creamy Alaska Crema-Asada, Graham Crackers and Sweet and Fresh ripe Mangoes. A simple 4-ingredient Ice Cream Recipe to make in your home even without an ice cream machine.
We're done with our 2nd Homemade Ice Cream recipe using Alaska Crema-Asada, there will be more of this coming right up. You can add chopped cashew nuts or pistachio in your Mango Float Ice Cream if you like, all I have right now are peanuts and almonds and it doesn't match :). Who wants an Ube Ice Cream? I have Ube Halaya leftover from Christmas, I can use this, it's not expired yet… LOL Or how about Avocado Ice Cream? I saw a beautiful fresh Avocadoes in the market the other day, yummy! Next week we're on to our 3rd ice cream recipe.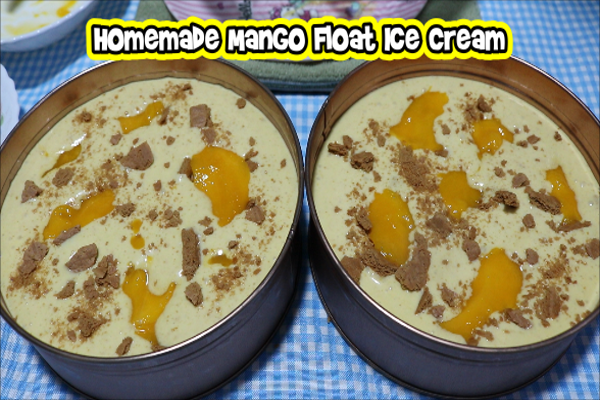 So, please keep on visiting and don't forget to check us on You Tube guys :). I'm happy that I know the basic on how to edit my own videos now. I'm not that good yet, but I'm trying and still learning. It'll take time for me coz' it's kinda hard but, we'll see, ha ha… One step at a time, it is better than just storing old recipe recording in my dusty archives LOL. Thanks for visiting guys and I hope you will try our super easy to make homemade ice cream recipe. Have a beautiful day everyone and take care, see you on my next post. xoxo
– oOo –
"That awkward moment when you Flush the Toilet in the Middle of the Night, and it's the Loudest Sound in the Universe." Don't eat a lot of Mangoes before dinner coz' you know . . . LOL