How to make a delicious Calamansi Bars Recipe.
Calamansi Bars Recipe. These beautiful Calamansi Bars are so addicting, the combination of sweet and tangy flavours is divine. The calamansi bar is so light with a delicious tangy custard topping and has a flaky, buttery cookie base and dusted with powdered sugar. Calamansi is also known as "Calamondin", here in the Philippines, it belongs to a citrus family, and if you want a substitute you can use Lime or Lemon.
Every now and then my father used to give me calamansi whenever He visits us here in Bacolod. Since I can't keep up with those tiny yet juicy calamansi instead of letting it rotten on the fridge again, I've been searchin' for a good recipe. Finally, I've got two interesting recipe the other one was Calamansi Muffins from pepper. ph, but sad to say my first attempt got failed, but I'll try it again soon. Another recipe was from Down Home with the Neelys the Lime Bars and my first try was a success. So I'm happy to share this new found recipe and since tatay has a lot of calamansi trees in their backyard, I might think to have this as my first food business 🙂
Calamansi Bars Ingredients:
Cookie Crust:
1 cup unsalted butter
1/2 cup confectioners' sugar
2 cups all-purpose flour
A pinch of salt
Calamansi Topping:
4 large eggs, lightly beaten
2 cups sugar
6 tablespoons all-purpose flour
1/4 cup + 2 tbsp of fresh calamansi juice (substitute with lime or lemon)
3-4 tbsp. confectioners' sugar, for dusting
Cooking Procedure:
Preheat the oven to 350F. Spray the bottom and sides of a 9×13-inch or 10×10 cake pan with nonstick spray.
To make the crust: In a bowl, combine butter and confectioners' sugar, beat until light and fluffy. Add flour and salt, and mix another minute until well combined. Transfer the dough to the prepared pan, and press down to an even thickness over the bottom of the pan. Bake the crust for 20 to 25 minutes, until lightly golden. Remove from the oven, and cool on a baking rack.
To make the topping: Whisk together the eggs and sugar in a large mixing bowl. Add the flour, and whisk until just combined, then whisk in the calamansi jucie. Pour the calamansi mixture over the cooled crust, then bake for an additional 25 minutes, or until the filling is set.
Allow the calamansi bars to cool completely. Generously dust with confectioners' sugar and cut into squares. *Cook's Note: For the neatest presentation, use a metal spatula or a butcher's scraper to remove the bars from the pan.
The cookie crust dough can be prepared up to 2 days in advance, then wrapped in plastic and stored in the refrigerator. When you're ready to bake the bars, simply bring the dough to room temperature and pat out as described above.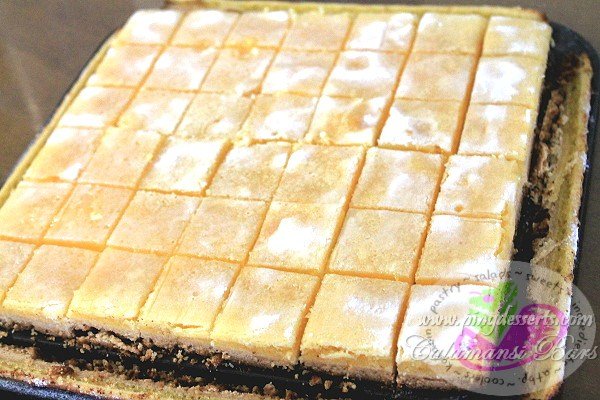 I'm using a 10 x 10 pan for this recipe. I trimmed off the sides of the bar and slice each by 1.5 x 1.5 inches this makes about 42 mini bars. If you want a regular size you can adjust and make it 36 bars.
The smell of freshly baked calamansi bar is so cool and tempting. My first bar experience was love at first bite hehe…
Got a fancy cup liners that makes my calamansi bars look pretty and I top with tiny fondant flowers to make it more special, since I'm going to give this to my cousin as my birthday gift.
.
.
Leftovers will keep for 2 or 3 days at room temperature, or for up to a week in the refrigerator.
So what are you waiting for? Grab those butter, flour, calamansi and try this recipe and have a perfect bar treat.