How to cook Strawberry Jelly Rolls Recipe.
Strawberry Jelly Roll Cake Recipe. A jelly roll cake also known as "Pianono", one of the best seller merienda of d' Bakers here in Bacolod. A Pianono is basically filled with dulce de leche or custard filling. This rolled cake is a flexible sponge cake that is rolled up with filling. A wide selection of fillings to choose from. And for a tangy and sweeter version of jelly roll cakes they are filled with jams or preserves.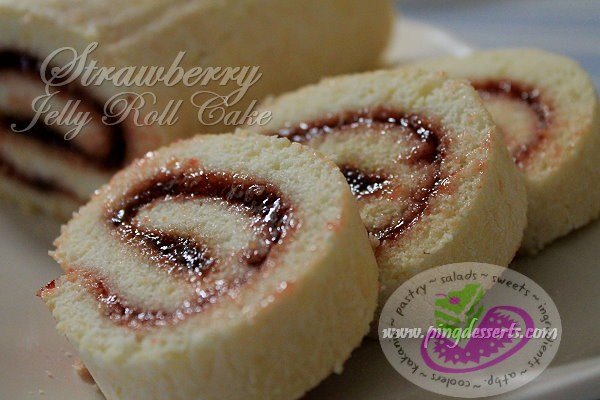 Jelly Roll Cake Ingredients:
5 eggs, separated at room temp.
1 cup sugar
1 cup flour
1 tsp.

baking

powder
½ tsp.

salt

3 tbsp.

melted

butter
Icing sugar for dusting
½ cup strawberry or raspberry jam
Cooking Procedure:
Preheat an oven to 350F. Line a 15×10 inch jelly roll pan with parchment paper. Place egg yolks in a bowl and beat until doubled in size add in ¾ cup of sugar gradually, and beat well and set aside. In another bowl whip egg whites until soft peaks then add the remaining ¼ cup of sugar and continue to beat until medium peaks formed.

On

a third bowl or a parchment paper sift together, flour, baking powder, and salt.
Add half of flour mixture into egg batter and fold in. Add half of whipped egg whites and fold in. Repeat with the remaining half and half, and lastly fold in melted butter. Pour in the batter and spread evenly on a prepared pan. Bake in a preheated oven for about 15 minutes or until the cake springs back when gently pressed. Cool

in

a wire rack for a couple minutes and dust with icing sugar completely.
Invert jelly roll cake on a well dusted and clean towel or parchment paper with icing sugar to prevent from sticking. Peel off the parchment paper, and roll the cake with cloth and let it rest for 3 minutes. Unroll the cake and spread jam thinly and evenly, then re-roll the cake back again. Cut both ends of jelly roll, then cover and store at room temperature until ready, slice and serve.
…..
.
Tips : The key to jelly roll success is to roll up the cake while its warm and flexible, so it won't crack when filled.
Once you master the rolled cake it's easy as 1…2…3.. , you can put any fillings you like and add any frosting to cover the rolls.
.
It's easy, delicious and a great cake recipe to prepare on a family gatherings especially for kids party.