How to cook Sans Rival Recipe.
Sans Rival Cake Recipe. Sans Rival is also known as "Butter Cashew Layered Meringue Cake" is a popular dessert in the Philippines. Sans Rival are layered meringue wafers, with butter cream frosting and cashew nuts. It has a flaky, nutty and buttery goodness and enriched with vanilla extract. A crunchy and creamy, mouth-watering goodness in every bite, what a delightful treat to share and enjoy.
Sans Rival Ingredients:
Meringue Wafer:
10 egg whites
1 tsp.

cream

of tartar
1 c.

sugar

1½ cups cashew nuts, finely chopped
1 tsp.

vanilla
Butter Cream Filling:
6 eggs yolks
1 cup sugar
1/4

cup

water
1 cup butter
1½ tsp.

vanilla

½ cup cashew nuts, roughly chopped for toppings
Cooking Procedure:
Place parchment paper, grease and flour heavily 3 or 5 (8×1 inches) round pans depends on how many layers you want to make and set aside. Beat egg whites until soft peaks formed. Add cream of tartar and beat, gradually add the sugar, beating well after each addition. Continue beating until egg whites are very stiff. Fold in vanilla extract and cashew nuts. Divide in 3 or 5 portions and spread in prepared pans. Bake at 300F for 30 minutes or until golden brown. Remove from the oven and let it cool just enough to handle. Immediately loosen the parchment paper while it's warm in a flat surface because they are hard to loosen as they are crisp when cool.
Prepare fillings: In a bowl beat egg yolks until thick. In another bowl cream the butter and add the vanilla, then set aside. Boil sugar and water until it spins a thread. Place the bowl of an egg mixture over a bowl of cold water. Pour hot syrup

to

the egg yolks in thin streams while beating (this method will prevent

egg yolk

from curdling). Whisk vigorously to incorporate and to cool down the egg mixture. Blend egg mixture into the butter and whisk well. Add and sieve only fine cashew nuts and reserve the remaining.
Assembly: Place meringue on cake board and spread a cashew butter cream on top, sprinkle with reserved nuts and follow the same procedure on the 2nd and last meringue. Use the remaining cashew butter cream to frost all over

meringue

, sprinkle remaining nuts on top and coat all sides evenly. Refrigerate overnight before serving, to have a firm layered cake and not a crumbled one.
…..
.
My 5 layered Sans Rival . . . In this recipe my wafers are a bit gooey.
.
and my 3 Layered Sans Rival….. same recipe I used so my meringue wafers are thicker this time. And to make a crunchy meringue wafer just add more minutes until its completely golden brown …. (but NOT burnt, so keep an eye on it!)
So creamy and buttery goodness!!!
But I have a little confession for this 🙁 ……How wish I didn't use all my cashew butter cream frosting on this. My layering is NOT EVEN and TOO MUCH butter, that I can't even finish a slice of it. PLEASE spread frosting thinly like my 5 Layered Sans Rival. Any extra cashew frosting can be store in refrigerator and use for breads and etc. . .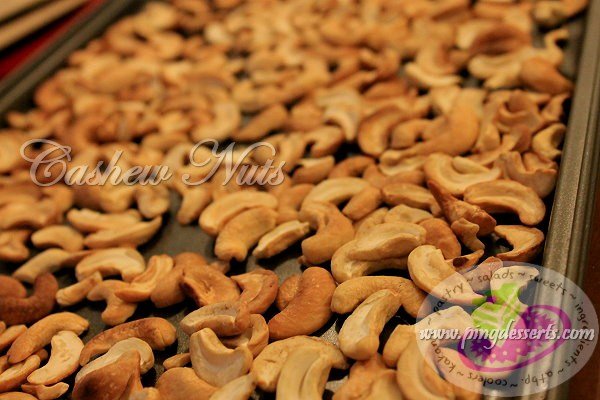 Toasted Cashew Nuts . . . my kitchen smells really good!!!