How to make Custaroons or Lecheroons a delicious Kakanin Dessert.
Custaroons Recipe – A delicious and moist Custaroons. A perfect combination of creamy Custard "Leche Flan" & Coconut Macaroons in one. To make these delightful treats, all we need is a few ingredients such as; Eggs, Condensed Milk, Butter, Vanilla, and of course, Desiccated Coconut. Mix all ingredients in one bowl, and cook in a Bain Marie method or Steam.
Finally, after a long time, I made another batch of Custaroons. The last time I made this was two years ago, I made three batches of different experiments. It ends up with the same taste, but with different textures on the top part. I remember naming them Custa A, B, and C. LOL The reason why I haven't posted those experiments because I accidentally delete those picture files. It took me 2 years to move on ha-ha…
I'm glad I decided to try it again and this time with a video. For those who want to know how to make custaroons, try this simple recipe. So Let's start…
Makes: 26-30 pieces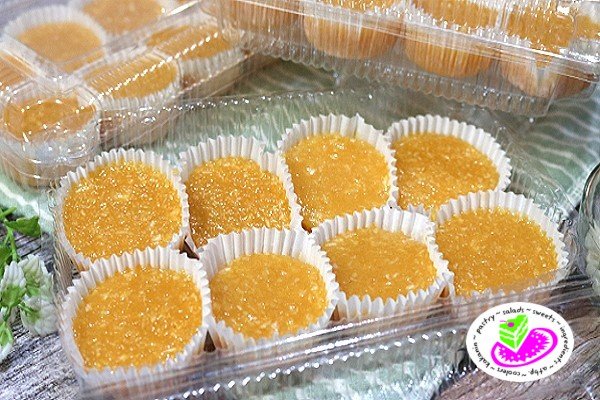 Custaroons or Lecheroons Recipe
Custaroons or Lecheroons Recipe is a perfect combination of creamy Custard "Leche Flan" & Coconut Macaroons in one.
Ingredients
Custard-Coconut Mixture:
2

Large Eggs

4

Large Egg Yolks

¼

cup

Butter

melted

1

387g Condensed Milk

1

tsp.

Vanilla

1

cup

Desiccated Coconut

fine
You also Need:
30

pcs.

1oz. Paper Liners

3

pcs. Large Pastry Container
Instructions
Preheat your oven to 180C/350Fand boil half liter of water and set side.

Line 1oz. puto molder or mini muffin pan with the same size of white paper liners and set aside.

In a bowl, combine two whole eggs, egg yolks, and mix.

Add in melted butter and sweetened condensed milk and again mix until well combined.

Lastly, add sweetened desiccated coconut with the vanilla and mix well.

Scoop and fill each mold with the custard-coconut mixture, about 2/3's full. (Custaroons doesn't rise much, it stays flat, even when your Steam it or bake it in Bain Marie).

In a large, deep baking pan, arrange your molder at least an inch apart from each other.

Add hot water in the pan, the water level at least half the height of your molder.

Bake in a preheated oven at 180c/350F, for about 20-25 minutes.

Check with toothpick, if it comes out clean, your custaroons are done.

Fire off, discard remaining water and let it cool down on a wire rack before serving, storing or packing.

Custaroons are best serve at room temperature or chilled.
Video
Here's Our Simple Ingredients: Fresh Large Eggs, Butter, Sweetened Condensed Milk, Vanilla Extract, and Sweetened Desiccated Coconut. Please use fine desiccated coconut as possible; if you can't find one, use a food processor and crush it until it becomes fine but not powdered.
From a few and basic ingredients, we can make this delightful dessert in less than 3o minutes. This recipe is perfect for any occasion, such as potlucks, birthdays, other events, and a handy pasalubong too. And of course an excellent business recipe idea, especially this coming Holiday Seasons!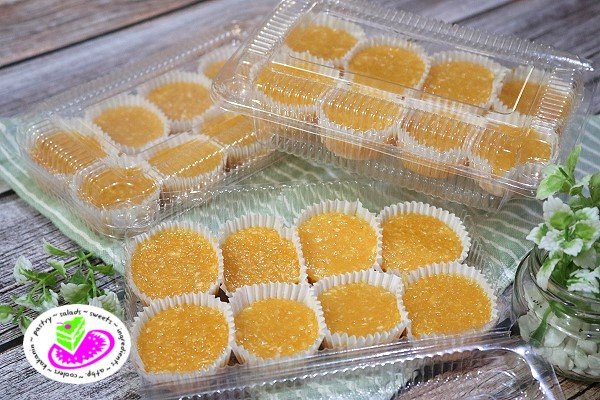 Tips: IF you are considering selling this creamy Custaroons, I highly suggest that you make this in small batches, if you don't have a large order. A freshly made Custaroons are always the best, but don't worry; this will last for a week in your fridge. For the Packaging, you can use a clear view Pastry Container (perfect for 8's) or a Pre-Formed 6 x 9 x 1½ Pastry Box (for 15's). Add some personalized sticker logo with a Label, Price, Contact Info, and Expiration date
What I like about this dessert is that from a plain custaroons, you can also use the flavored sweetened condensed milk or extracts and come up with a different flavor. I'm thinking of chocolate-flavored Custaroons, and I will make it soon 🙂 I hope you'll find this recipe interesting, and please give this a try. I promise you'll love it and get addicted to these creamy mini-bite size Custaroons. Thanks for visiting guys, see you again on my next post 🙂
Computation: (this is just a sample reference on how to compute)
Costing:
2 Large Eggs P 15.00
4 Large Egg Yolks (-eggwhites) 20.00
¼ cup Butter, melted 13.00
1(387g) Condensed Milk(any brand) 40.50
1 tsp. Vanilla 2.00
1 cup Desiccated Coconut, fine 15.00
You also Need:
30 pcs. (1oz.) Paper Liners 8.00
3 pcs. Large Pastry Container 16.50
Misc. Gasul / Elect. 20.00
=========
Total Expenses: P 150.00
Total Exp.: P 150.00 / Cost per Cont. P 50.00 / SRP P 80.00 / Projected Profit (60%) P 90.00
Note: Profit depends on your SRP (SRP 80.00-100.00)
– oOo –
Give them Quality, that's the Best Kind of Advertising.