How to make easy and delicious Fruit Cocktail Graham Float na pang Negosyo.
Fruit Cocktail Graham Float – Our favorite Sweet, Creamy and Fruity Graham Float is perfectly packed individually, and it's ready for home and online business. A mouth-watering layers of honey graham crackers filled with smooth frosty whipped cream infused in fruit cocktail syrup and filled with sweet and juicy fruit slices with cherries on top.
Yep, I know we made this fruit cocktail graham float over and over again guys, but I've got to make it one more time for business' sake. Any fruit lovers would appreciate this old but goody, no-bake, and frozen cake dessert. You can use any fruits you want for this recipe. So let's start . . .
Makes: 5 Tubs (5×5) or (6×4)
Ingredients:
Graham Float:
1 can (850g) Fruit Cocktail, drain and syrup reserved
30 pieces Honey Graham Crackers
1 box (200g) Frosty Whip Cream Powder
¾ cup Fruit Cocktail Syrup, cold
1 (250ml) All-Purpose Cream, chilled overnight
½ can (150ml) Sweetened Condensed Milk, chilled
You also Need:
2 pieces Candied Green Cherry, chopped for topping (optional)
5 pieces 5×5 Plastic Container with Fitted Lid
Check out Video Recipe:

Procedure:
Prepare Fruit Cocktail: Drain and reserve some syrup needed for whip cream mixture, later on. You can dice fruit cocktail for an even smaller size or just leave it in chunks as it is.
To Prepare the Whipped Cream: In a bowl, combine Frosty Whip Cream Powder and cold Fruit Cocktail syrup. You have to moistened whip cream powder for a second, and whip it over high speed until double in volume. Add chilled All-Purpose Cream and whipped it again on high until fully aerated. Add condensed milk and mix until well blended.
To Prepare Crackers & Container: We need 30 pieces Honey Graham Crackers and we also need a least (5) pieces of 5×5 clear view pastry container or any similar plastic container with a lid.
To Assemble our Graham Float: First, we need to arrange a single layer of graham crackers at the bottom of each pastry container. Top with 2½ scoops of whipped cream and spread evenly. Arrange a few fruit cocktail slices on top and cover with another layer of graham crackers. Top with the same amount of whipped cream and spread evenly. Lastly, decorate with a cherry in the center and fruit slices and I added a chopped candied green cherry (optional), just to add some contrast in the presentation.
Repeat the process until you are done with five pastry containers. Refrigerate Graham Float for at least 2 hours or more before serving.
Here's Our Simple Ingredients:
Honey Graham Crackers, Fruit Cocktail in Syrup, Frosty Whip Cream Powder, Nestle All-Purpose Cream and Sweetened Condensed Milk. You can use any brand of ingredients you want, as long as the quality is good, taste great and budget-friendly. You can also add fresh fruits like; mangoes, apples, pears, kiwi, dragon fruit, etc.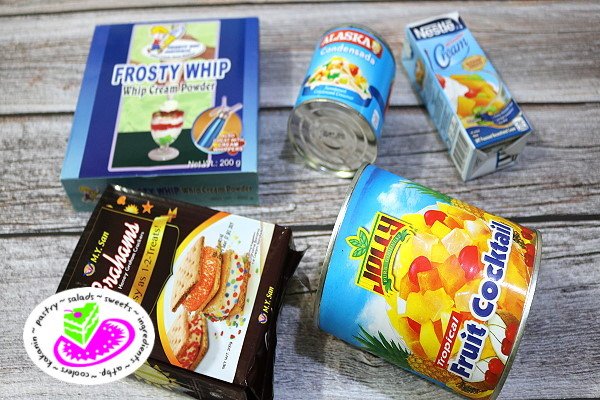 Tips: If you want your fruit cocktail graham float looks full and delicious. I suggest that you drain your canned fruits well and slice it in the same size as possible. It is better to use dice fruits than the chunked ones. Dice fruits are perfect and will look neat when you're going to layer your graham float later on.

If you've been here with me through my food blog journey, you already know my secret and favorite whipped cream products. It's a combination of Frosty Whip Cream Powder and Nestle All-Purpose Cream with Condensed Milk for me; it is superb! I've been using this for almost 5 years, and I'm always happy with the outcome of my desserts.

Even my family and friends loved it, and they always ask what kind of cream did I use in the recipe. I'm not paid to promote this, but this product became my most trusted one. I finally found the one, the one I loved the most, my Aussie Frosty Boy, LOL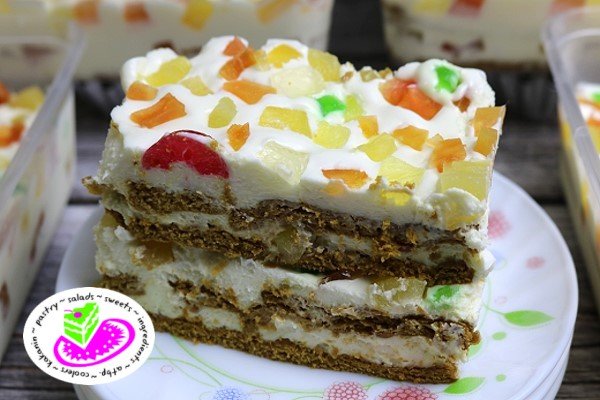 This is what I'm talking about, see that gorgeous layers?? Hmm, yum 🙂 You can leave that at room temperature for hours without the worry of melting and cream getting watery. Using a perfect whipped cream with a uniform size of fruits and honey graham crackers makes your float, steady and unsinkable… ha ha

For the packaging ideas, you can check it on my previous post, of Graham Float Negosyo Recipes. I hope this simple idea on how to start a small home and online business can inspire you. I'll be posting more of Negosyo Recipes, so please stay connected. Thanks for visiting guys, and see you again on my next post. Have a wonderful weekend, stay healthy and be happy 🙂
Computation: (this is just a sample reference on how to compute)
Prices & Costing:
1 can (850g) Fruit Cocktail, drain and syrup reserved P 69.50
30 pieces Honey Graham Crackers 48.00
1 box (200g) Frosty Whip Cream Powder 150.00
1 (250ml) All-Purpose Cream, chilled overnight 58.00
½ can (150ml) Sweetened Condensed Milk 21.50
5 pieces 5×5 Plastic Container with Fitted Lid @7.60 38.00
Misc. Electricity 5.00
. ========
Total Expenses: P 390.00
Total Exp.: P 390.00 / Cost per Cont. P 78.00 / SRP P 120.00 / Projected Profit (55%) P 210.00 Note: Profit depends on your Suggested Retail Price (P100.00-P130.00)
– oOo –
There is only one thing that makes a dream impossible to achieve: the fear of failure.