How to Make a delicious and mouth-watering No-Bake Blueberry Cheesecake with Oats

No-Bake Blueberry Cheesecake with Oats Recipe is a delicious dessert and is made of buttery graham-oats crust, filled with soft and velvety cream cheese & whipped cream, top with sweet and tangy blueberry compote. This version of blueberry cheesecake is not overly sweet. It is a very delightful cake to share with your friends and family.
I got the recipe from the Magnolia Cream Cheese label itself, but today I will omit some of the ingredients needed, like cinnamon and lemon zest, and I will use oats and brown sugar instead. If you love cinnamon, go for it, follow the original recipe. And if you don't want cinnamon, like us, leave it the taste won't affect that much. I've been making this blueberry cheesecake recipe many, many times, and it's delicious. It has a subtle taste of cream cheese, and it's not too sweet, and I really love adding Frosty whipped cream for toppings, it gives another layer of creaminess and height to our cheesecake, and it looks pretty.
So if you want to know how to make this recipe, let's start!
Makes: 1 (6-inch) 8 slices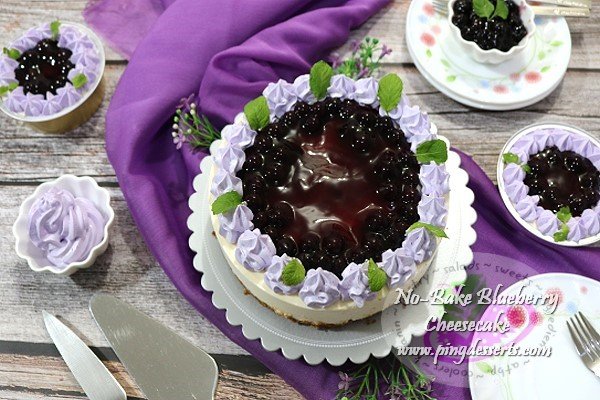 Ingredients and Procedure of No Bake Blueberry Cheesecake with Oats:
Here's our Simple Ingredients: Crushed Graham, Instant Oats, Butter, Sugar, Cream Cheese.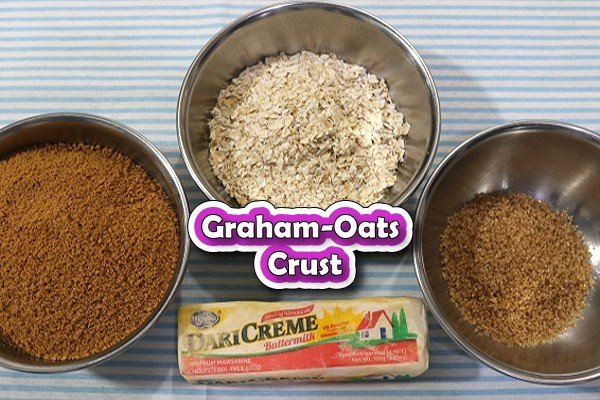 All-Purpose Cream, Milk, Unflavored Gelatin, Blueberry Pie Filling and Frosty Whipped Cream.
Feel free to use any brand of cream cheese, I also love Philadelphia cream cheese, but it's over my budget. You can also use the original plain graham crust if you like or try crushed digestive biscuits or Biscoff biscuits. As I am making this post, I imagine Biscoff biscuit crust for Nutella cheesecake, and it's perfect and yummy. But the ingredient cost isn't ideal for me, LOL.
Ingredients:
Graham Crust:
½ cup Butter, melted
2 tbsp. Brown Sugar
½ cup Instant Oats
¾ cup Graham Crackers, crushed
Filling:
1(8oz.) Cream Cheese, softened
¼ cup Caster sugar
1 env. Knox unflavored gelatin powder, dissolved in
3 tbsp. milk, hot
250ml All-purpose cream, chilled
Toppings:
1 cup Blueberry in Syrup
½ cup Frosty Whip Cream Powder
¼ cup Cold Water
a drop of purple food color gel, (optional)
a tiny mint leaves, to decorate, (optional)
Check out Video Recipe:

Procedure:
To make the Crust:
In a large pan, melt butter over low heat and add brown sugar and stir until dissolved.
Add instant oats and crushed graham crackers and stir well to coat.
Fire off, let it cool slightly and transfer into a prepared removable bottom pan like spring form pan or tart pan or tin cans.
Divide graham crust into tins and press the crumbs onto the pan as flat and even as you can.
You can use the back of a spoon, spatula or any utensils to flatten the crust.
Chill your graham crust for at least 30 minutes to set firmly.
For the Cream Cheese Filling:
Beat cream cheese and sugar until caster sugar is dissolved and the cream becomes light and fluffy.
Meanwhile, dissolve unflavored gelatin into a hot milk and stir, then add into the cream mixture while still hot.
Continue beating until cools down and well blended.Add in well-chilled all-purpose cream and whip until light and fully aerated.
At this point you can add extract of food color if you prefer.
Pour the mixture into a prepared graham crust and spread evenly.
Chill for about 6-7 hours or overnight to set the cream completely.
To Assemble and Decorate:
In a small mixing bowl, combine frosty whip cream powder and cold water.
Stir to soak the powder and whip on low and gradually adjust to medium speed.
Whipped until fully aerated. Add purple food color gel and whipped until well blended.
Transfer in a piping bag with your favorite piping tip.
Pipe some tiny swirls of whipped cream on the edge around the cheesecake.
Add canned Blueberry Filling, you can put as much as you want and decorate it with mint leaves.
Chill Blueberry Cheesecake for at least another hour before serving.
Our Pretty in Purple No-Bake Blueberry Cheesecake is ready to serve and enjoy! Before I end this post, I would like to remind you guys that this recipe is a perfect base for your no-bake cheesecake. You can create endless flavors of cheesecake, try adding your favorite flavors and toppings such as fruits, chocolates or oreo's and so on…
It's easy to master this recipe because you only need a few ingredients. You can add this as your home / online business "Negosyo Idea". You can make this in advance and this will last for a week in the fridge if stored properly. Add blueberry compote as much as you want, and if you don't have fresh mint it's fine.
For the Packaging Ideas: You can use Tin Cans or Aluminum Tins with a lid, it's perfect and very convenient for delivery. Plastic containers are also great, especially if you have your own store or even a consignment. Prices may vary of course depending on your product/miscellaneous cost. For those of you who want an extra income, this recipe might be your lucky charm, so Goodluck!
After a long month of making frozen drinks, I know we deserve a breakthrough recipe like this, ha ha . To be honest, I gain weight after enjoying those cold summer refreshing drinks. I've got a fabulous tummy now, it's perfectly curved outward… LOL. I really wanted to lose weight and stay away from sweets, but unfortunately, I can't resist this Blueberry Cheesecake. It's so yummy, smooth, has a subtle taste of cream cheese, which I love, the crust is not too sweet and so addicting. I want you to try it guys, you can't go wrong with these simple and easy to make recipe. Thanks for visiting guys and see you on my next post, God Bless us All!
oOo –
Be Someone's Strength, Be Someone's Inspiration. Be Someone's Reason to Never Give Up.