How to make a delicious and chewy No-Oven Coconut Macaroons.
Mango-Coconut Macaroons Recipe – One of the popular Filipino pasalubong treat, a sweet and chewy mango flavored coconut macaroons. To make this all we need is fine desiccated coconut, condensed milk, sugar, eggs, butter, and vanilla extract. Coconut Macaroons can bake in the oven, cook over the stove-top or steam. These tiny coconut macaroons are moist and delicious; it often serves as snacks and can be served along with coffee, tea, or cold drinks.
I decided to re-create my old coconut macaroons recipe with a twist. Instead of making the same original macaroons, I tried this new mango flavored condensed milk from Jersey. The macaroons turned out perfectly. The combination of mango and coconut is delicious and so addicting. I tried to resist it, but it's hard. I've been negotiating with myself, over and over again this is "My Last One," but sadly, it didn't stop there :p I need to share these macaroons right away to my nieces and nephews before my Pre Diabetic Status turns into a Complicated Status… LOL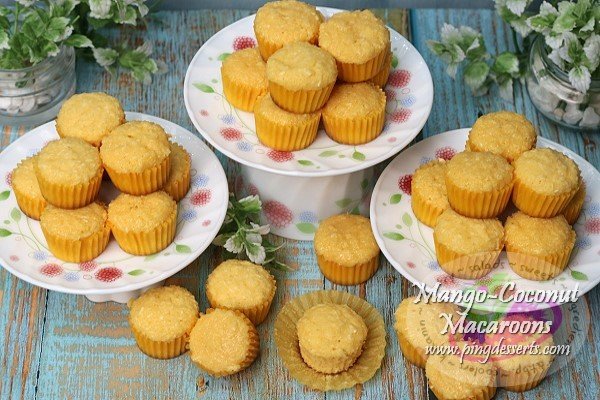 If you're new here and you want the original coconut macaroons, use the plain condensed milk and follow the same procedure. And if you are going to try new flavored coconut macaroons, Jersey has three more flavors available. There's Chocolate, Ube and Pandan flavored Condensed Milk those three flavors are also an excellent combination for coconut macaroons. For now, we're going to make the Mango-Coconut flavor, so let's start…
Check out Video Recipe:

Procedure:
Whisk the eggs until frothy, add sugar and melted butter, then whisk until sugar is completely dissolved.
Add mango flavored condensed milk and vanilla extract, then whisk until well blended.
(I put 2 tablespoons of water in the can to get the remaining milk at the bottom, pour in and mix well until the water is well blended.
Add the sifted all-purpose flour and baking powder and mix well.
Lastly, fold in desiccated coconut and let it soak for 5 minutes, just to soften the coconut.
Preheat Stove-Top Casserole with a lid over the lowest flame setting for about 5 minutes.
Lined mini-muffin pans/silicon with 3/4 oz. or 1oz. paper liners.
Scoop mixture into paper liners about 2/3's full, repeat process until you're done.
Bake over Stove-Top with lid on, on a low heat for about 8-10 minutes.
To check if it's cooked, use toothpick test and if comes out clean or with a little crumbs it's done.
Bake by batches until you're done with your mango-coconut macaroons.
Fire off, transfer in a cooling rack to cool completely before packing & storing.
Here's Our Simple 3-Ingredients: Egg, Sugar, Melted Butter, Mango Condensed Milk, Vanilla Extract, Sweetened Desiccated Coconut, All-Purpose Flour and Baking Powder. If there's no Mango flavored condensed milk, use mango extract and yellow food coloring instead. Use the fine Desiccated Coconut as possible for a softer macaroon texture.

Our delicious, moist and chewy Mango-Coconut Macaroons smells so goooood! 🙂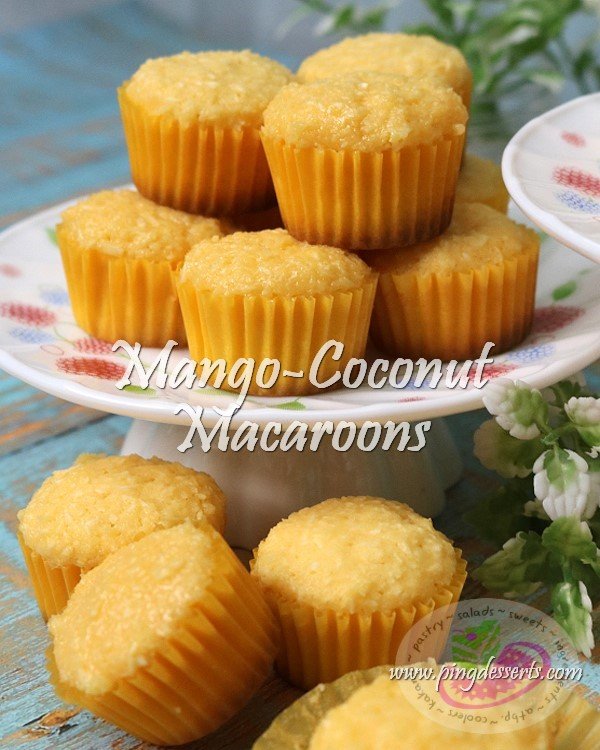 Coconut Macaroons are one of the best selling sweet treats in any leading pasalubong stores. Another recipe you might consider adding into your home business list guys :). If you're using 3/4 oz. paper liners, it makes 4 1/2 dozens and for 1oz. paper liners, it makes 4 dozen of mango-coconut macaroons. Store in a fancy plastic airtight container with a sticker label or make a personalized box for your mango-coconut macaroons. It's time to share, sell and enjoy. Hope you like our new recipe, and if you do, please click like and thanks for visiting guys. See you on my next post, have a blessed week, bye 🙂
– oOo –
LIFE always offers you a second chance. It's called Tomorrow. – by Generous