How to make a 3-ingredients and mouth-watering fruit yogurt popsicles.
Mango-Strawberry Yogurt Popsicle. Another delicious fruit yogurt pops to enjoy any time of the day. To make these pops all, we need is a strawberry flavored yogurt, fresh mango, and strawberry jelly. Mix all ingredients, transfer into popsicle molds, and freeze. A healthy frozen yogurt treats to satisfy your sweet cravings.
Hello guys, It's been a while that I haven't posted anything in this past three weeks. We've been busy since the day our Grandma decided to be with the Lord. After that, our cousin from Alaska decided that we're going to have a short family vacation trip. We Cousins & kids had our short yet the best bonding moments, and it was fun and memorable. Due to lack of sleep, change of weather and spent much time in the water, most of us got sick after our trip. Now that I'm okay, it's time to get back to work. I've got some old recipes to post & hopefully next week I'm going to make new ones. So here it is…
Makes: 4
Ingredients:
Yogurt Mix:
2 (125g) Strawberry Yogurt
¼ cup Sweet Mango, diced
¼ cup Strawberry Gulaman, diced
You Also Need:
4 pcs Popsicle Molders or 8 small plastic cups
4 pcs Wooden Popsicle Sticks
1 pcs Aluminum Foil, for wrapping
Check out Video Recipe:

Procedure:
In a small mixing bowl, combine strawberry flavored yogurt, sliced sweet mangoes, and strawberry gulaman. Mix lightly to avoid gulaman from breaking. Fill each popsicle molder and tap molder on the table to level the fruit-yogurt mix. Cover with popsicle lid or cover with a foil and insert a wooden popsicle stick in the center of each. Freeze for 4 hours or overnight until frozen.
Here's Our Simple 3-Ingredients: Nestle Fruit Yogurt, Strawberry Gulaman, and Sweet Mangoes. You can use homemade or any brands of yogurt you want. You can also replace gulaman with red Nata de Coco. If you don't have mangoes, try kiwi fruit it's good too.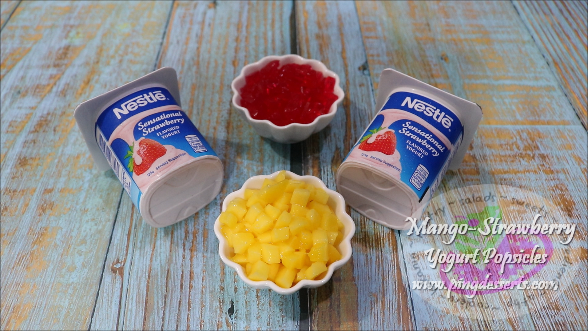 Our 3-Ingredient Yogurt Pops looks yummy 🙂 These Popsicles are not just good looking but taste so good. You're going to love this because every bite you get a tiny bits of sweet mangoes. I can eat a couple of yogurt popsicles, in just one sitting… LOL


It's so easy to make, very versatile, you can add any fruits you have or like. A perfect idea to salvage our ripe fruits and to prolong the shelf life of our yogurt. This healthy popsicle will last for months in your freezer. In case you dont have an ice drop molder yet, a mini-ice cream cups is perfectly fine too. I hope to see you on my next post, have an awesome and fun week everyone.
– oOo –
Just in case you have forgotten today; You Matter. You are Loved. You are Worthy. You are Awesome.