How to make Creamy Milkshake Recipe.
Leche Flan-Macapuno Shake Recipe. A sweet and creamy super addicting shake to make and enjoy. To prepare this Shake all we need is to blend all ingredients and add frozen ice cream to make it thicker. This drink can be served at any time of the day.
It was a lazy Thursday morning and the weather is hot and my niece Kym is here with us. She keeps asking me for an ice cream (LOL). I know, she knew we had vanilla ice cream in the freezer. She's so sneaky and loves to indulged in sweet treats, just like Me . So I ask Ed, if we can have an ice cream, and He said why don't you make a Shake and add some Leche Flan on it. What a great idea, so we search for a recipe and finally we found the one that we want to try. Ok, so lets start…
Serves : 3
Ingredients:
4 pcs. mini-Leche Flan
2 tbsp. macapuno
2 cup fresh milk, cold
3 scps. macapuno or vanilla ice cream
1 cup ice cubes
1/8 cup caramel syrup, to decorate the glass (optional)
You also Need:
Cooking Procedure:
Place 1 cup of ice cubes in a blender.
Add 4 pieces mini-leche flan.
Pour in 1 cup fresh or evaporated milk.
Add in 2 heaping tablespoons of macapuno.
Put in 2 scoops of Vanilla or Macapuno Ice Cream.
Cover blender with a lid and blend on high until smooth.
Serve in tall glass, with a caramel syrup drizzle on the sides.
To make it even thicker and creamier just add a couple scoops of ice cream and top with whipped cream. To decorate add wafers, sprinkles, caramel syrup and serve with cookies or butterscotch on the side.

Look at that isn't Gorgeous?? Wow! Wow! Wow! I can't wait :p :p … Please try this mouth-watering milkshake 🙂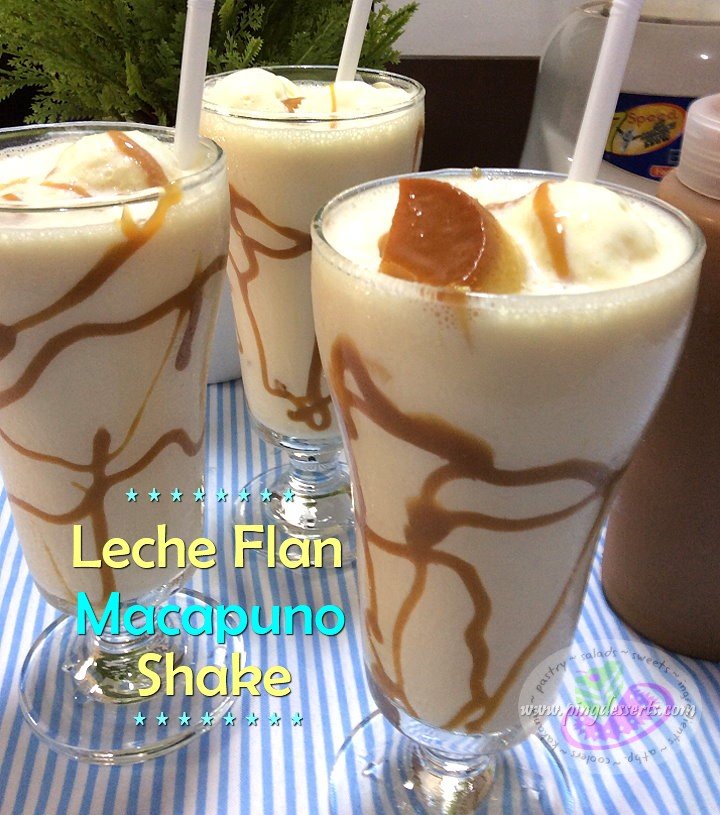 -0-
A word of encouragement is as refreshing as a cold drink on a hot summer day!