How to make a mouth-watering Fruit Medley Salad.
Jolly Fruit Medley Salad Recipe. A mouth-watering fruit medley salad to try and enjoy this summer. Actually, fruit medley is a simple sweet and tangy fruit salad with light yogurt or cream cheese dressing. But in this recipe we will be using a common Filipino salad dressing made of all-purpose cream and sweetened condensed milk. Fruit Medley Salad is a combination of canned fruits like peaches, pineapple chunks and mandarin orange segments. Add some mini-marshmallows to give a fluffy texture and tossed in sweet cream dressing. This Fruit Medley Salad is chilled before serving, garnish with mint leaves or a scoop of vanilla or mango ice cream.
Serves: 12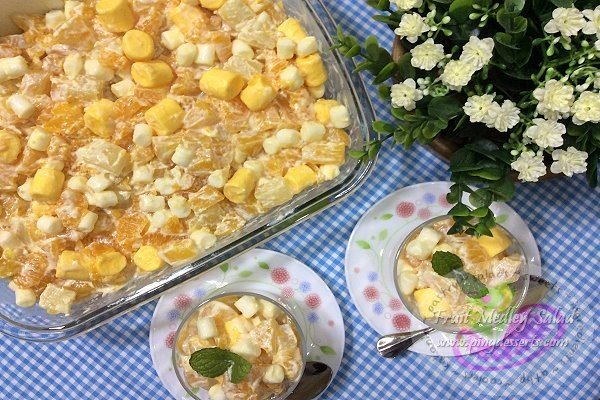 Ingredients:
2 cans (460g) Jolly Peach Halves, drained and sliced
3 cans (172g) Jolly Mandarin Orange in Syrup, drained
1 can (257g) Pineapple Chunks, drained
2 cups Mini-Marshmallows
1 cup Mango flavored Marshmallows, (optional)
1 cup (250ml) Nestle All-Purpose Cream
¼ cup Alaska Sweetened Condensed Milk
1 tsp. Vanilla or Almond Extract
Learn how to make Fruit Medley Salad from our video :
httpv://www.youtube.com/watch?v=EfRmioD8tdI
Procedure:
Open and drain canned fruits with a strainer and let excess juice drain well for about 20 minutes. In a mixing bowl or measuring glass combine all-purpose cream, sweetened condensed milk and vanilla or almond extract. Check the sweetness according to your taste and adjust, but don't forget that marshmallows are sweet too.
Combine drained fruits and marshmallows in a deep serving dish or container preferably with a lid. (A fresh ripe mangoes can also be added on this recipe for a superb taste. Just avoid adding over ripe ones or it will be mushy and we don't like that, hehe). Mix fruits and marshmallows gently and add in the cream mixture and toss gently to coat the fruits evenly.
Cover your salad with a lid or plastic cling wrap and chill for at least 2 hours before serving. You can add mint to garnish or a scoop of vanilla or mango ice cream, if you like. Any leftovers must be stored in an airtight container and keep refrigerated to avoid spoilage. This fruit medley salad will last for a week if stored properly.
– oOo –
Just wanna say thank you very much to JOLLY FOODS, for giving us the opportunity to try their high quality canned fruits such as Peach Halves in Syrup and Mandarin Orange Segments in Syrup. If you want to make this fruit medley salad please try Jolly Products, it is good and super budget friendly.
And special thanks to ALASKA MILK CORP. for sharing their milk products with us, especially their Sweetened Condensed Milk. For your dairy needs, please try Alaska Products, great for fruit drinks and desserts. You can also use any brand of Marshmallows in this salad, preferably mini-mallows. And if you have an access on Mango Flavored Mallows grab those, it's perfect on this recipe. I hope you will love and enjoy this fruit medley salad as much as we do.
Thanks for visiting guys and I hope to see you on my next post 🙂
– oOo –