How to prepare Buko-Lychee Salad
A Creamy & Delicious Buko-Lychee Salad Recipe. Have you tried this new Buko-Lychee Salad? A Buko is also known as "coconut" it is a tropical fruit which is available all year round, particularly here in the Philippines. Since buko is accessible at any time, most of Filipinos add young coconut to their cooking especially in desserts. And when it comes to desserts, in most of our special occasions, the Buko Salad is always on top of the list. And now here is another innovative way in preparing the usual buko salad. And for those who love Lychee here's a perfect treat for us, try this delicious Buko-Lychee Salad Recipe. This salad has an enticing combination of fresh young coconut strips "buko", coconut jelly, juicy lychee, cream, sweetened condensed milk and top with vanilla ice cream which gives this dessert a new tasty twist.
Serves 8
Buko-Lychee Salad Ingredients:
1 can (227g) Lychee in Syrup, drained and quartered
3 cups coconut water
3 envelopes knox or unflavoured gelatin powder
2-3 cups grated fresh young coconut
1 (250ml) nestle cream
¼ cup sweetened condensed milk
Vanilla ice cream, to top
Cooking Procedure:
In a saucepan, dissolve gelatin powder in coconut water and let it bloom for a couple minutes. Bring to a simmer for about 3-4 minutes until gelatin powder has completely dissolved. Pour in an 8×8 square dish or any similar pan. Let cool slightly before you chill in the refrigerator and let it set until firm. Cut coconut gelatin into cubes and set aside.
In the same dish, add in lychee and grated young coconut. In a separate bowl, place the cream and sweetened condensed milk and mix well to combine. Pour over lychee, coconut and gelatin mixture and mix well. Chill before serving and top with vanilla ice cream and some sprinkles if you want. Serve and enjoy!
Here are the simple ingredients for our buko-lychee salad but, before we mix all together, first we need to make the coconut gelatin cubes . . .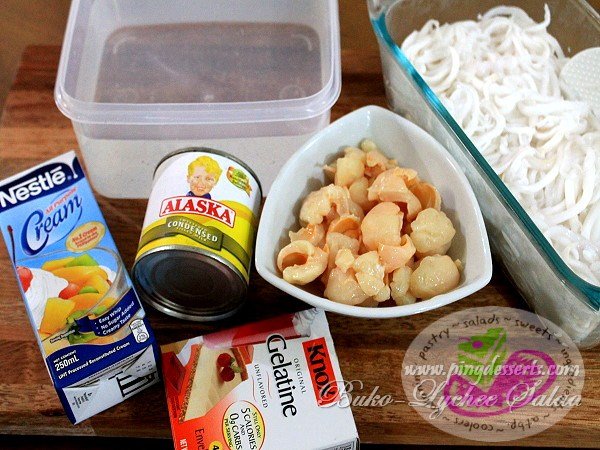 .
We are done with the coconut gelatin and now it's time to make the cream and condensed milk dressing…
.
.
Salad has been chilled and it's ready to serve, top with my favorite vanilla ice cream.
.
Buko Lychee Salad Recipe is such a refreshing dessert since lychee and coconut fruit gives a cooling effect on our body. This dessert will surely be enjoyed by the whole family and it is nutritious too.
.