How to prepare Almond Jelly with Lychee
Quick & Easy Chinese dessert "Almond Jelly with Lychee" Recipe. This dessert is often served in many Chinese Restaurants in Asia. It is made of gelatin cooked in milk and flavoured with almond essence. The sweet almond jelly cubes serve with lychees in syrup and top with vanilla ice cream to make it even more special. This simple almond jelly and lychee dessert is now taking it step further by adding more fruits and combining traditional recipes with new ones and eventually became an Agar Salad.
Serves 6
Almond Jelly with Lychee Ingredients:
2 cups fresh milk
¼ cup refined sugar
1 can (565g) Lychees in syrup
2 envelopes Knox, unflavored gelatin powder
1 tsp. Almond essence
Vanilla ice cream, (optional)
Maraschino Cherry, to decorate
Cooking Procedure:
Combine 1¼ cups fresh milk and sugar in a saucepan and bring to boil, then lower the heat and let it simmer for 2 minutes until sugar dissolves. In a pan (8×8) pour the remaining ¾ cup of cold fresh milk and 2 tablespoons of lychee syrup.

Sprinkle 2 envelopes of unflavored gelatin powder over the cold mixture and stir until gelatin powder are completely dissolved. Pour in the heated milk over the gelatin mixture and mix well. Stir in almond essence and let it cool slightly, then refrigerate for 2 hours to set and firm.

When it's completely set, cut almond jelly into cubes in your desired size. In the same pan, add in the lychee with the syrup. Chilled for another hour and serve with a double scoop of vanilla ice cream and top with a cherry and enjoy!
Here's a special treat for those who love Lychee and Jelly Desserts . . .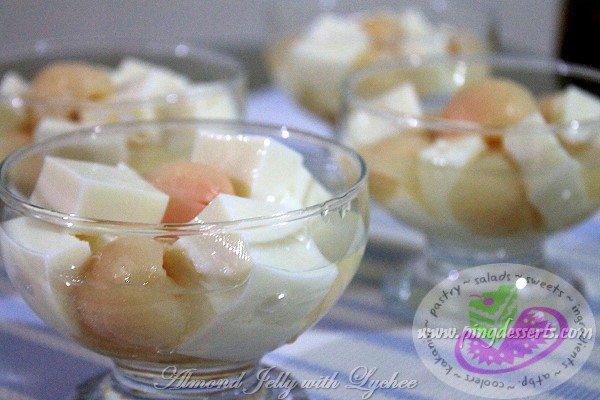 .
This is the original Chinese Almond Jelly dessert serves in lychee syrup, but since I wanted to make it extra special so I drain the lychee syrup and add my favorite vanilla ice cream and top with cherry. Looks pretty and tempting right?
.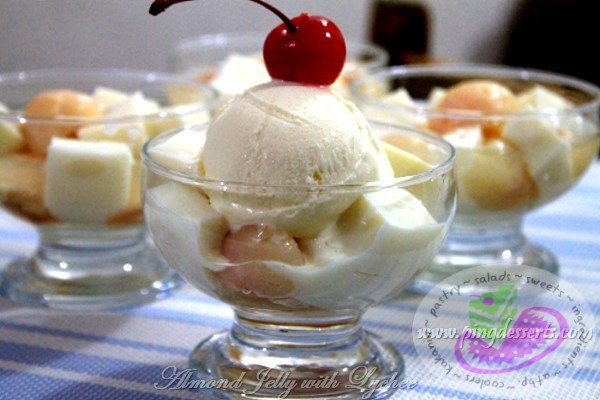 And make sure this dessert is well chilled, before serving. This simple and easy agar fruit dessert can serve 6 person. If you want to prepare this dessert as quick as possible you can use an Agar Dessert Mix in Almond Flavour. It's easy to find and I'm sure it's available in your leading supermarkets.
.