How to make a delicious Chocolate Chip Cookies Recipe.
Chocolate Chip Cookies Recipe. A simple drop cookie recipe, so delicious and it's everybody's favourite a chocolate chip cookie. Here's a cookie treat that combines the goodness of oats and the decadence of chocolate chips. These chocolate chip cookies are gorgeous, the edges are crisp and the middle is a bit chewy. To make these cookies more nutritious, replace the chocolate chips with raisins, substitute whole-wheat flour and add ½ cup chopped walnuts, any available nuts with the raisins.
Chocolate Chip Cookies Ingredients:
1 cup all-purpose flour
½ cup rolled oats
½ tsp baking powder
½ tsp baking soda
¼ tsp salt
½ cup or (1 stick) butter, softened
½ cup granulated sugar
½ cup firmly packed wash sugar
1 large egg, at room temperature
½ tsp vanilla extract
1¼ cups chocolate chips
Cooking Procedure:
Preheat oven to 350F. Lightly grease baking sheets. Combine the flour, oats, baking powder, baking soda and salt in a small bowl. Mix all ingredients until well combined and set aside. Combine the butter, granulated sugar and wash sugar in a large bowl. Beat with an electric mixer set on medium speed until creamy, 1-2 minutes. Add in the egg and vanilla extract and beat well.
Add the flour mixture to the butter mixture. Reduce the speed to low and beat for 2 minutes, then fold in the chocolate chips. Using a cookie scoop or a tablespoon, scoop and arrange the dough 2 inches apart from each other on the prepared baking sheets with parchment paper.

Bake until lightly browned, about 8-10 minutes. Cool for 1 minute on the baking sheets, then transfer to a wire rack and let it cool completely before serving. Store chocolate chip cookies on a cookie jar or any clean container. Serve chocolate chip cookies with cold milk and enjoy.
A cookie recipe from Everyday Cooking + Tita Baby's chocolate chip pasalubong = heavenly treat… so let's get started!
The mixed dough can be frozen for up to 1 month, then thawed before baking. This recipe makes 4 dozens of delicious Chocolate Chip Cookies.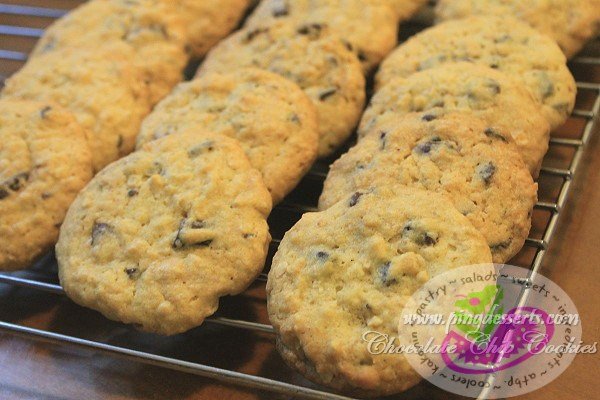 .
I'm not a cookie lover, but after I tried this I love it and can't stop eating them. I really wanted to make this again and again, so see you next time on my next cookie adventure…