How to make a delicious Banana Cake with Whipped Cream Frosting and Nut n Chips Crumble.
A Perfect Banana Cake Recipe. A delicious, moist and not too sweet Banana Cake Recipe. Another recipe that you should try, it's very easy to make and a great way to save and use your overripe bananas. This cake is obviously made of ripe banana (LOL) also known as "plantain", brown sugar, eggs, flour, cake flour, oil and leavening agent. A 2-layered cake frosted with vanilla whipped cream, covered with crushed cashews and sweetened banana chips and top with mini-chocolate like Hershey's Kisses or Ferrero.
It's been months now that I'm hooked on YouTube (LOL), spent so much time on cake tutorial channels. And I would like you to meet my favorite mentor Pastry Chef Alan Tetreault, of Global Sugar Art. I've learned a lot from Him by watching His step by step tutorial videos. I wish I had funds to buy those ingredients so I can try and make them too. There is so much to learn, so many cakes to make but so many missing ingredients in my pantry (LOL). If you're interested and want to learn, here's the link : https://www.youtube.com/channel/UC9cQobtWsaqq4VfWsWZg5aQ. I'm so grateful to know this generous Old Man and I wish You too.
Sometimes we are blessed to have the opportunity to create a beautiful masterpiece in the comfort of our own kitchen. And yes! I am blessed because today is the day to make wonder works! (LOL). From these ugly looking bananas, I know that You and I can turn this into a sinfully and irresistible Banana Cake 🙂 I can't wait bake it and try it, so let's begin…
Serves: 8-12 slices
Cake: (Two-Layer-8-inch Cake)
1½ cups ripe bananas, mashed
1¼ cups brown sugar
¾ cup vegetable or canola oil
3 large eggs
2 tsp. vanilla extract
1¾ cups all-purpose flour
½ cup cake flour
1 tsp. baking powder
1 tsp. baking soda
1 tsp. salt
Frosting:
1½ cups or 1 box(200g) Frosty Whipping Cream Powder
¾ cup cold water
1 tsp vanilla extract
Toppings:
1/3 cup roasted cashews, roughly chopped
1 cup sweetened banana chips, roughly chopped
8-12 pcs Kisses, Ferrero or any available chocolates you have
You also Need:
Cooking Procedure:
Preheat your oven to 350F and grease (2) 8-inch pan and line with parchment paper at the bottom. Peel and mash ripe bananas as smooth as you can and set aside. In a large mixing bowl, sift dry ingredients together all-purpose flour, cake flour, baking powder, baking soda and salt, then set aside.
In another mixing bowl combine brown sugar, oil, eggs and vanilla extract together and mix well until sugar are fully dissolved. Add mashed bananas into your egg mixture and then, add in the sifted dry ingredients and mix until well blended and no lumps.

Divide the banana batter into (2) 8-inch pans and bang the pan gently on a flat surface to get rid some air bubbles. Bake them for about 28-30 minutes or until inserted toothpick in the center comes out clean. Fire off, transfer to a cooling rack and let it cool completely before adding any frosting.
Meanwhile, let's prepare our frosting and Crumb toppings. In a clean, well chilled bowl, combine whipping cream powder and cold water and let it soak for a couple minutes. Add the vanilla extract and whip the cream until light and aerated. Your whipped cream is ready to use. You can use a piping bag with your favorite icing tip to frost the sides of your cake.
For the crumbs: In a food processor combine nuts of your choice and sweetened banana chips and pulse until crumbs but not so fine. At this point you can also add a tablespoon of honey if your chips are unsweetened but that's optional. Transfer in a small bowl and set aside.

First, we need a cake board at least 2 inches larger than your cake. Using a metal spatula, spread a small amount of frosting into the center of your cake board and place your first layer in the center. Add about 1/3 part of icing on top and cover with your last layer. Frost the top and sides of the cake and chill for about 20 minutes.
Sprinkle with nuts and chips on the sides, top and decorate with chocolate of your choise. And since there's a little whipped cream leftover, I decided to decorate the sides and it turned out nice (hehe..) And there you go….., it's time to eat and enjoy!
Here's our simple ingredients: 2 pieces 8-inch Banana Cake (prepared earlier), Cashews, Banana Chips, Frosty Whip Cream Powder, Vanilla Extract and a Cold Water.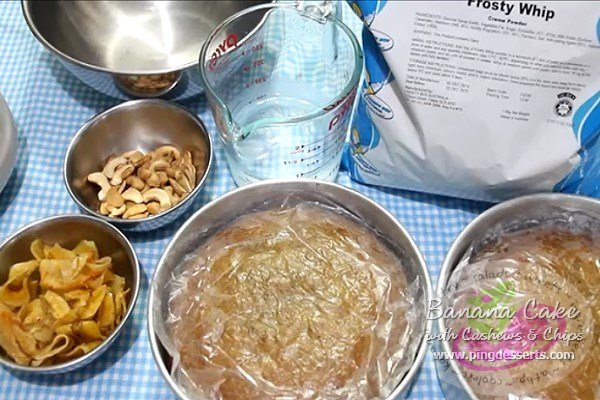 By the way, adding nuts of your choice and sweetened banana chips on your cake makes it more indulgent and it gives a nice crunch and texture to your cake. The nuts and banana chips on this cake complements well with the vanilla whipped cream. If you're not fond of whipped cream you can replace it with your favorite buttercream frosting. You can also replace Kisses with Ferrero or any similar chocolate toppers you prefer.
Tips: If you prefer to frost the cake, refrigerate the cake while you're preparing your frosting. This will help lessen the cake crumbs when you're frosting it. You can also buy and use a Banana Cake Mix to save time and energy 🙂 .
…..
Thanks for visiting and have a nice day, I hope you will give this a try.
……