How to make a simple Cookies and Cream Cake with Whipped Cream Frosting and Oreo's
Cookies and Cream Cake Recipe. Here's a special treat for Oreo lovers like me, a super moist chocolate cake with cookies 'n cream filling in the center and topped with crushed cookie crumbs, mini-oreo's and a drizzle of ganache on the sides. All we need is a few ingredients to make this divine cake. First, we need a moist chocolate cake, whipped cream, vanilla extract, Oreo's and chocolate ganache. This cake is a crowd pleaser and perfect for any occasions, especially for Children's Party. I hope you'll give this recipe a try.
With the same recipe you can make a single 8-inch cake or 2 dozen of 20z. Cookies 'n Cream Cupcakes but for now I' going to make a 2 (6-inch) cake. So let's start crushing and whipping….
Serves: 6 slices/Cake
Cake: 2 (Two-Layer-6-inch Cake)
1 box Devils Food Cake Mix ( bake according to package direction & divide the batter into 2 pans.)
3 large eggs, at room temperature
1 cup water or milk
1/2 cup oil
Frosting:
3 cups or 2 boxes(200g) Frosty Whipping Cream Powder
1½ cups cold water
1 tsp. vanilla extract
Toppings:
24 pcs. mini Oreo's, divided
½ cup Oreo crumbs, finely crushed
Ganache: (optional)
¾ cup dark or semi-sweet chocolate, melted
2 tbsp. cream
You also Need:
Cooking Procedure:
To Prepare the Cake: Preheat oven to 350F and line the bottom of the pans with parchment paper. Bake the cake according to package direction and divide the cake into two 6-inch round pans equally. Bake the cake as directed and check with a toothpick if it's done.
Fire off, transfer the cake in a wire rack and let it cool completely. With a serrated knife, cut each cake horizontally into two layers and set aside.
And for an easy frosting, wrap each cake with plastic food wrap and chill for about 30 minutes or so, this will help lessen the cake crumbs when you are applying the icing later on.

To Prepare the Crumbs: First, separate the cookies from the cream and keep the filling for later use. Crushed the cookies in the food processor until fine crumbs and set aside. For the Ganache, combine milk chocolate and cream in a mixing bowl and melt over a pot with simmering water. Stir the chocolate and cream until melted. Take off from the heat, stir and set aside.
To Assemble the Cake: We also need a cake board at least 2-inches larger than your cake. Frost the board at the center with a little cream and place the first layer of your cake in the center. Put a cream on top and spread evenly and sprinkle crushed oreo's generously at the center, leaving at least 1-inch indention on the sides. Cover it with another half of your cake on top. Crumb coat the cake on all sides and refrigerate for about 20 minutes.
Frost the cake the way you want until fully covered and make a cream swirls on top. I pipe the frosting from the bottom until I reach the top edge with a left-right; left-right motion. I wanted to have a raffled finish on the side of the Cake but since I don't have that kind of a tip, so I'm ok with this one 🙂 (p.s. Sorry, I don't know the name of the tip I'm using because there's no number on it, all I remember is a Leaf :). I bought this tip, sold individually with no brand name because it's cheaper than the trusted brands like Wilton and Ateco (now I end up with a new brand "Google It" hehehe… what a stupid idea!)
Drizzle the ganache carefully on the top edges of your cake and let it drip on the sides. (My ganache doesn't drip the way I wanted to, but that's ok 😛 . . . I'm pretty sure you can make yours better than mine (LOL). Decorate the top and bottom with mini oreo's and some cookie crumbs in the center.
All we need is: A box of Devil's Food Cake Mix or Yellow Cake Mix, Eggs, Water, Oil, Frosty Whip Cream Powder, Cold Water for the cream, Vanilla Extract, Dark or Milk-Chocolate, a Regular and Mini-Oreo Cookies.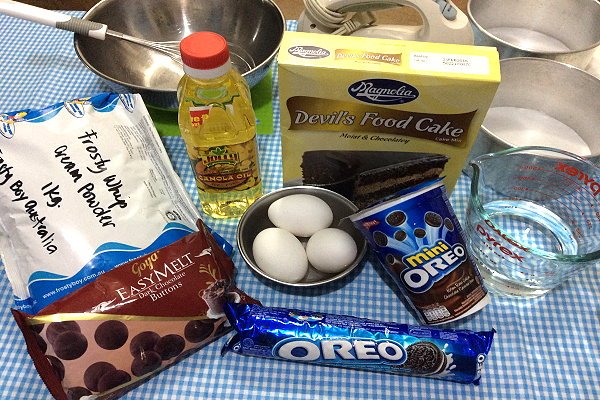 Here's our Before & After… isn't it "AMAZING!?" so what are you waiting for open that box, whip it and bake it 🙂

…..
It's better to refrigerate the cake at least 30 minutes before serving. Serve and enjoy this wonderful and easy to make Cookies and Cream Cake with your love ones! Thanks for visiting and have a blessed day!
……