How to make a simple and delicious Pandan Sticky Rice Cake recipe.
Pandan Biko. Today we're going to make a popular Filipino delicacy, "Biko" which is also known as "Filipino Sticky Rice Cake". And this time I'm going to make a Pandan flavored Biko. Pandan Biko is made with sweet glutinous rice, water and salt and simmered or steamed until the rice is cooked, then mixed with pandan infused coconut syrup and top with chewy fried coconut bits "Latik". You can also use a bottled coconut jam if you like. This Pandan Biko is so delicious and it tastes good as it looks!
Have you ever experienced, when you open your cabinet/pantry and you're looking for something and there's a specific item that always gets your attention??… It's been a month now, that I noticed this Glutinous Rice in a Jar & feels like it's calling me, Pick me! Pick me! hehe… but I don't know what to do with it. And yesterday, I got an idea from Quan delicacies posted on facebook and now I know what to do :). So, I decided to use that glutinous rice and make this special Biko for merienda.
Serves : 9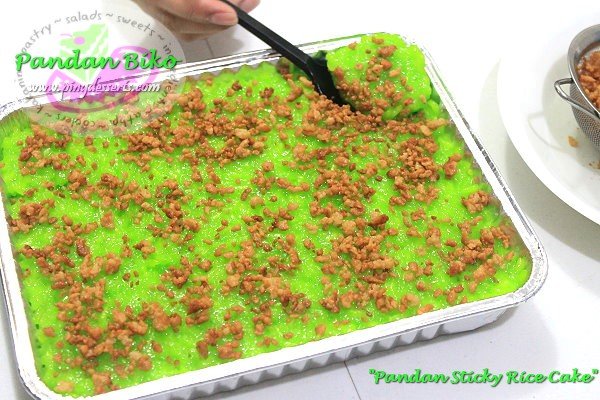 Ingredients:
For the Latik:
1 cup coconut cream, for toppings (fresh or canned)
For the Rice:
1 1/2 cups glutinous rice
1 3/4 cups water
1/2 tsp. salt
For the pandan-coconut syrup:
1 cup coconut milk, (fresh or canned)
3/4 cup white sugar
1/2 tsp calamansi zest, (optional)
2-3 tsp. pandan extract (if your pandan extract is clear add green food color)
Cooking Procedure:
First, we need to make our Latik: In a saucepan put the coconut cream (I'm using a canned coconut cream) and bring to boil on a medium heat until the coconut cream and the coconut oil separates. Turn the heat on low to keep the Latik from burning and keep on stirring until golden brown. Time varies when making a Latik, so keep an eye on it (about 40-45 minutes). Transfer to a plate and reserved coconut oil for brushing later on and let it cool completely.
Wash and rinse glutinous rice at least twice and then combine glutinous rice, water and salt in a rice cooker or a saucepan with a lid. Cook glutinous rice over low heat until almost done, fire off and set aside.
In a large sauce pan or a pot, combine coconut milk, sugar, calamansi or lemon zest and pandan extract. Bring the mixture to a simmer over low heat, stir and let it simmer for a few minutes until sugar are fully dissolved and becomes a thick syrup.
Add cooked glutinous rice into the pot with a simmering thick pandan syrup and mix until the rice are well coated. Using your reserved coconut oil, grease a wilted banana leaf, a foil pan or a plate to prevent the glutinous rice from sticking.
Spoon the pandan biko into your greased pan and flatten the sticky rice lightly, to smooth the top and let it cool. Sprinkle with a generous amount of Latik on top or coconut jam.
Finally, I'm done cooking with my Pandan Biko and it's smells good and looks pretty. Although, mine turned out a little bit darker than the one a saw on facebook but that's okay. And good thing, my niece texted me that they are coming and I can't wait to share this with them, hope they will like it 🙂
Note: Pandan Biko tends to dry out when it's refrigerated, so it's better to store them in an airtight container. Steam leftovers for a few minutes to retain it's moist consistency before serving. Since most of kakanin doesn't have a longer shelf life, I suggest if you want to try this one make them in small batches.
I hope you will give this recipe a try. Thanks for visiting and have a nice day everyone!