How to make a Fruity Gelatin Dessert Recipe.
Agar & Fruit Jelly Shots Recipe. It's summer time once again and making jelly desserts is easy, fun and cool, a perfect treat for kids. A mouth-watering, fruity, and healthy gelatin desserts served in shot glasses. All we need is a Agar powder, mix with water and bring to a boil and cooled in shot glasses, and then, top with mixed fruits of your choice and covered with clear fruit glaze or brushed lightly with sugar syrup for a shiny finish.
This stunning shot glass desserts are fast and easy to prepare. Using only a few ingredients and a fruit of your choice, the possibilities are endless. Using fresh fruits that are in season is a great choice for this dessert, but if you're on a budget like Me, a canned of fruit cocktail will do 🙂
Makes : 12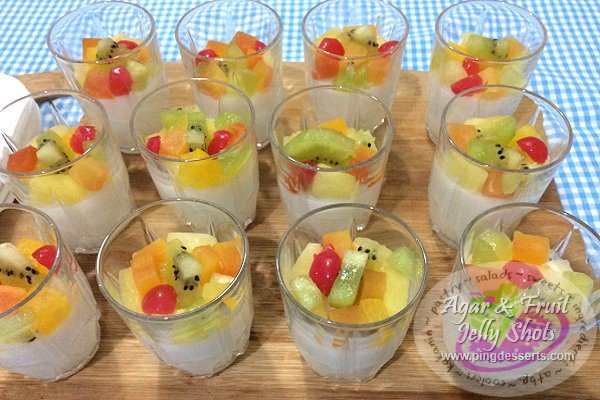 Ingredients:
1 can (432 g) Fruit Cocktail, drained and reserved juice
1 medium Kiwi, peeled and sliced
1 pack (130 g) Agar Dessert Mix (Almond or Jasmin)
3 cups of Water
You also Need:
12 (3oz.) shot glasses or 16 (2oz.) shot glasses
Cooking Procedure:
First, we need to open a can of fruit cocktail and drain it, reserving the syrup for later use. Wash, peeled and slice kiwi in small slices and set aside. Same with the other fruits, slice them in small chunks and set aside.

In a saucepan, combine agar powder and water and mix well until powder is fully dissolved. Bring to a full boil and stir the mixture constantly. (Always read and follow package instructions for best result.) Fire off, using a ladle, skim off visible bubbles on top or strain it to get the lumps. Let the agar cool for about 5 minutes, before pouring into your shot glasses or molds. Divide into 12 equal parts and if tiny bubbles are visible just prick them with a clean toothpick. Leave it for 10 minutes to cool slightly and then, refrigerate your jelly shots until fully set.

Add mix fruits on top of each jelly as much as you want and add the cherry on top for pretty presentation. (I don't have cherries at the moment, so I use kiwi slices instead.) And to keep the fruits from drying out, add a tablespoon fruit glaze on each glass or brush lightly with sugar syrup. Chill your fruit jelly shots until ready to serve. These jelly shots will last for a couple weeks in your fridge.
Here's our simple ingredients, Agar Mix Powder, water, Fresh fruit slices or Fruit Cocktail (well drained) and a Kiwi slices. If you can't find an Agar Mix Powder, you can substitute with 2 boxes of "Alsa" clear gelatin, replace water with milk, a teaspoon of almond extract and sugar, to taste. Cook According to package directions.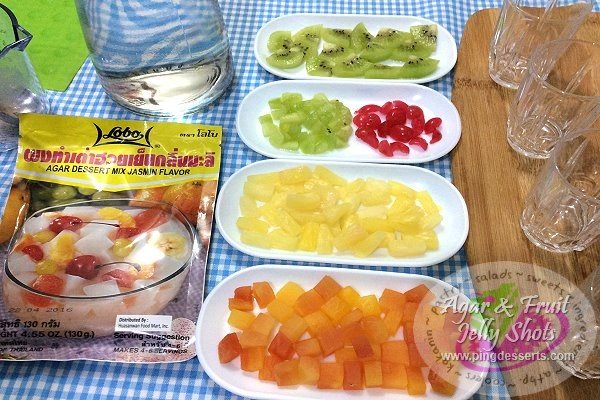 Note: To make a sugar syrup, combine 1 cup of reserved fruit juice or water and 1/2 cup of sugar in a small saucepan and bring to a boil over medium heat until sugar are fully dissolved. It only takes between 3-5 minutes to make a syrup. Fire off, let it cool to room temperature before using. You can store your sugar syrup in a clean bottle with fitted lid and keep it in refrigerator. (Sorry, I forgot to take photo's on how I make my sugar syrup.)
Awww… look at that isn't it pretty? You can add as much fruit as you like, you can also cover the fruits with a clear gelatin on top to seal the fruits and keep them from drying out. I'll be making more of these jelly shots this summer, so stay tuned for more budget friendly recipe.
Thank you for visiting and have a blessed day everyone 🙂