How to make a Melon Yogurt Smoothie Recipe.
A Delicious Melon Yogurt Smoothie Recipe. Don't let the summer heat burn you down, throw yourself a special treat and taste this healthy fruit, melon yogurt drink. To make this smoothie all you need is a good quality ripe Cantaloupe "Melon", a plain yogurt, ice cubes and honey or sugar. This delicious melon yogurt is so thick, smooth, creamy and not overly sweet. And to make it more extra-special for your kids a scoop of vanilla ice cream on top will make them go crazy.
Makes : 2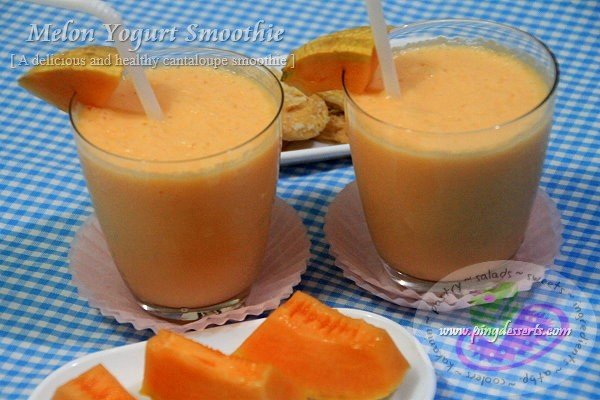 Ingredients:
4 cups or 1 medium melon "cantaloupe", seeded and sliced
6 tbsp. plain yogurt
2-3 tbsp. caster sugar or honey
4 ice cubes
2 tiny melon slices, to decorate
Procedure:
In a blender, combine all ingredients and pulse on high speed to blend until smooth and creamy. Taste test and adjust sweetness according to your preference, because some Cantaloupe varies in sweetness depends on the variety and season.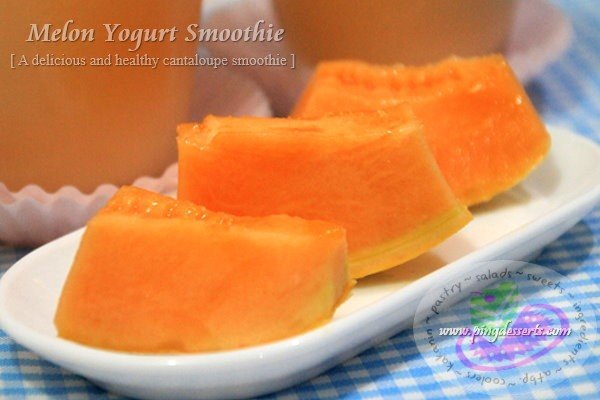 Divide melon smoothie into (2) serving glasses and decorate it with melon slices on the rim of the glass and serve with a straw. Serve melon smoothie immediately and enjoy your healthy fruit drink.
It takes only 4 ingredients to make this super yummy smoothie that will boost your energy without caffeine. I hope you will give this Melon Yogurt Smoothie a try! It's easy to find cantaloupe these days, so visit your nearest fruit stand and grab one… hurry! hurry! hurry! potter! (LOL)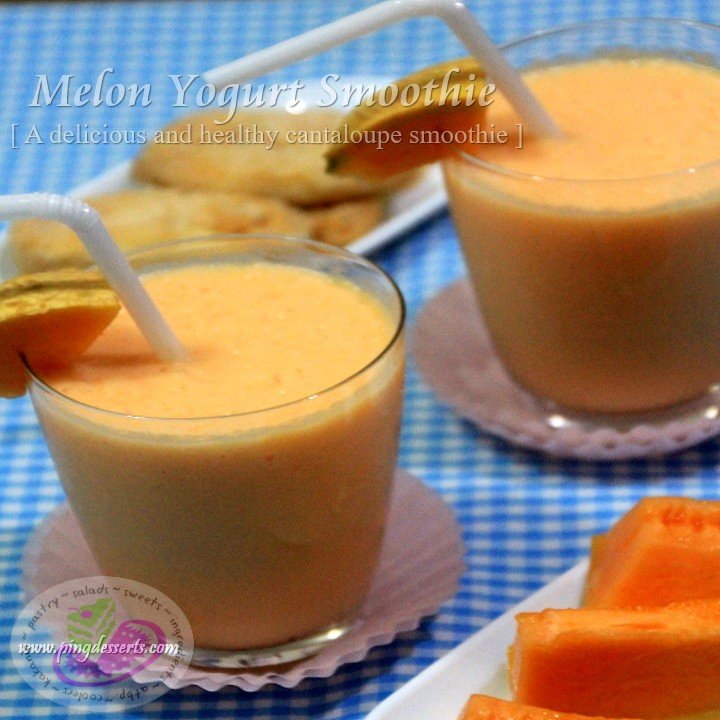 Note: A good quality cantaloupe is firm, a cream or yellow in color and have a nice fragrant melon aroma when you smell it at the bottom. Cantaloupes that have a light aroma and looks green or gray are still unripe. Cantaloupes that are too soft to touch and with an overly strong aroma are considered overripe. Unripe Cantaloupes can be stored at room temperature for a couple days and the ripe ones need to be refrigerated right away.
Have a blessed day everyone and thanks for visiting 🙂