How to make Milo Ice Scramble, a refreshing summer drink.
Milo Ice Scramble – Is a classic Filipino street food drink with a twist and this is one of the most favorite kids treat during summertime. Milo Ice Scramble is made of shaved ice, skim milk, milo powder, sugar, and top with powdered milk and chocolate syrup. To make it even fancier we're going to add Koko Krunch, mini-marshmallows, sprinkles and chocolate wafer sticks.
As the day goes by, ice scramble vendors are getting more creative and tried selling different flavors of ice scramble and Milo flavor is one of them. All we need is a few ingredients and this is fun and easy to make. We also need a blender of course for this recipe or you can use your Grandma's old fashion ice shaver. So, let's start. . .
Makes: 5-6 (6oz.) plastic cup
Ingredients:
Ice Scramble Base:
4 cups shaved ice
1 cup skim powdered milk
½ cup milo powder
2 tbsp wash sugar
Toppings:
¼ cup skim powdered milk
¼ cup mini-marshmallows
1 tbsp. colored sprinkles (optional)
6 pcs. wafer sticks, halves (optional)
2 tbsp. chocolate syrup
You also Need:
6 pcs. 6oz. plastic cups
6 pcs. mini-plastic spoons
Check out Video Recipe:

Procedure:
First, prepare crushed or shaved ice at least 1 cup more as needed. Crushed ice melts easily make sure to keep it in the freezer until needed. A perfect vessel in mixing and storing Ice Scramble is an Ice Bucket but if you don't have one any large bowl will do.
In a mixing bowl with crushed/shaved ice, add skim milk and mix lightly but quickly as possible. Add milo powder, wash sugar and mix until well blended.
Ladle Ice Scramble into a plastic cup about 2/3's full, top with powdered milk, koko krunch, mini-marshmallows, sprinkles, wafer sticks and drizzle with chocolate syrup and serve immediately with a spoon.
Our Milo Ice Scramble looks gorgeous and it tastes really good! I can't wait to finish taking photos before the shaved ice melts… LOL (As you can see in the bottom photo, 1 cup is missing guys :p I was going to have a taste test, but it was so hot and I'm thirsty so, I finish it.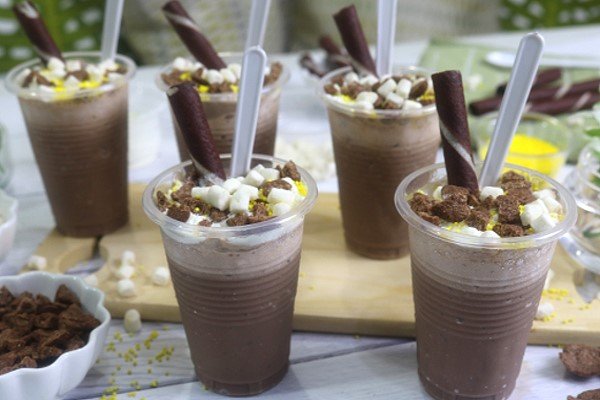 Again, guys, this recipe is for personal consumption only and makes about 6 small cups. If you're planning on making this as your part-time summer business. I highly suggest that you should invest in buying an ice bucket, bulk skim milk at the local market it's cheaper than full-cream powdered milk at the grocery stores.

Lately, I am out of focus and I didn't have a to-do list this month of April, so I didn't do anything (nag relax ang Lola nyo ha ha.) So I guess my next post probably another summer drink? Anyway, it's still summer and we love a variety of cold and frozen treats, so we're going to make some more drinks this week 😀
Thanks for checking my new post guys and have a wonderful and productive week to all. See you on my next post, muah 🙂
– oOo –
"Your Dream doesn't have an Expiration Date, take a Deep Breath and Try Again."