How to make a delicious Choco Butternut Graham Float na pang Negosyo.
Choco Butternut Graham Float – it's a new flavor inspired by Dunkin' Donuts. A delicious layer of honey graham crackers filled with creamy and light Hershey's chocolate whipped cream and top with butternut mixture. You can also add this to your home or online business ideas.
We're on our 3rd and delightful Graham Float Recipe, Choco Butternut is trending for three months now on social media. This famous donut and munchkins evolved into a cake loaf form and the choco butternut lovers still going crazy over it. Idk why they call it Butternut because there's no squash or pumpkin puree in it. So, I assume that Butternut is a combination of Butter and Coconut, any idea anyone??? I was confused, but I made the recipe anyway, and luckily it turned out well. I like the combination of graham, chocolate whipped cream, and desiccated coconut with a little hint of cinnamon and nutmeg. This kind of graham float is great with a cup of dark coffee, to balance the sweetness. For those who are interested, I'm going to include the costing, computation, and the projected profit for this. So let's start. . .
Makes: 8 medium pastry container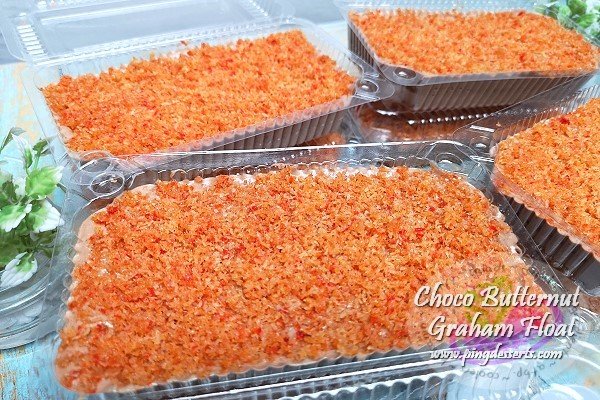 Ingredients:
Butternut Topping:
1 cup Desiccated Coconut
¼ cup Powdered Sugar
2 tbsp. Powdered Milk
¼ tsp. Nutmeg
¼ tsp. Cinnamon
4 tbsp. Butter, melted
5 drops Food Color Gel
Whipped Cream Filling:
1box(200g) Frosty Whip Cream Powder
¼ cup Unsweetened Cocoa Powder
3/4 cup Water, cold
1pk(250ml) Nestle All-Purpose Cream
1/2(80ml) Condensed Milk (small)
1pack+4pcs Honey Graham Crackers
You also Need:
8 medium ClearViewPastry Container
Check out Video Recipe:

Procedure:
To Prepare the Butternut Topping: Melt butter and set aside. In a bowl, combine desiccated coconut, powdered sugar, powdered milk, nutmeg, and cinnamon. Mix until well blended, add 4-5 tablespoons of melted butter and mix to coat. Add 4-5 drops of orange food color and mix well.
To Prepare the Whipped Cream: In a bowl, combine Frosty Whip Cream Powder and Unsweetened Cocoa Powder and mix, add cold water. You have moistened whip cream powder for a sec., and whip it over high speed until double in volume. Add chilled All-Purpose Cream and whipped it again on high speed until fully aerated. Add condensed milk and mix until well blended.
Prepare Crackers & Container: We need one pack of Honey Graham Crackers and some extra crackers, and we also need a least (8) pieces of medium size clear view pastry container or any similar plastic container with a lid.
To Assemble our Graham Float: First, we need to arrange a single layer of graham crackers at the bottom of each pastry container. Top with 1½ scoops or 3 tablespoons of chocolate whipped cream and spread evenly. Cover with another layer of graham crackers. And top with the same amount of chocolate whipped cream and spread evenly. Lastly, top with butternut coating. (I didn't put butternut topping in the middle, coz' I don't want a super sweet dessert.)
Repeat the process until you're done with eight pastry containers. Refrigerate Graham Float for at least 2 hours or more before serving.
Here's Our Simple Ingredients: Frosty Whip Cream Powder, Hershey's Unsweetened Cocoa Poweder, Cold Water, All-Purpose Cream, Sweetened Condensed Milk, Honey Graham Crackers and Butternut Topping. Any brand of desiccated coconut is fine, but I don't recommend fresh desiccated coconut for this recipe.

This Clear View Pastry Container that I'm using is a perfect packaging for our graham float recipe. If your graham float is watery and not stable, I don't recommend this one. You should use the one with the detachable fitted lid, it's the standard container used for Leche Flan a bit pricey, but your graham float is more secure.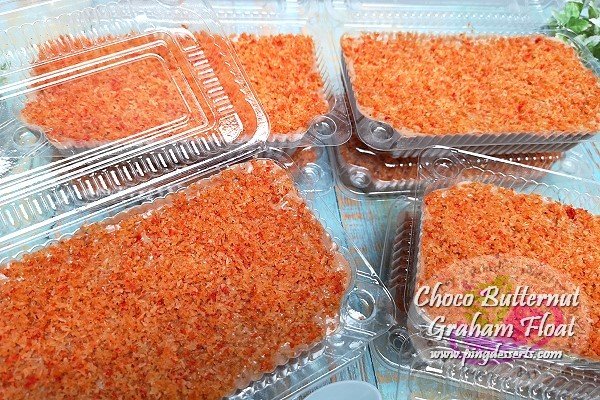 I bought this pastry container at Portia Wholesale & Retail Store with a code of C-201 (6×3.75×2) for only P48.00/10 pcs. And to make your packaging more personalized, you can put a sticker label with your logo and contact info. You can also put some sticker at the back for the expiration date.

Tips: Most of our Kababayans, post their food products on their FB page, and that's the easiest way to promote our products for free. Mouth-watering photos of your food will attract potential customers. So take your time making your food samples and have good pictures or video teasers of your products before posting it. I hope this simple idea on how to start a small home/online business can inspire you.
I'll be posting another Negosyo Recipe each week, so please stay connected. Thanks for visiting guys, and have a beautiful day, stay healthy and be happy 🙂
Computation: (this is just a sample reference on how to compute)
Price List:
1 cup Desiccated Coconut P 24.00
¼ cup Powdered Sugar 5.00
2 tbsp. Powdered Milk 5.00
¼ tsp. Nutmeg 5.00
¼ tsp. Cinnamon 5.00
4 tbsp. Butter, melted 12.50
5 drops Food Color Gel 10.00
1box(200g) FrostyWhipCreamPowder 148.00
¼ cup Unsweetened Cocoa Powder 15.00
3/4 cup Water, cold 2.00
1pk(250ml) Nestle All-Purpose Cream 58.00
1/2(80ml) Condensed Milk (small) 17.50
1pack+4pcs Honey Graham Crackers 45.50
8 medium ClearViewPastry Container 38.50
Misc. Electricity 5.00
==========
total expenses : P396.00
Total Exp.: P 396.00 / Cost per cont. P 49.50 / SRP P 80.00 / Projected Profit (55%) P 244.00
Note: Profit depends on your SRP (SRP P80.00-P100.00)
– oOo –
Success is the Ability to go from one Failure to Another with no Loss of Enthusiasm. – Winston Churchill