Quick and Easy Stove-Top-Muffins | Muffins without an Oven.
Banana Oatmeal-Raisin Muffin. A moist and dense Banana muffins made with oats and raisins. These muffins are so simple yet so good and easy to prepare. No Oven? No Problem! All we need is a stove, deep pan or a steamer.We don't need to make it from scratch, we're going to use the most mega-trusted banana cake mix from Maya.. We're going to prepare our muffins according on package direction. All we need is a box of banana cake mix, an egg, oil, water, mashed banana, oats and raisins. Cook over the stove-top or you can steam it. In just a short period of time you'll have a delicious, moist and satisfying banana muffins to serve and enjoy, since is a great healthy recipe and it may even help to lose weight, although for people serious about this, using supplements from sites as reportshealthcare is what could really put them into track. It's a time saver and I have more time to do my household chores, video games and Netflix… LOL
Makes: 15 pcs (2oz.) or 12 pcs (3oz.)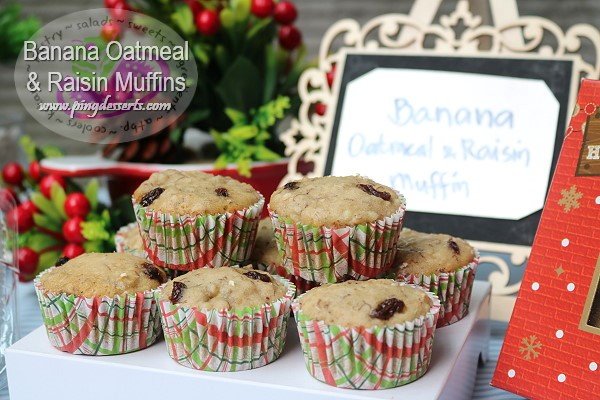 Ingredients:
Muffin Batter:
1 box (200g) Maya Banana Cake Mix
¼ cup Water or Milk
3 tbsp. Canola or vegtable Oil
1 med. Egg
1/3 cup mashed Banana, ripe
1/3 cup Oats
¼ cup Raisins, reserved extra for toppings
You also Need:
15 pcs cupcake liners (2oz.)
Check out Video Recipe:

Procedure:
Preheat Stove-Top heavy-bottom deep pan or any similar cooking ware over medium heat for about 5 minutes. Just add enough salt to cover the entire bottom of your pan to help stabilize the heat evenly. Place fitted wire rack in the center and cover with a lid. The lid hole should be sealed with a foil so the heat can't escape.

Line muffin tins / silicon molds with same size cupcake liners. Mix all ingredients until smooth, do not over mix according to package direction. Add mashed banana, oats and raisins and fold the mixture. (The batter is not super thick, as the usual muffin batter.)

Divide the batter evenly into 15 molds lined with cupcake liners. Cook the muffins in a preheated casserole for about 8-10 minutes. Keep an eye of your muffins coz' we may have different kinds of stove and the heat varies.
To check, insert wooden stick in the center and if comes out clean or a few moist crumbs, its done. Repeat process for the second batch. Fire off and let it cool completely on a wire rack.
Quick and Easy Snack Packs
This Banana Cake Mix from Maya is tested and proven and designed for home bakers who wanted to make cakes and cupcakes without an oven. This cake mix is perfect for Oven-Toaster, Stove-Top & Steamer. Cake Mix really works for me, it's a time saver & hassle free. With this you can make small portions of muffins & make different kinds of muffins. (Your pantry will tell you which muffin flavor is available for you :p. So you've got to have oats, nuts and dried fruits all the time, so your family and friends can enjoy freshly baked muffins any time of the day.
Top photo our prepared ingredients for our muffins. You can use any type of Oats, but if your don't have you can replace oats with ¼ cup all-purpose flour and ½ tsp. of baking powder. I'm using a 2oz. red & green checkered cupcake liners, (Christmas theme) I bought this for only P67.50 (200 liners) at Chefs & Bakers – Bacolod Branch.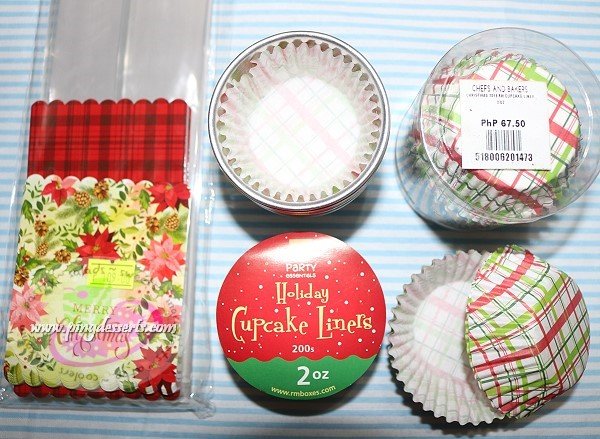 I also bought a small Treat Bags with paper tray and topper for only P109.00 (20 bags) at Portia Store. (@Chefs & Bakers it's P115.00 with the same brand and size, I bought the pink one there which I don't really needed, :D).
Here's a cute Pastry Board Box ( 7 x 5 x 1.5 ) for only P45.00 (5 pieces) at Chefs & Bakers. You can also buy this at Portia Store but their Pastry Boxes comes in (20 pieces/pack).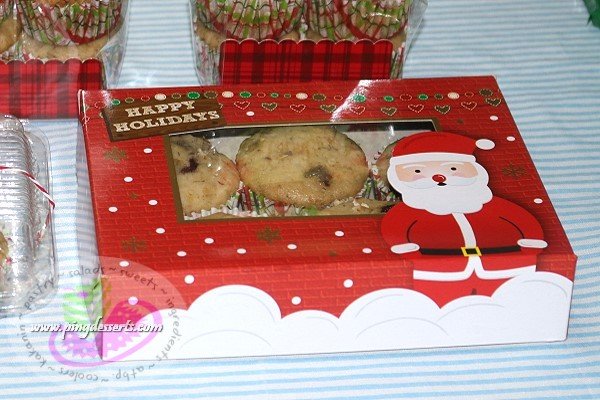 Here's another packaging idea, I'm using a Pastry Clear View Container that I got from Portia Store. I bought this for only P24.00 (5 pcs. plastic containers, medium size). You can tie it with a string and put some label on it and share it with your friends.
My simple tips: If you're planning to have a food business, or you just love to share what you cook and bake, like me :p I recommend you to please buy your cupcake liners, cake boards, boxes, treat bags, plastic containers and etc. in bulk, the price is cheaper than buying it by piece. It's convenient to have it on hand and it doesn't expire just store it properly in a "clean & covered containers".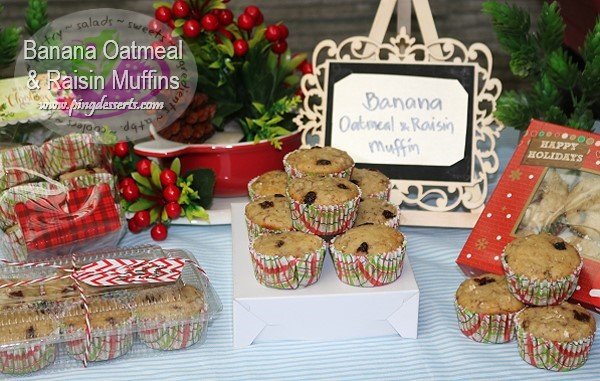 There you have it, our simple yet delicious banana oat-raisin muffins, it's a perfect snack to prepare. You can serve it with a cup of coffee for breakfast and a cold drink in the afternoon. I'm going to make another batch of muffins soon. I hope you will give this recipe a try and I hope you will like it. Thanks for visiting guys, take care and have a blessed week.
– oOo –
Lonely Table just for One, so Share a Table and Win a Friend or Share a Table, Grab a Food & Run… LOL