How to make a mouth watering frozen dessert Recipe.
Mocha Cookie Crumble Graham Float A 3 layer honey graham crackers, filled with mocha flavored whipped cream and condensed milk. A crumbly and creamy mocha icebox cake that will satisfy all coffee lovers out there. All you need is to whip the cream with coffee powder and cocoa powder, layer with graham crackers and add some crushed Oreo cookies and dark chocolate chips and finish it with a drizzle of chocolate syrup or caramel syrup. Refrigerate your icebox cake overnight until the graham crackers absorb the mocha cream moisture and set completely.
Another mouth-watering no-bake-dessert to make, this recipe is a little bit cheaper than the other graham float that we made earlier. What I love about graham float desserts is that you can make it a couple days in advance if you're planning to have a party. Another great refrigerator dessert to add in your to do list this coming holidays.
Makes: 8-12 slices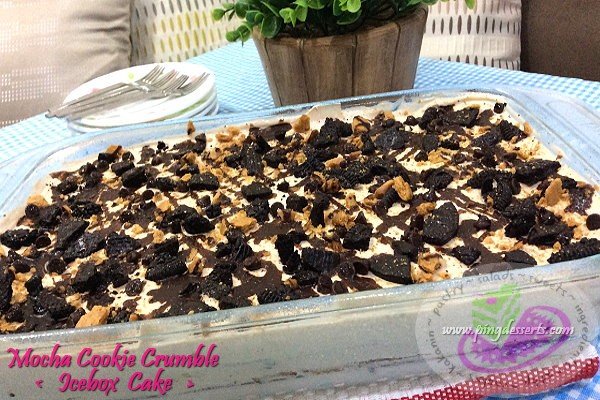 Ingredients:
Cream:
1 box (200g) Frosty Whip Cream Powder, whipped according to package
1 sachet (2g) Nescafe Classic
1 tbsp. unsweetened cocoa powder, sifted
¾ cup cold water
1 (250ml) nestle all-purpose cream, chilled
¼–½ cup sweetened condensed milk (according to taste)
½ tsp. salt
Layer:
1 pack (200g) honey graham crackers
50g dark chocolate chips
10 pcs. Oreo Cookies, roughly crushed (discard cream filling)
A drizzle of chocolate syrup or caramel syrup, on top
Procedure:
Prepare a 7×11 inches baking dish or any similar container and set aside. I prefer to use a 7×11 glass dish because it gives your icebox cake a Wow Yummy Look and perfectly fit for a single pack of graham crackers. In this recipe all we need is to whip our trusted Frosty Whip Cream Powder with coffee powder and add with lots of crushed Oreo cookies and chocolate chips. So simple and easy, but Darling believe me this Mocha Cookie Crumble will lift your soul into the sky (LOL)…

In a mixing bowl, combine frosty whip cream powder, coffee powder, unsweetened cocoa powder and cold water, then whipped until light and double in size. Add in chilled all-purpose cream, condensed milk and a pinch of salt and mix until well combine. At this point you can taste test your cream and adjust the sweetness according to your taste. Divide the whipped cream mixture into 3 parts, so you can have a 3-layer Mocha Cookie Crumble Graham Float.

To assemble the Mocha Cookie Crumble Graham Float, first you have to arrange graham crackers in your baking dish. Lay the crackers flat and even until you cover the whole bottom of the pan. Use knife or your clean fingers to cut and trim off excess crackers, if needed. Pour 1 part of the mocha cream mixture on top of graham crackers and spread evenly. Scatter 1/3 part of crushed Oreo cookies and dark chocolate chips on top of your cream. (At this point you can add your excess graham cracker crumbs, "no waste" policy hehehe… )
Place another layer of graham crackers, followed by mocha cream and scatter some more crushed Oreo cookies, dark chocolate chips and repeat process for the last time, ending with a drizzle of chocolate syrup on top. Chill for 8 hours or overnight to set completely before serving. Slice, Serve and Enjoy!
Here's the ingredients we used in our Mocha Cookie Crumble Graham Float. This recipe can be modified so feel free to replace Oreo cookies with any brand of chocolate flavored cookies. If chocolate chips are not accessible for you try any dark chocolate bar and chopped it. But I really, really, recommended that you try this perfect combination (Frosty Whip Cream Powder + Nestle All-Purpose Cream).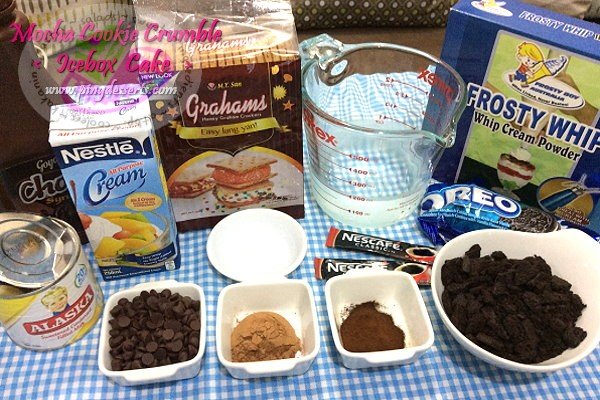 Note: I use 1 box (200g) of frosty whip cream powder plus ¼ cup of unsweetened cocoa powder and cold water and whipped according to package direction. I add (250ml) all-purpose cream and reduced, condensed milk into ¼ cup since frosty cream is already sweet.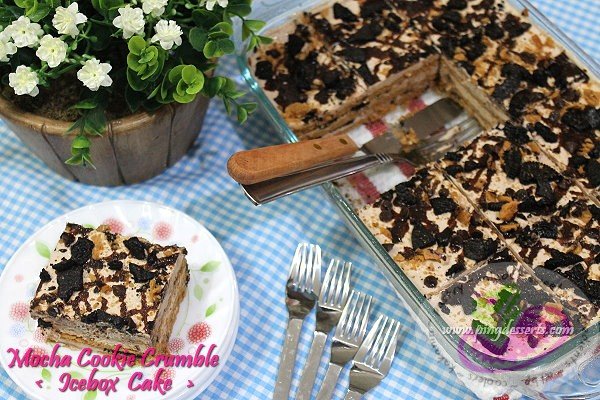 Rich and creamy Mochalicious refrigerator dessert to prepare on any special occasions especially, this coming Holiday. To keep your graham float, stay longer, freeze immediately after use, this will last for up to 2 weeks.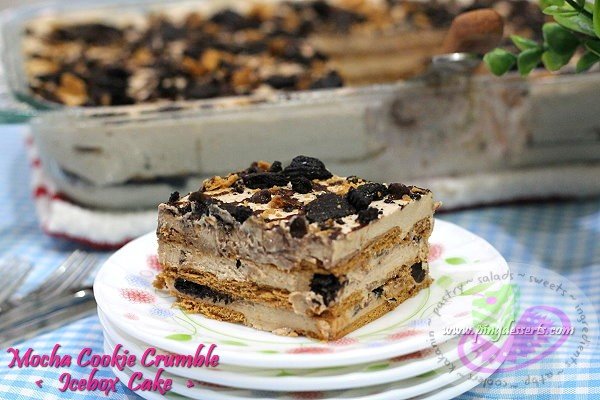 Thanks for checking out our recipes and have a nice day everyone 🙂
– oOo –