How to make a quick & easy stove-top Sponge Cake and Cupcakes with Whipped Cream Frosting.
No-Oven Orange Sponge Cake & Cupcakes Recipe. To make these sponge cake & cupcakes, all we need is a box of white or yellow cake mix, milk, orange powder, eggs, oil, then mix and bake over the stove-top or steam. Iced with whipped cream frosting with orange pulp, top with orange segments and decorate with a slice of fresh orange and mint. The sponge cake and cupcakes are so moist and have a perfect balance of sweet and tangy flavor.
Last week, I was cleaning my pantry, and I saw a box of Pillsbury Cake Mix, and if I'm not mistaken, I bought this at SNR, on Sale for only Php89.00. This is the last box I've got, and I wanted to use it for another recipe. And since I can't decide which one I'm going to make, I end up making both… LOL So, I made a 6-inch round Cake and ten pieces of 3oz. Cupcakes. And I'm happy with the result, a delicious and moist Orange Sponge Cake and Cupcakes. A perfect recipe for a small get together or little party celebration. So let's start…
Makes: 1 (2-layer) 6-inch Cake & 10 (3oz.) Cupcakes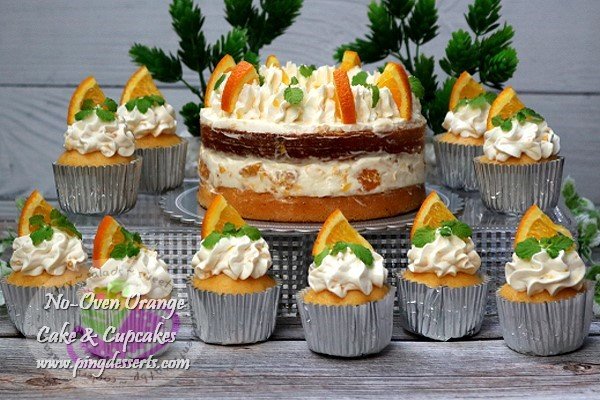 Ingredients:
Orange Cake Batter:
1 (432g) White Premium Cake Mix (follow package direction)
3 large Eggs
1 cup Milk
1½ tbsp. Orange Tang Powder
½ cup Canola Oil
Frosting & Toppings:
1 (200g) Frosty Whip Cream Powder
¾ cup Cold Water
1 (312g) Mandarin Orange Segments, (drained and divided)
2 tbsp Tang Orange Juice, for brushing
1 large Orange, cut into small wedges
Mint leaves, to decorate
2 tbsp. Orange juice
You also Need:
10 pcs (3oz.) Cupcake Liners
1 pc 8-inch Cake Board
Check out Video Recipe:

Procedure:
Preheat Stove-Top heavy-bottom deep pan or any similar cooking ware, over medium heat for about 5 minutes. Place a fitted wire rack in the center and cover with a lid. The lid hole should be sealed with a foil so the heat can't escape.
Line each muffin tin with the same size cupcake liners. Grease 6-inch round pan and line with baking paper, then set aside. Combine milk and orange powder and stir well until powder is fully dissolved. In a large mixing bowl, combine cake mix, orange-milk mixture, eggs, oil and mix until the batter becomes smooth and no lumps. Fill each cupcake molds about 2/3's full and pour the remaining cake batter into prepared baking pan.
Arrange the cupcakes in a preheated casserole and cook for about 6-8 minutes or until a toothpick inserted in the middle comes out clean or with a few moist crumbs. Keep an eye on your cupcakes coz' we may have different kinds of stove/casserole, and the heat varies. Repeat process for the second batch, and the Cake, bake for about 20-25 minutes. Fire off and let it cool completely on a wire rack, before frosting.
Let's prepare our Toppings: Wash Mint leaves and dries them in a tissue paper. Open canned or bottled orange segments and drain. Divide orange segments into two parts, the half is for our cake filling, and the other half we're going to add into our frosting. Cut fresh orange into small and thin wedges and set aside.
Let's prepare our Frosting: I'm using a box (200g) of Frosty Whip Cream Powder that would be 1½ cups of FWCP, and to that, we are going to add a ¾ cup of super cold water. Moistened the cream powder first before whipping. When it's thoroughly whipped and aerated, you can add half part of the well-drained orange segment. Mix over low speed to separate those pulp. Transfer half of the whipped cream in a piping bag with your favorite piping tip, and we are ready to frost our cupcakes.
Let's frost our Cake & Cupcakes: Pipe a small amount of whipped cream frosting on top of each cupcake. (Press, Swirl and Release). Decorate with orange slices and mint leaves on top. And for the cake, trim the top of your cake to flatten and slice the cake in half to make a two layer. In a serving plate or cake board, put a tiny amount of whipped cream and place the cake in the center. Brush the cake with orange juice to moisten a little bit. Top with whipped cream spread evenly add reserved orange segments and cover with another layer of whipped cream. Top with the 2nd layer of sponge cake and chill for about 20 minutes. After 20 minutes, run a flat spatula around the sides of your cake to smoothen the whipped cream. Add whipped cream on top and spread evenly, with the remaining frosting, pipe a tiny swirl around the top edge of your cake Decorate with orange slices and mint leaves. Refrigerate cake and cupcakes for at least 30 minutes, before serving.
These cuties are a great centerpiece to have on your dessert table during a get-together with family and friends. DIY Cake and Cupcakes are perfect if you are on a budget, and you can make this in advance. Store bought Cake and Cupcakes will cost you a lot; this is a budget-friendly recipe that looks expensive and tastes even better. If you double this recipe, you can make a 1(2-layer) 8-inch round cake and two dozen of 3oz. cupcakes.
I love to use this premium cake mix because it's cheap and hassle-free. It is very convenient to use, and you can make small portions of cake and cupcakes. Using this plain base cake mix, you can make and create different cake flavors. Very versatile, you can add cake filling, toppings, and decoration according to your preference and motif.

These Citrus Cake and Cupcakes look delicious, fresh, and mouth-watering, I can't wait to enjoy this sweet and tangy cupcake. If you are not fond of oranges or any citrus fruit, you can use fresh mangoes, canned peaches, kiwi or even pineapple.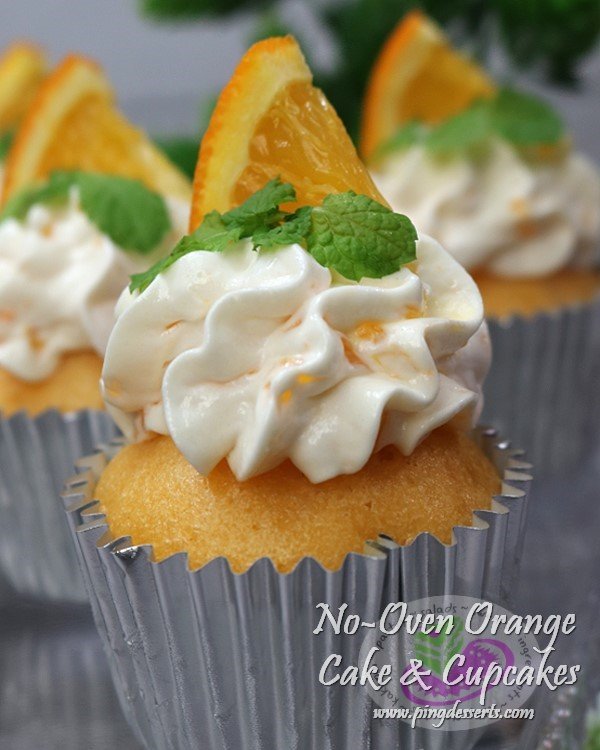 And this is a simple cake and cupcake recipe that will inspire you to create and design your own. I hope you will try this quick and easy recipe, and it is great for home/online business. Be creative in your kitchen; enjoy and earn from it! Thanks for visiting guys and have a beautiful day, see you on my next No-Oven Cake & Cupcake Cooking Series – #5cc. 🙂
– oOo –
Faith, It's all about Believing. You don't know how it will happen, but you know it will.