How to make easy and delicious Graham Float na pang Negosyo.
Our favorite Mango Graham Float is perfectly packed individually, and it's ready for home or online business. A mouth-watering layer of honey graham crackers filled with smooth frosty whipped cream and filled with sweet and juicy mango slices.
I've been making this recipe for so many times, tried and tested, and the quality is excellent. In my previous Mango Float recipe, as you can see I added some crushed pistachio or cashew nuts, but this time I'm not going to, so we can lower down our ingredient cost. And I'm going to include the costing computation and the projected profit for this. So let's start . . .
Makes: 8 medium pastry container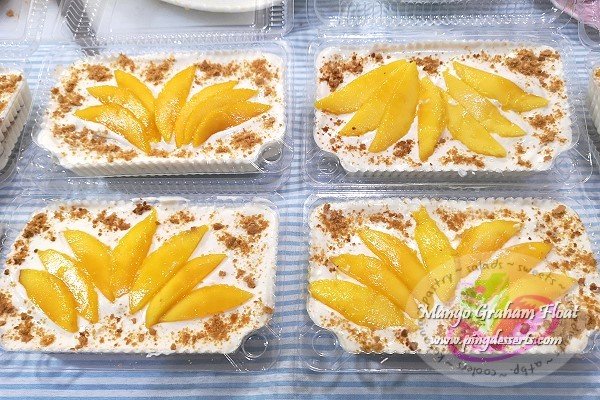 Ingredients:
3 large Sweet Mangoes, sliced
1box (200g) FrostyWhipCreamPowder
3/4 cup Water, cold
1pk (250ml) Nestle All-Purpose Cream, chilled overnight
1/2(80ml) Condensed Milk, adjust according to you taste
1pack+4pcs Honey Graham Crackers
You Also Need:
8 medium clear view pastry container
Check out Video Recipe:

Procedure:
To Prepare the Mangoes: Wash mangoes, cut both sides of the pit, peel and diced or you can slice thinly. Scrape off extra mango meat from the seed and use this between layers, we don't want to waste any mangoes.
To Prepare the Whipped Cream: In a bowl, combine Frosty Whip Cream Powder and cold water. You have moistened whip cream powder for a sec., and whip it over high speed until double in volume. Add chilled All-Purpose Cream and whipped it again on high until fully aerated. Add condensed milk and mix until well blended.
Prepare Crackers & Container: We need one pack of Honey Graham Crackers and some extra crackers, and we also need a least (8) pieces of medium size clear view pastry container or any similar plastic container with a lid.
To Assemble our Graham Float: First, we need to arrange a single layer of graham crackers at the bottom of each pastry container. Top with 1½ scoops or 3 tablespoons of whipped cream and spread evenly. Arrange a few mango slices on top and cover with graham crackers. Top with the same amount of whipped cream and spread evenly. Lastly, decorate with mango slices and some crushed graham.
Repeat the process until you are done with eight pastry containers. Refrigerate Graham Float for at least 2 hours or more before serving.
Here's Our Simple Ingredients: Frosty Whip Cream Powder, Cold Water, All-Purpose Cream, Sweetened Condensed Milk, Graham Crackers and Sweet Ripe Mangoes. A good quality of ripe and sweet Mangoes is highly recommended, avoid overripe or under ripe mangoes.

This Clear View Pastry Container that I'm using is a perfect packaging for our graham float recipe. If your graham float is watery and not stable, I don't recommend this one; you should use the one with the detachable fitted lid.
I bought this pastry container at Portia Store with a code of C-201 (6×3.75×2) with attached flat lid. These Pastry Containers are sold by (10's/pack) for only P48.00, and you can also buy this at any leading supermarkets for P52.00-P55.00/pack. Guys, try visiting any Baking Supplies/Stores that are near your location, they offer a lot of things that you might need.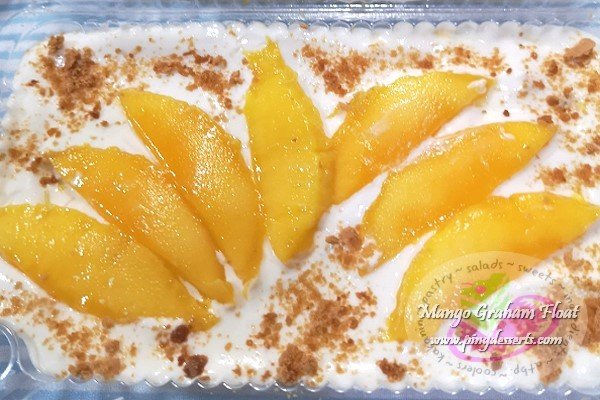 Tips: If you consider selling foods like this, I hope you will create products with the best quality ingredients. For me, I choose "Quality over Quantity", I think that's our mantra should be. We need to sustain and have a regular and loyal customer. In most cases, a satisfied customer will be the one to advertise your product through their family and friends. And remember there's so many seller's out there, so we have to make our product & strategy one step ahead… Pero wag naman" Buy1, Take1" malulugi tayo nyan…LOL Thanks for visiting guys, and see you on my next post. Have a blessed week and have a nice day everyone 🙂
Computation: (this is just a sample reference on how to compute)
Ingredients Cost:
3large Sweet Mangoes P 60.00
1box(200g) FrostyWhipCreamPowder 148.00
3/4 cup Water, cold 2.00
1pk(250ml) Nestle All-Purpose Cream 58.00
1/2(80ml) Condensed Milk (small) 17.50
1pack+4pcs Honey Graham Crackers 45.50
8 medium ClearViewPastry Container 38.50
Misc. Electricity 5.00
==========
total expenses : P 374.50
Total Exp.: P 374.50 / Cost per cont. P 46.80 / SRP P 80.00 / Projected Profit (60%) P 265.50 Note: Profit depends on your Suggested Retail Price (SRP P80.00-P100.00)
– oOo –
A Satisfied Customer is the Best Business Strategy of All.